4 Favorite Moments From 'Snooki & JWOWW' Premiere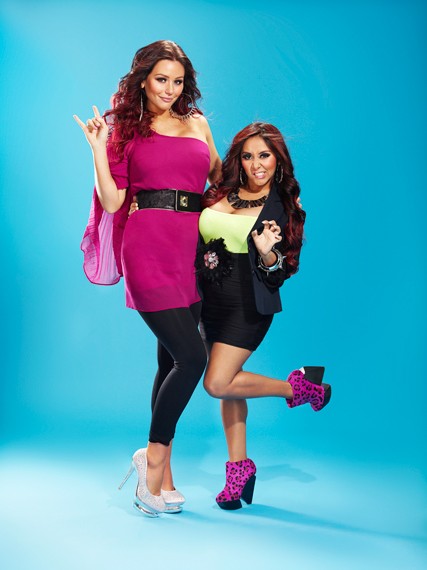 Snooki and JWOWW are back but without the rest of their Jersey Shore roommates for now. The series premiere of the dynamic duo's new reality show was unleashed this past Thursday, June 21 with new surprises and igniting curiosity centered on how things will pan out with Snooki's brand new "situation."
Truthfully, the premiere of Snooki and JWOWW's new show didn't provide many reality TV fireworks – in fact, it was kind of subdued compared to past footage and evidence of their drunken nights and bad decisions at the Shore. There still, however, were 4 fave moments that left us either snickering or shaking our heads at their audacity.
1. JWOWW The Parking Instructor – We thought that parallel parking was covered in driving 101 or at least recognized as pass or fail at the driving test. Somehow, Snooki bypassed that course and showed and proved this when she needed a little assistance parking her pimped out truck. When she finally arrived at the first apartment she and JWOWW were scoping out for their new humble abode, Snooki frowned at the fact that she would need to parallel park her giant leather covered SUV complete with pink piping. With a little help and surely to the entertainment of passerby's, Snooki completed her first obstacle.
 2. Awkward Sex Talk With Victor The Realtor – We've all come to understand that Snooki can be a bit inappropriate at times. She usually blurts out what she thinks without using a filter. This rang even truer while she and JWOWW were viewing another apartment, one that was referred to as a "railroad" apartment (definition: having to enter a room through another room as the rooms are connected to each other in a line.) While JWOWW and Snooki stood around and carried on small talk with their realtor Victor and his female business partner, Snooki thought it was a fine time to inquire about if Victor and his business partner were sleeping together since they worked so closely. This of course led to uncomfortable denial from Victor and his partner but Snooki is convinced that they do more than show apartments together.
 3. Creepy Man In The Window – It's often a bad sign when you are searching for a new place to rest your head and you come across a neighbor that encourages you to stay in your car and lock the doors. This is what happened when JWOWW and Snooki arrived at another one of their locations and spotted a gentleman standing at his window, curtains pulled all the way back, shirtless. Now, in any other ordinary scenario this wouldn't be an issue if he were one of the juice heads that the girls have come to know and love. But this guy was far from one. The moment actually reminded me of a scene from Going The Distance when Drew Barrymore's character is showing a prospective new apartment to her sister and brother-in-law and he pulls back the curtain to reveal a strange man starring serial killer-like through his window and right back at them. Suffice it to say, JWOWW and Snooki opted to just drive off.
 4. Snooki Reveals To JWOWW That She's Preggers - Though it took the entire episode for us to get to this point, it finally arrived and at the most convenient time. The girls had finally decided on a place, which appears to have been an old firehouse, and Snooki decided this was the moment to let JWOWW know that she was going to be a mommy.  No time to sit and digest the new move they were making in their lives, Snooki tells JWOWW that she is not only engaged to Jionni, but is also pregnant with their first child. Like the rest of the country a few months ago, JWOWW was shocked but also happy for the pint-sized mommy to be. It does make us wonder though, how interesting will Snooki be on our screens with a bun in the oven?
Tune in to Snooki & JWOWW every Thursday at 10pm ET/PT and remember to check back here for weekly recaps as we follow the bronzed duo.