31 Days of Horror - Week 1 - Peeping Tom, Tucker and Dale vs. Evil and more!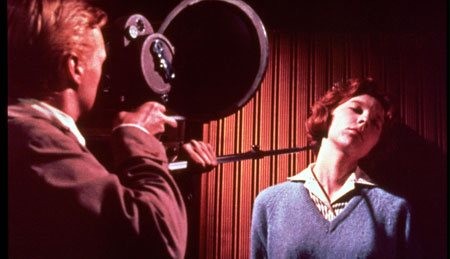 Day 1: Peeping Tom (1960) Considering for the past two years running, we've kicked off 31 Days of Horror with tales of androgyny and murder; we decided to class things up a bit at the outset with Michael Powell's 1960 thriller Peeping Tom. So shocked by Peeping Tom's bold portrayal of a voyeuristic serial killer, contemporary critics lavished such vitriol on the film that it nearly destroyed The Life and Death of Colonel Blimp and The Red Shoes director's otherwise classy career. Shameful, considering the clearly masterful hand at the helm of the film.
Much like Hitchcock's Psycho, which premiered three months after Peeping Tom to no critical rejection, Peeping Tom places the story's villain as the protagonist. In this case, it's deeply troubled camera-man Mark Lewis, who, after spending a childhood as the subject of his father's constant, invasive psychological experiments, lashes out against attractive young women, recording their final moments as he stabs them with the sharpened end of his camera's tripod.
To be fair to the critics of the time, there is some pretty sick stuff in this movie, even by today's standards, but nothing as tasteless as they claim. One scene stands out in particular, when a blind neighbor breaks into Mark's apartment while he analyzes the footage of his most recent victim. She knows something is amiss and demands to know what he's watching, Mark ignores her, only seeing that the footage that he shot was imperfect, which means that, well, he's going to have to kill somebody else pretty soon... and there's nobody else in the room so...
Well acted – the lead, Carl Boehm, whose other significant role is playing a prince charmingish character in the Sissi films, comes across as creepy and alien, boasting a German accent despite the character's apparent English heritage. Kind of like a modern twist on Peter Lorre.
Day 2: Halloween II (2009)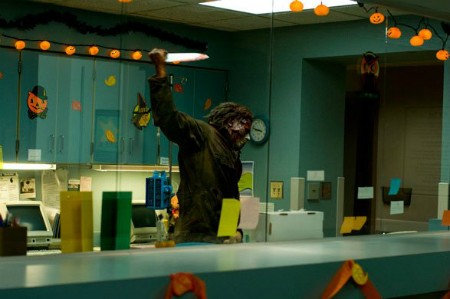 I rather liked Rob Zombie's take on the Halloween franchise in his 2007 remake, so it surprised me to read the negative things he had to say about the first film while he was ramping up the hype for the sequel. According to the director, directing the first film was challenging thanks to the mountains of demands and trappings of the original franchise (the mask, the characters, the music), so going into it, Zombie claimed that Halloween II would be truer to his own artistic vision. Great news for Rob Zombie, horror visionary; terrible news for us, helpless viewers. Zombie is capable of some chilling images and has a knack for gnarly lighting and gristly gore, but when left unchecked, he has a tendency to allow his flashy brand of "style" to take over everything, pushing good ideas into the realm of silly farce.
Halloween II has all the makings of camp, what with Sherri Moon Zombie leading around a giant overused metaphor in the form of a white horse for the entire movie, all while urging her son to kill-KILL! But Zombie plays these touches with such earnestness that its difficult not to chortle dismissively at such hacky overkill. Take, for instance, one scene late in the movie when a father discovers the mutilated corpse of his daughter. The scene plays to Zombie's strengths, or at least it should, as it showcase's the director's eye for talent (in this case underused character actor Brad Dourif) and knack for showing the grizzly aftermath of violence that most horror movies shy away from. The camera lingers over the bloodied, naked corpse of the girl, and we see the pain melt over her father's face. The sound kicks out, the distant music comes in…. and then comes the old home video footage of his daughter playing with a puppy, scuttling the entire scene.
The whole movie is rife with ridiculous crap like that. It's not enough that Lori starts acting out after the traumatic beating she took in the first movie; she has to work in a socialist coffee shop listening to MC5 all day. It's not enough to have a phony "it was all a dream" false start scare-intro; it has to be twenty minutes long. If this is Zombie's true artistic vision, by all means, bring the suits back for his next movie, please.
Day 3: The House by the Cemetery (1981)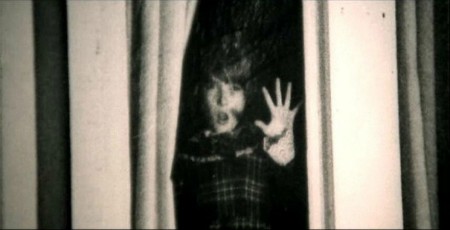 I'm not gaga over Italian horror movies like a lot of horror fans, but I do have a soft spot for Lucio Fulci, despite the tendency for his films to lean towards the incomprehensible. Still, the guy has an eye for carnage, and even if the movie doesn't make much sense there aren't many directors with the gusto to open a movie with a scene where a girl takes a knife to the back of the head, leaving the bloodied blade jutting out of her mouth.
That's how The House by the Cemetery opens, a seemingly straightforward haunted house movie that gets so garbled with nonsense that it's nearly impossible to follow what's going on. There's a sort-of psychic little boy, a father who has no memory of a previous visit to the town (and, apparently, a mystery daughter that's never explained), an ambiguous babysitter who shows up unannounced and starts covering up murders, a mother prone to manic episodes, a shuffling monster that lurches out of the basement to commit grizzly acts of violence. At the end there's a made up Henry James quote about how children are monsters. What the Hell is going on here?
Turns out, there's a mad scientist in the basement who figured out the key to eternal life, all he needs are some fresh corpses to keep his cells regenerating—he also has brown maggot blood, which, I guess means that the process doesn't really work that well.
It's one thing when a horror movie tries to take the mystery route, obfuscating the killer and his motive until the end, but it's another entirely when it ladles on nonsense just to add confusion. Worse yet, much of House by the Cemetery is cobbled together from generous helpings from other (better) movies—The Shining, and The Amityville Horror, to name the big two.
On another note, the film does have a rather hilariously flowery Wikipedia entry, if you feel inclined to check such things. My favorite is the concluding sentence: "Mrs. Freudstein leads Mae and Bob away from the house and down the wintry grove into a netherworld of ghosts and sadness."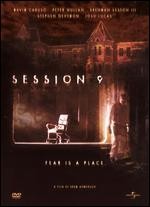 Day 4: Session 9 (2001)
Session 9 is a film I've been back burnering for years. The 2001 film has a reputation for being a low budget fair that looks cheap but gets the job done. Like most things the internet says, that's only partially true. Session 9 follows the world's worst hazmat team as they attempt to clean out a gigantic abandoned asylum in a week for a big pay out. The men all have struggles of their own, and are bogged down with domestic strife and the pressure of being trapped in a dead end job. Before long, the run down sanitarium starts taking a toll on their sanity.
On the whole, Session 9 is muddled and unfocused. The many subplots in the film, including the mystery of patient 444, a multiple personality case with a violent past, never really coalesce the way that they should. For a film with such a slow burn, the pay offs are either too contrived or too weak to be believable, or just totally non-existent for some characters.
Still, there are some effective moments of horror in Session 9, and it's always a pleasure to see a movie successfully overcome obvious budgetary limitations. In the darkened halls of an abandoned asylum, scares come cheap. The movement of a distant shadow is all it takes to send your audience reeling. One of the best scenes in the film, which features the team's youngest member who suffers from a crippling fear of the dark, boasts the simplest effect. As the generator outside runs out of gas, the boy races down the hall, attempting to stay in the light as they shut off one by one behind him. There's no knife wielding lunatic—well… scratch that—there's no knife wielding lunatic in that scene, but it's just as scary as anything you can find in your standard slasher.
Day 5: Tucker and Dale vs. Evil (2010)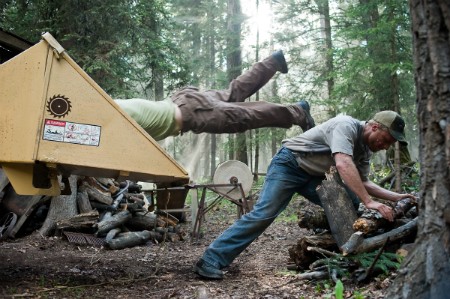 At first glance, Tucker and Dale vs. Evil seems like a horror spoof that has it all. It takes a well-trodden horror cliché and flips it on its head, following two affable hillbillies (Alan Tudyk and Tyler Labine) who get stalked by a group of douchey (and extremely clumsy) college kids who mistake them for a pair of backwoods psychopaths.
Director Eli Craig has fun flipping perspectives between the rednecks and college kids, warping Tucker and Dale's friendly advances into scenes straight out of The Texas Chainsaw Massacre. The film's best gag involves Tucker accidentally sawing through a bee hive, sending him sprinting through the woods screaming and flailing his chainsaw, which scares one of the kids so badly that he accidentally skewers himself on a tree branch. "He must be allergic to bees or something, because he was running like a bat out of Hell," Tucker comments.
Still, even at 88 minutes, Tucker and Dale feels endless. Tudyk and Labine are both fine in their roles as the lovable country boys, and Craig has a great eye for sudden, extravagant butchery, but there's only so many times that a misinterpretation ending with slapstick bloodshed can play out and still be funny. Unfortunate, really, because that's the only joke that this movie brings to the table. At best, Tucker and Dale is a great short film that's been stretched to feature length, at worst, it makes for a kick ass trailer. 
Day 6: Disney's The Legend of Sleepy Hollow (1949)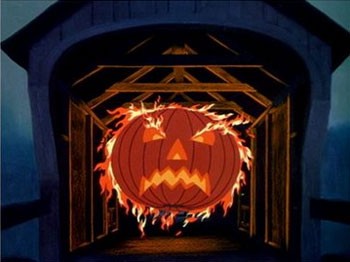 I know I'm not the first person to suggest this, but it's a shame that Disney never put out more scary cartoons. The animators masterful hands create a purely eeire aesthetic that I've never seen replicated in other supposedly spooky animated features. By far the scariest thing to come out of the Disney animators' studio is the famous Night on Bald Mountain sequence from Fantasia, but the climactic ride through Sleepy Hollow in the studio's adaptation of the Washington Irving classic qualifies for a close second.
Despite the Bing Crosby narration--who boasts the smoothest, least threatening voice in the history of voices—Disney's Sleepy Hollow boasts a climax with both legitimately funny and tense moments. By Disney's standards, this first half is largely forgetale, boasting flat animation and dull characterizations (though I do like the way the cartoon handles Crane, a likable but shiftless gold digger), and largely floats along on Crosby's charm. It's when the lights go out that the animators really shine. Crosby's comforting narration melts away, and Ichabod wanders into the spookiest woods in cartoondom.
Ichabod spooking himself in the woods has some masterful moments of horror with images that are scary even for an adult. The aesthetic is great, the ghoul design is fantastic and the sloooow, deliberate way that objects move in those woods is haunting. My favorite detail are the clouds—giant, hand-shaped formations that snuff out the light of the moon. And all of this is before Ichabod comes face to, erm, neck with Sleepy Hollow's favorite midnight rider.
That's all for this week! Come back next time for seven more horror movies. And remember, leave your suggestions, because we're tired of thinking of what movies to watch!