'30 Rock's' Katrina Bowden Is Engaged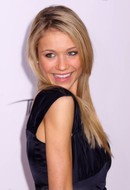 Actress Katrina Bowden is engaged to marry her musician boyfriend Ben Jorgensen after he proposed over the weekend.

The 30 Rock star announced the happy news on the red carpet at the Screen Actors Guild Awards on Sunday, revealing her partner popped the question the day before.
 
Bowden, who was wearing her new engagement ring, told E! host Giuliana Rancic, "I was so shocked. And I said, 'Oh my God,' and I hugged him... He said, 'Is that a yes?'

"We talked about it, so it wasn't out of nowhere, but I was so surprised. That's why I forgot to say 'yes' at first."