'30 Rock' Star Katrina Bowden Hits Spring Break To Promote 'Just Dance 3' (Pics)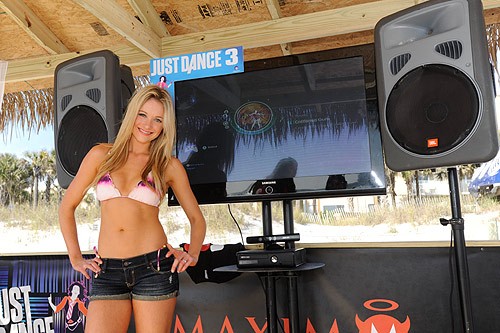 Sexy 30 Rock star Katrina Bowden joined Spring Breakers at the Boardwalk Beach Resort in Panama City, Florida, Thursday afternoon for some fun in the sun and a little dancing.

The newly engaged star hosted a couple of parties promoting Ubisoft's hot new "Just Dance 3" videogame and Maxim magazine.

During the day she spent most of her time in the Just Dance 3 Cabana, dancing to hit songs from the likes of Katy Perry, Britney Spears and LMFAO, and later in the evening she took the party to Hammerhead Fred's Bar for an epic dance-off to her favorite song in the game, Perry's "California Gurls".

Katrina, who showed off her sexy bod in a pink tie-dye string bikini and a pair of barely there short-shorts, tells Panama City News Herald's Tony Simmons, "I just started playing it (Just Dance 3), and I love it. I was playing it in my hotel room all night."

The 23-year-old was recently named Esquire Magazine's 'Sexiest Woman Alive', taking the crown from last year's honoree, Brooklyn Decker; and she was featured as the cover girl for Maxim's February issue.

"I was so excited to be on the cover, and so honored," she tells Simmons. "I love how the shoot came out... All my fans loved it."

Watch for Katrina in theaters next month as she's set to hit the big screen in the latest American Pie sequel, American Reunion.