'30 Rock' Season 2 Comes To DVD Oct. 7; Win A Copy!

Relive the second season of
30 Rock
, nominated for 17 Primetime Emmy® Awards including Outstanding Comedy Series,
Tina Fey
for Outstanding Lead Actress in a Comedy Series and
Alec Baldwin
for Outstanding Lead Actor in a Comedy Series.
Created by Emmy®, Golden Globe® and SAG Award winner Tina Fey,
30 Rock
features Fey as TV writer Liz Lemon, Golden Globe® and SAG Award winner Alec Baldwin as corporate executive Jack Donaghy,
Tracy Morgan
and
Jane Krakowski
as Lemon's unpredictable stars, Tracy Jordan and Jenna Maroney, and
Jack McBrayer
as the naïve NBC page Kenneth Parcell. Co-workers and friends, they are all trying to balance work and life, with the inevitable result of failed relationships, disastrous parties, at-work drunkenness, hard-core coffee addiction, world-class sandwich eating and occasional attempts to chop down Christmas trees.
30 Rock
: Season 2 features an impressive array of guest stars, many of whom recently garnered Emmy® nominations, including
Carrie Fisher
,
Rip Torn
,
Will Arnett
,
Edie Falco
,
Steve Buscemi
,
Elaine Stritch
and
Tim Conway
.
Join in the fun when all fifteen episodes of the acclaimed second season of
30 Rock
debut on DVD October 7th, 2008 from Universal Studios Home Entertainment.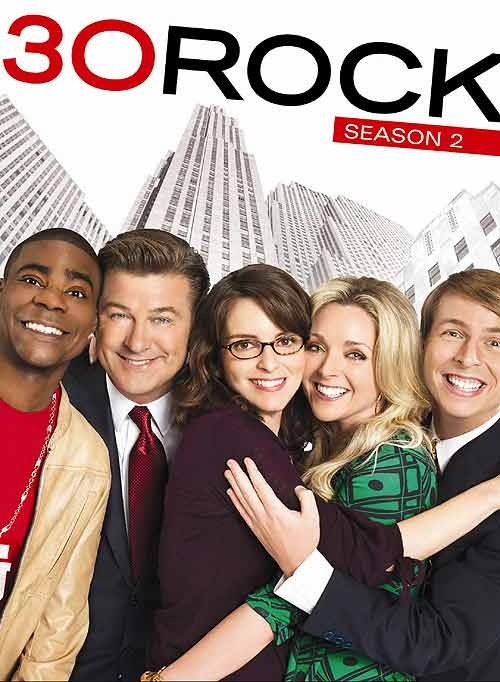 Bonus Features:
Deleted Scenes
-"Cooter" Table Read: The
30 Rock
cast takes fans behind-the-scenes to watch and read along with their table read in preparation for the season finale episode.
-Tina Fey Hosts SNL!: A rare, behind-the-scenes look at Tina Fey as she prepares to host Saturday Night Live. This feature showcases the writing process, rehearsals and includes clips from the live broadcast.
-
30 Rock
Live At The UCB Theater: The entire cast gathers at the Upright Citizens Brigade theater in New York City to do a live performance of the
30 Rock
episode "Secrets and Lies."
-The Academy Of Television Arts And Sciences Presents: An Evening With
30 Rock
: Hear the cast discuss their characters and the show in this in-depth Q & A.
-Audio Commentary With Tina Fey, Jack Mcbrayer, Jane Krakowski,
Scott Adsit
,
Judah Friedlander
, Producers John Riggi And Robert Carlock, Producer/Composer Jeff Richmond And Guest Stars Tim Conway, Will Arnett And Fred Armisen.
The 2007 Emmy Award®-winning comedy "30 Rock" is told through the comedic voice of Golden Globe winner Tina Fey ("Liz Lemon") and features Golden Globe winner Alec Baldwin ("Jack Donaghy") as a top network executive and Tracy Morgan ("Tracy Jordan") as the unpredictable star of Lemon's hit variety show, "TGS with Tracy Jordan." Lemon constantly has her hands full, juggling corporate interference from Donaghy and off-the-handle star antics from Jordan, all while attempting to salvage her own personal life. Also rounding out the cast are Jane Krakowski ("Jenna Maroney") as the co-star of "TGS"; Scott Adsit ("Pete Hornberger") as the variety show's producer; Jack McBrayer ("Kenneth Parcell") as the over-eager and effortlessly endearing NBC page; Judah Friedlander ("Frank") as the sardonic slacker on the writing staff;
Katrina Bowden
("Cerie") as Lemon's young, flighty assistant; Keith Powell ("Toofer") as the sophisticated yet sarcastic Harvard-alum writer; and Lonny Ross ("Josh Girard") as the naïve yet lovable "TGS" writer/performer.
-
Enter here for the chance to win one of three copies of "30 Rock" Season 2 on DVD!
More 30 Rock:
-
News
-
Filmography
Click the pics for gallery & larger images
Universal Studios Home Entertainment is a unit of Universal Pictures, a division of Universal Studios (www.universalstudios.com). Universal Studios is a part of NBC Universal, one of the world's leading media and entertainment companies in the development, production, and marketing of entertainment, news, and information to a global audience. Formed in May 2004 through the combining of NBC and Vivendi Universal Entertainment, NBC Universal owns and operates a valuable portfolio of news and entertainment networks, a premier motion picture company, significant television production operations, a leading television stations group, and world-renowned theme parks. NBC Universal is 80%-owned by General Electric, with 20% owned by Vivendi.