'30 Rock' Brings In Queen Latifah, Gears Up For 'Live' Episode In October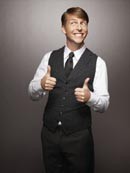 Get ready to curl up on the couch in a Slanket: the new season of '30 Rock' kicks off with a brand new episode Thursday, Sept. 23 at 8:30 EST.
Last season ended with Liz meeting a possible Mr. Right (Matt Damon); Jack discovering Avery (Elizabeth Banks) is pregnant; Tracy expanding his family; and Kenneth getting fired.  So can we expect a resolution for any of these story lines?  
 
In a conference call, Actor Jack McBrayer says Kenneth will get to explore life after TGS, and "it's fun to see how the NBC employees are dealing with [his] departure."  He also says Kenneth will be seen wearing something other than his page costume.  "It's jarring.  It will frighten you," he warns.
 
Executive Producer and Writer Robert Carlock promises both Damon and Banks will be back.  Noting some of the main players' life changes, he says, "This season's about how those changes affect the show as we know it."  With both Liz and Jack in ongoing relationships and Tracy's new challenges, it's "fun seeing how it all kind of reverberates among our usual players," he says.
 
As always, some big name guest stars will add to the mix, too.  Queen Latifah will appear in the third episode as a congresswoman going after Jack's NBC/Kabletown deal.  "She and Jack butt heads," Carlock promises.  Rob Reiner also appears in the same episode, and Paul Giamatti will show up early in the season as one of the editors at NBC.
 
Everyone is also gearing up for a live episode in October.  Almost all the actors have extensive live, theater or improv experience, so one of the tough points lies with the writing.  "The challenge from a writing standpoint to us is to try to make it feel like a '30 Rock' show while only having access to three sets," Carlock says.  McBrayer adds there's no luxury for mistakes since there are obviously no second takes.  The show will be performed twice, once for the East Coast and once for the West.  "Mostly I'm preparing by trying to get a lot of sleep and doing pushups," Carlock cracks.
 
And will fans ever learn Kenneth's real back story?  Probably not yet.  "Honestly, I wish I knew more," McBrayer says.  "I do love every now and then when I get these random [and] crazy flashbacks.  I think maybe there's just a carbon monoxide leak at NBC.  I am a group hallucination."  Or, says Carlock, perhaps Kenneth's story will take on a 'Shining'-like ending.  Maybe they will "push in on a picture of the pages from 1932 and there among the other pages is Kenneth."

"And Jack Nicholson," McBrayer adds.