'30 Rock' Airs Two Live Shows, Invites Paul McCartney And Kim Kardashian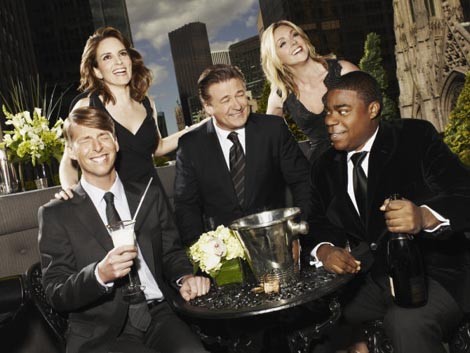 For the second time in the show's history, 30 Rock was performed as a live show. That, of course, means that a second show has to be done for the west coast audience watching hours later. That caused an issue when the script called for a gratuitous celebrity cameo.
On the east coast, viewers were thrilled to see Paul McCartney for a few brief moments. After waving to the studio crowd, he shook Alec Baldwin's hand and slapped his shocked face! He later tweeted, "To be slapped on live TV by Sir Paul... #filethatinmydiaryunderperfect."
The studio audience wasn't as thrilled with the west coast guest, Kim Kardashian. Her appearance was just as fleeting, but the cheers didn't reach the volume it did for Paul. She also took to twitter following the show, "Anyone see 30 Rock tonight??? I had a blast!!!! Love this show!"
Honestly, we think the east coast got the better guest! Jon Hamm and Jimmy Fallon also made cameos on the comedy show.