30 Days Of Christmas Week Two: Dysfunctional Family Christmases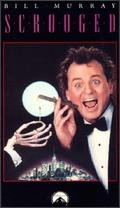 There are a lot of people who feel that starting holiday festivities too early before a holiday takes some of the magic out of it and therefore eliminates some of the excitement. If you are "one of those," though, you will probably love this week's quick alternative to the dozens upon dozens of sappy, sentimental Christmas classics soon to fill your TV. This week-- the first official theme week for the 30 Days of Christmas experiment-Starpulse.com presents to you: Dysfunctional Family Christmases!
Day Five: November 30, 2009 - Surviving Christmas
Nothing about 2004's Surviving Christmas quite screams holiday cheer. The opening of the film, for example, features a montage of not-so-happy-go-lucky individuals baking gingerbread men with Xs for eyes, fighting with wrapping paper, and crying into their cocoa, setting up that this is not your typical Christmas film. However, what follows is a (at times laugh out-loud) funny romp with an imperfect family...though what real family these days is perfect? Drew (
Ben Affleck
) is a rich advertising executive who wants nothing more than to take a superficial holiday trip to Fiji with his girlfriend (
Jennifer Morrison
), but she is bothered by the fact that he never talks about his family, and what kind of serious man who may want to settle down someday doesn't talk about his family?? So at her therapist's insistence, he visits his childhood home, and while there decides to make the family who currently resides inside an offer they can't refuse.
Drew draws up a contract that will grant the Valcos (with
James Gandolfini
and the amazing
Catherine O'Hara
at the head) $250,000 for allowing him to stay with them through Christmas Day. They agree to participate in last minute shopping, tree decorating, and even toboganning, but things get complicated when Drew learns his new "parents" might be splitting up and a "long lost sister" (
Christina Applegate
) shows up out of the blue.
Though Drew's efforts are often misguided, his heart is always in the right place, even when he hires a local actor to play his "Doo-Da," forces the family to throw a last minute dinner for his girlfriend and her parents, and twists a little girl's perfect Christmas moment into something ostentatious and ridiculous. And Affleck's wide-eyes, cheeky grin, and pure enthusiasm throughout the film only serves to add to get viewers into the holiday spirit! Surviving Christmas may not have been very well received upon its release, but it has become a hidden gem amongst Christmas enthusiasts!
Day Six: December 1, 2009 - Scrooged
In 1988...well, I was too young to see any adaptation of A Christmas Carol that didn't feature cartoon mice...but that was the year in which arguably the best and most original such version of a classic tale was released. Scrooged (starring
Bill Murray
and directed by Richard Donner) followed a rich, successful, and powerful television executive who only got to where he was in life by being ruthless, rude, and crude. In typical Christmas Carol fashion, he fires a needy employee on Christmas Eve and then gets taken on a journey to show him how he became the man he is today and what will happen if he doesn't change. It was years later, and on home video no less, that I finally got to see this film, but its pop culture references (such as countless
Ghostbusters
allegories) and basis in the television industry are what ultimately won me over and made this a must see for every Christmas season.
Of course, nothing about the classic tale should work on a "modern" businessman such as Frank Cross (Scrooged's Scrooge). As a man who continuously chose his work over his personal life, even way back as a teenager with his first job in the television station, he shouldn't care that his brother is living in poverty and the woman he once loved will grow to be as uncaring as he (after all, that is pretty normal these days: a woman scorned hardens herself to others to avoid getting hurt again). However, since Scrooge-- err, I mean Cross is also at risk, of dying alone-- a horrible death in which he actually feels the flames of cremation and then has no one come to his funeral-- he straightens his ways. At least for Christmas Day.
Day Seven: December 2, 2009 - A Very Sunny Christmas
When Starpulse.com
interviewed
It's Always Sunny in Philadelphia
creator and star,
Rob McElhenney
, last month, he had this to say about the release of their straight-to-DVD holiday special: "We had knocked around the idea of putting these characters into a holiday situation-- into a holiday special-- for a few years now. As we knocked that around, we thought it could be really interesting as a stocking stuffer to just put all that stuff that we'd been talking about for years into an episode so we can get away with whatever we want."
And It's A Very Sunny Christmas certainly proves itself to be too outrageous for TV! Mac and Charlie (McElhenney and
Charlie Day
) learn that their childhood Christmas traditions-- collecting toys at all of the neighbor children's homes (for Mac) and waiting for the revolving door of Santas to drop off presents before "cheering up" his mom (Charlie)-- are not actually normal traditions. They set out to right some wrongs but of course get caught up in worse high jinks, including attacking a mall Santa vampire style!
Dennis and Dee (
Glenn Howerton
and
Kaitlin Olson
) set out to teach Frank (
Danny DeVito
) a lesson Christmas Carol style to get him back for always buying himself the things they wanted for Christmas simply to rub their noses in it. They team up with his old (and presumed dead) business partner to scare him straight, but things go awry for them as well when Frank ends up faking his own death.
It's A Very Sunny Christmas is not for the faint of heart (it features a naked DeVito, for example) or for those who have stitches...because you will laugh so hard you will pop one! The special also features misguided caroling, claymation versions of the characters ala the old classic TV specials, and flashbacks to the young days and escapades of Mac and Charlie (Young Mac is played by
Dexter
's Preston Bailey, but both boys are splitting images of their older counterparts, right down to a mini version of Charlie's horse tee and long johns!) which is worth the price of admission alone!
Day Eight: December 3, 2009 - The Ref
Anything with
Denis Leary
in it is pretty unorthodox, isn't it? Well, add to the mix a bumbling thief, a couple who can't stand each other, and a hostage situation on Christmas eve, and you get the most dysfunctional Christmas film of perhaps all time: The Ref.
Kevin Spacey
and
Judy Davis
play the bickering couple, who start out the film in marriage counseling. Doesn't exactly scream "joy of the season!" but then again neither does the scene that follows, with Leary in middle of robbing a home he has broken into. He accidentally sets off the alarm and falls down into the basement, where a guard dog attacks him. With his getaway car mysteriously gone, he has to find a new ride to ditch the police, and he happens upon the still-arguing couple. He orders them to give him a ride at gunpoint, and they argue the whole way back to their home, where the police have set up roadblocks looking for Leary's character.
The rest of the The Ref is more of the same: Leary ties up the couple-- as well as their son-- but they almost drive him crazy. The rest of their family complicates things a little, as well, and Leary's character ends up using a Santa suit as part of his getaway disguise. A bit deranged, maybe, but pretty damn funny nonetheless.
Day Nine: December 4, 2009 - Dysfunctional Double Feature - The Family Stone / Four Christmases
The Family Stone may seem like it should fall under one of those "warms your heart on a cold winter's day" theme weeks instead. After all, everyone in the titular small town New England family all come back to be at home for the holiday, one even with the intention of proposing to his girlfriend with a family heirloom. So how could that all go so wrong, right??
Well, for starters, the man (
Dermot Mulroney
) who was going to propose to his girlfriend (
Sarah Jessica Parker
) finds himself attracted to her younger sister (
Claire Danes
). And if that wasn't complicated enough, she, too, has a change of heart and finds herself "slumming it" with his stoner brother (
Luke Wilson
). It's a regular old "switch-a-roo," which, during the holidays, just feels extra wrong...even if the original couple was never truly right together in the first place.
Furthermore, none of the other siblings like Parker's character when she comes home with their brother. She wears stiletto heels and sleek designer clothes that just stand out in their snowy, homey back drop. She is uptight and awkward, saying all of the wrong things, and is even borderline insulting rather than just awkward. Yet, when she suddenly finds herself with the more free-spirited brother, everyone warms to her, even though she, herself, doesn't seem to warm or act anymore free.
What's perhaps worst, though, is that the matriarch of the family (
Diane Keaton
) is suffering from an unnamed disease (it turns out to be breast cancer), but no one is talking about it, and though the kids may be able to sense some things are not quite right, they have not been confided in. Therefore, what should warm the heart (a family rallying around each other) just really serves to saddened viewers more.
Four Christmases, too, should theoretically put a smile on its audience's face for bringing a young couple (Reese Witherspoon and
Vince Vaughn
) back together with their somewhat estranged families. But this couple much prefers spending the holidays alone at a tropical resort, toasting to their well-to-do life together while avoiding the squabbling and imperfections of their respective families. Unfortunately for them this one year, though, they get stuck at the airport and outed by a local news crew to their families, cannot avoid going home(s).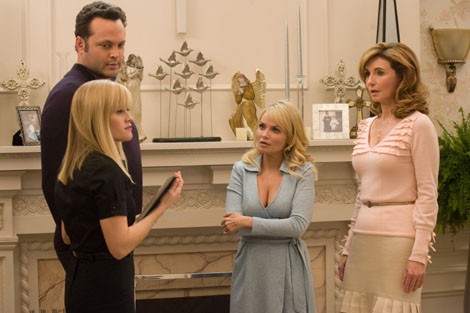 Four Christmases © Warner Bros.
Between both of them, they have four Christmas traditions to which to attend because both of the their parents are divorced. And as they get tugged in various directions by various members of their families, they find they are also heading down different paths in their lives. Witherspoon's character, for example, begins to feel her maternal clock ticking as she bonds with the various once-deemed "unruly" children.
But though this time spent with loved ones should serve to teach the couple a lesson about the importance of those in their lives, all it serves to do in the end is bond them together after a brief bump in the snow, so to speak. And as the film ends, a year later (just like in The Family Stone), they have not seemed to learn their lesson, as they are once again attempting to keep a very big secret about their whereabouts on a very special occasion from their families...
Day Ten: December 5, 2009 - National Lampoon's Christmas Vacation
Remember how in the late eighties/early nineties, every movie seemed to have a cartoon opening credits sequence? They usually served to summarize the events you would see following in the hour and a half of live action. Well, the one in National Lampoon's Christmas Vacation did more than that: with Santa getting electrocuted, and reindeer almost crashing into houses, the opening effectively set up the tone for the film that would follow: National Lampoon's Christmas Vacation is full of sight gags, precocious kids, blunders with trees, lights and toilets, and road rage-- you know, all of the things that make up a typical modern Christmas spent with family.
Throw in some ritzy but nosy neighbors (including
Julia Louis Dreyfus
), quarreling in-laws (like
Doris Roberts
), white trash extended families (
Randy Quaid
), and a Scrooge of a boss who stiffs his employees on a Christmas bonus...even after the bonus has already been spent, stir them all together under one roof, and National Lampoon's Christmas Vacation becomes full of more tension than cheer. But of course all of that tension only leads to comical exchanges and the relieving sensation that at least you aren't related to these people! Sure, we all may fight with Christmas lights, but how many of us can say the SWAT team has been called into our family holiday dinner??
Fans of
The Big Bang Theory
will also relish seeing Little Leonard (
Johnny Galecki
) sans spectacles and Star Trek tees!
30 Days of Christmas: Week One
Story by
Danielle Turchiano
Starpulse contributing writer