30 Days of Christmas Week Three: Made-For-TV Holiday Fun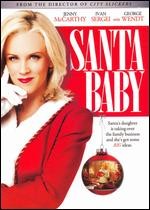 One holiday. One month. One woman. Thirty individual movies. Readers ready? Go!
Thursday night Lifetime Television premiered their very own modern holiday classic aimed at their usual Women 18-49 audience. And since I fit comfortably into that demographic, I needed to put the 12 Men of Christmas on my list! Err, my viewing list, of course!
Kristin Chenoweth
plays one of those jaded career women who could be on her way to her own version of Ebenezer Scrooge but for a cruel twist of fate that tears her away from everything she knows. Losing both her job and her equally successful fiance during her office holiday party, Chenowith's character picks up and moves to snowy Montana to start all over. It is there that she gets the idea to try to save a local rescue mission-- and spread a little Christmas cheer-- by getting the hunky rescue workers to pose for a pin-up calendar. And when Santa hands her twelve eligible men, it is only cliche but perfect that sparks fly with at least one!
Alongside Chenowith for the (sleigh)ride are Josh Hopkins (
Cougar Town
) and Jessie Pavelka (Lifetime's own; DietTribe), among almost a dozen other cuties who may not have famous faces yet but who certainly will be more well known amongst a very specific crowd once their calendar gets downloaded and printed from the interwebs! 12 Men of Christmas admittedly has a much more specific and limited appeal than other holiday movies, but it is fun and joyful nonetheless and will undoubtedly be brought back on that channel for many years to come. Lifetime certainly knows their audience, and who in their audience wouldn't want to be snowed in and snuggling by a roaring fire with any one of these guys??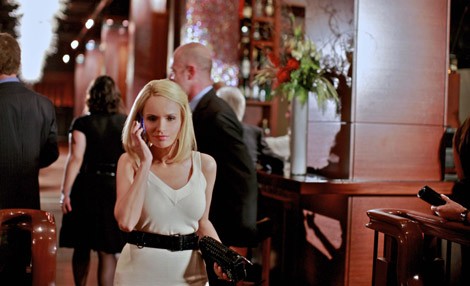 Image © Lifetime Networks
ABC Family Channel manages to churn out mad-for-TV holiday movies like they simply fall from the sky like fresh snow. Every year they create about half a dozen new ones to add to the roster, allowing Christmas movie marathons to start earlier and earlier. Three years ago, they premiered a modern-day tale about a businesswoman who has to drop everything in her hectic, high-powered life to rush home and help her ailing father with his business. But what made this particular tale magical was that the woman was Santa Claus' daughter, and the movie was Santa Baby.
Starring
George Wendt
and
Jenny McCarthy
as Santa and his daughter, respectively, the movie doesn't have all of the frills of a big budget blockbuster, but it holds more heart than most. McCarthy's Mary Claus returns to her roots and learns what is really important when she not only tries to make Santa's workshop more efficient but also gets reacquainted with her first love (played by Ivan Sergei). The spirit of the holiday finds her once again, humbles her of course, and sets her up for a brand new life where she no longer has to deny who she really is.
Both actors seemed unlikely in roles that come with so much cheer, but both sparkle and shine with the spirit of the season. McCarthy has always had a big personality and an even bigger laugh, and though she stands out amongst the elves for such a boisterous nature, she manages not to be too over the top with it. And that's perhaps a hard thing to do when you're fighting with reindeer and forced to convince an ex-boyfriend he's seeing things when he stumbles upon the real toy workshop in the North Pole!
A word of advice, though: skip the new sequel; it actually recast Santa! Blasphemy!
George Wendt used to make a career as a sedatiary, somewhat irascible barfly but now new generations know him as the rolly, polly, jolly man who delivers presents to all the good little boys and girls. In Disney's new film Santa Buddies, Wendt reprises his role as Mr. Claus from yesterday's pick Santa Baby.
Santa Buddies is part of the Air Buddies series (a spin-off from the popular childhood film Air Bud starring Kevin Zegers and an adorable Golden Retriever). In this installment, Puppy Paws (another adorable Golden Retriever, but this time in puppy form) decides he is sick of being the heir to the Christmas throne and just wants to be a normal dog. He seeks out one he finds on the "Naughty List" to teach him how to do just that, but when the "magical Christmas icicle" (not a euphemism) begins to melt, he realizes his true calling and rallies all of his new canine friends to help save Christmas.
Now, you might be thinking that a movie featuring talking dogs and "a magical Christmas icicle" that directly controls how much people believe in Santa sounds like it's for seven year olds...and if you are thinking that, you wouldn't entirely be wrong. But sometimes at this time of year we really need to bring out our inner seven year old! It's too easy to get caught up in wishing we were adults already when we're kids-- and then get trapped by the pitfalls of adulthood once we're finally there. Besides, even if you opt to just tune into this movie on mute, the dogs alone are enough to warm your heart on a cold winter's eve!
Borrowed Hearts aired on CBS in 1997, following a factory worker (Roma Downey) who is raising a young daughter on her own after her husband walked out on her to follow a seemingly impossible sports dream. Her boss, played by a long-haired (presumably to evoke the personality of a lothario) Eric McCormack, needs to rent a family for Christmas to impress another big businessman (Hector Elizondo). Downey and her daughter arrive on his doorstep quite literally at the right place at the right time and get hired for the roles, but very quickly it appears that the line between acting and reality begins to blur.
In true nineties-fashion, Borrowed Hearts utilizes the big television stars of its day and also features a mysterious character that might have his own touch of angel in him. It is reminiscent of The Miracle on 34th Street, but it is not a complete re-imagining; it simply utilizes the same themes. Unfortunately, though, it is also the kind of movie that is sadly dated due to style and execution in addition to hair and wardrobe, and it is not one that can be found often and easily these days. Though ABC Family Channel did re-air it just a year or so ago, the home video and DVD releases are now both sadly out of print. If you're not in the Christmas spirit yet-- with only two weeks to go-and you can get your hands on a rare copy from Blockbuster or Netflix or something, though, this movie is guaranteed to get you into it!
Day Fifteen: December 10 2009 - Snow
As a Christmas purist, it has been a long time coming that I finally adjusted to seeing cartoon characters dressed up as Santa on ornaments, sweaters, and wrapping paper. And for the same reason, when the ABC Family original Snow first premiered, I wouldn't even consider watching a movie in which Santa was not some elderly fat man with a long white beard and bifocals. In fact, it wasn't until just last year that I finally buckled down, grew up a bit, and pushed aside the "historical inaccuracies" to give Tom Cavanagh in the Santa role a chance. And he (and the movie in general) actually won me over!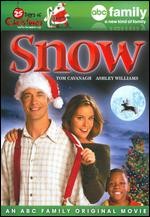 Snow is a bit convoluted as far as holiday movies go. It has a lot going on, and for once, "learning the true meaning of Christmas" is not one of them. Instead, one of Santa's new reindeer ends up in a zoo after a hunting enthusiast (Patrick Fabian!) manages to capture it in the wild, where it is just trying to learn to fly. Santa has to come down from the North Pole (and rebrand himself Nick Snowden) to try to get the reindeer safely returned in time for Christmas. In order to get close enough to the reindeer, he befriends one of the zoo workers (Ashley Williams) but finds himself attracted to her and distracted from his true mission. Meanwhile, the reindeer is developing its special powers and the hunting enthusiast is beginning to get suspicious.
Now, Snow of course spawned a sequel, in which Santa gets amnesia and it is up to Williams to remind him of who he really is. So needless to say, in the first version, he doesn't manage to do the best job of keeping his true identity a secret. You would think after hundreds and hundreds of years, Santa would have more of a handle on that!
Day Sixteen: December 11 2009 - Animated Favorites
Animation, CGI, and other forms of non-live action entertainment have come a long, long way since the 1960s when Rankin-Bass released a stop-motion animation Christmas film based on the popular song of the same name, Rudolph the Red-Nosed Reindeer.
Everyone knows the story of the reindeer outcast with the bright red-nose who was picked on by all of the others in Santa's employ until he was called upon to virtually save Christmas one year. However, what makes this simple story with even simpler FX the classic that networks insist on airing year after year for brand new generations, is its wholesome family fun message and sweet and adorable characters. When the substance is there, the style doesn't have to be so flashy!
The same goes for
Frosty the Snowman
, Rankin-Bass' few-years-later cartoon tale of the lovable snowman who comes to life to play with the children who created him. The snowman and his pals are drawn in "old-fashioned" 2D animation (though over time the colors have been boosted with new technology to avoid the "aged and worn" look that could so easily date the production), but to this day, everyone still loves to sing along and make friends with Frosty. He even has his own pages on MySpace and Facebook! And thanks to the wonder of DVD, the magic can exist for many more years to come, even if television stations begin to become a bit more cynical and start replacing these long-time favorites for some new flashes in the pan holiday fads.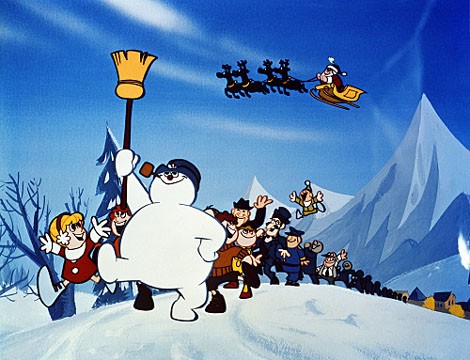 Image © Classic Media
Starring Julie Andrews, Jeffrey Tambor, and Medium's Sofia Vassilieva, Eloise at Christmastime follows the titular heroine Eloise-the impish little girl who lives in the majestic Plaza Hotel in New York City-- as she prepares the hotel for Christmas. She gives input on how the tree in the lobby should be decorated, advises her Nanny's beau on what perfect gift to get her, convinces the crabby owner not to evict an elderly, long-renting neighbor, and even match makes her favorite waiter with the girl of his dreams.
Eloise at Christmastime is full of magical mischief, not unlike young Kevin McAllister in Home Alone, and it is fantastical enough that a child could be at the center of such things and pulling all of the strings. Add in the holiday element, a horse-drawn sleigh ride through the city on a shopping adventure, instances of breaking out in joyous and spontaneous song, and of course a Christmas surprise for the main character, and Eloise at Christmastime becomes a holiday tale onto which even those who didn't grow up in the vicinity of the Plaza will latch.
Check out:
30 Days of Christmas Week One
30 Days of Christmas Week Two
Story by
Danielle Turchiano
Starpulse contributing writer