30 Days Of Christmas: Week One

One holiday. One month. One woman. Thirty individual movies. Readers, ready? Go!
Day One: Thanksgiving Day, November 26, 2009 - Home Alone
When I was a kid, the magic of "Home Alone" was in what Kevin McAllister (
Macaulay Culkin
) was able to accomplish on his own. I was younger than his character when the film was first released, and watching him rig his house full of booby traps to catch the bad guys was almost inspirational. I found myself digging through my Playskool toy bins after returning home from the theater to see if I, too, could pull something like that off if situation called for it.
"Home Alone" spoke to the part of me that was rushing to grow up too soon and just wanted to spend Christmas away from the crazies in my family so I could do it "my way." It featured all of the family Christmas traditions (decorating the tree, ice skating, attending mass - for those who grew up Catholic, anyway) but without the big, loud and, as we learned from the opening scenes, obnoxious meddlers. But the film has heart and a message, which is what every one of these films needs to be watched and re-watched year after year instead of just pushed aside like a gimmicky, dated pop fad. Though Culkin truly carried the film,
Catherine O'Hara
's touching and surprisingly dramatic role as his guilt-ridden mother steals scenes left and right - whether she's stealing pay phones from French airport travelers or bonding over polka and bad parent stories with the late and great
John Candy
in the back of a truck.
"Home Alone" really is the quintessential holiday movie! And for an added laugh, watch it when it airs censored for television. The ADR replacement of "growing on my...butt" is pretty awesome in and of itself!
Eric Lloyd got to live every little kid's dream when Santa Clause fell off his roof and his father (
Tim Allen
) put on the suit and ultimately "became" the Claus in "The Santa Clause." Not only did he get to fly around in the sleigh, delivering presents to other little kids, but he actually got to visit the North Pole, hang out with the elves, and help make Santa more efficient and safe up in the skies. Sure, having your dad be Santa Claus means you only get to see him once a year, but his parents were divorced, and he never really saw his dad anyway.
The film deals with the fine line between believing and just imagining, but ultimately, through the magic of the holiday, it shows that anything is possible. And, of course, it teaches the importance of family, but also the importance of honoring one's responsibilities.
"The Santa Clause 2" works as a surprising sequel to a film that came eight years before it - and never expected to be anything but a stand alone - because it plays off the mythology of the first film but also of what have always known about St. Nick. Mr. Claus surely needs a Mrs. in the most traditional of ways...even though his elves can easily handle filling his sleigh with warm cookies and hot cocoa. Bringing Lloyd back to play the somewhat sullen teenager that many of the fans of the original had grown up to be as well was equally fitting. Once again, though, through the magic of Christmas everything works out for the kid: his father falls for his nemesis (the school principal, played by the underrated - well, until about two years ago and a little show called
Lost
-
Elizabeth Mitchell
) and whisks her away to the North Pole.
You can skip the third installment of this film franchise altogether. Nobody wants to think about Santa as being ungrateful (even if he learns a lesson in the end)! Though, if you purchase the 3 movie box set simply because it's more economical, you'll get a nice coaster for your mug of cider, eggnog, or hot cocoa out of that third disc!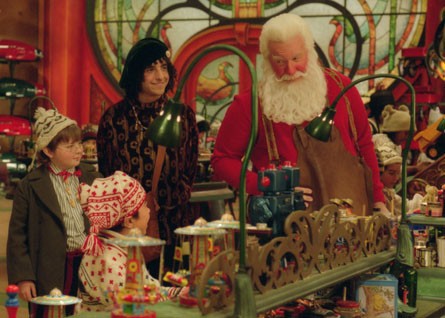 Image © Disney. All Rights Reserved
There have been many, many Muppet holiday movies over the years. Most commonly referenced is "A Muppet Christmas Carol," which has Kermit and his little nephew in the Bob Cratchit and Tiny Tim roles. However, other fan favorites include "It's A Very Merry Muppet Christmas," which spoofs popular films like
Moulin Rouge
(becoming Moulin Scrooge), and "Letters To Santa," which pairs the Muppets up with some favorite live action stars like
Uma Thurman
and
Jesse L. Martin
. However, the one Muppet Christmas movie that should be watched year after year is "A Muppet Family Christmas."
It tells the tale of Fozzie and friends going to surprise his mother for the holidays. They arrive on her doorstep just as she is about to leave for Florida, renting the place out to a man and his dog. Instead of going forward with her trip, though, she decides to make room for everyone at her inn, so to speak, and everyone includes not just Kermit, Gonzo, and Rizzo the Rat, but also the entire cast of
Sesame Street
! This movie is
Jim Henson
at his finest (and the late, great creator even has a cameo at the end).
Admittedly, though, watching "A Muppet Family Christmas" today is not the same as back in the 80s because for some reason, the version available on DVD is an edited version that does not include all original songs (it deletes a duet between Fozzie and the Snowman, for example), and it is also lacking the Muppet Babies old home video footage. Still, it is 20 times better than having this modern classic lost in the PBS archives forever! If you're a diehard Muppets fan or just a diehard Christmas fan, this is a must see movie of the season!
Day Four: November 29 2009 - Elf
A lot of people have become pretty disenchanted, so to speak, with
Will Ferrell
and his particular brand of humor of late. It tends to be one-note (and a very shrill note at that!). However, the one film of his everyone can agree is clever, sweet, funny, heartwarming, and unique is "Elf."
Narrated (by
Bob Newhart
) just as any Christmas tale would be, the tale of Buddy the Elf (Ferrell) is a fantastical one about a little baby who crawls into Santa's sack one Christmas and gets brought back to the North Pole, where he is raised by the elves as one of them. Of course he grows (and quite literally, too) to realize he is not one of them, and at the age of thirty-something is finally sent back to the "real world" - still in his elf garb, though! - to find his real father, who is a titan in publishing.
And it is Ferrell's wide-eyed enthusiasm that makes this film truly spectacular and can excite just about any Scrooge for the wonder of the season. He turns simple lines like "I like to whisper, too" and "I just like to smile; smiling's my favorite!" into eager quotables well past the Christmas holiday and into the rest of the year. His play opposite the equally wide-eyed, if somewhat aloof
Zooey Deschanel
is endearing, as well. Everything from the magical wonderland Buddy creates in the department store, to the giant sugar breakfast he makes for his new family, to the moment where his little brother gets all of Central Park singing to raise Christmas cheer and Santa's sleigh, can warm even the iciest of hearts on a cold winter's night. Elf transcends age groups and puts everyone in the Christmas spirit!
Check back next week when the first theme will be in place, and see which pics made the cut!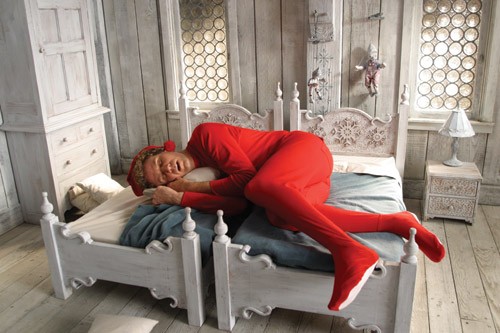 Image © Warner Bros.
Story by
Danielle Turchiano
Starpulse contributing writer