30 Days of Christmas Week Four: For The Kids

One holiday. One month. One woman. Thirty individual movies. Readers ready? Go!
What, if not the children, are the holidays really all about? After all, think of all of the rituals we have adopted in the last years: leaving out cookies and milk for Santa, hanging stockings by the chimney with care, making sure they're nestled all snug in their beds well before midnight on Christmas Eve... It only makes sense, then, that countless holiday movies, too, are aimed at the young ones who bring the magic of the season to life!
Day Eighteen: December 13, 2009 - How The Grinch Stole Christmas
The 1966 Christmas treat How The Grinch Stole Christmas got a slight revamp at the start of this decade, when Jim Carrey donned an odd-fitting Santa suit and some green prosthetics to portray the titular Dr. Seuss hero in a live action version of the classic tale. However, despite it being almost half a century old, the original still more than holds up. Recently it underwent a color enhancement to bring it up to today's HD TV standards.
Narrated by Boris Karloff, "How The Grinch Stole Christmas" is really considered a short film, as it clocks in at just about half an hour of holiday fun. But it proves that epics with twists, turns, and surprises are not needed, as it manages to fit in three unique Christmas songs, along with the plot of The Grinch who disguises himself as Santa to steal Christmas from all of the Whos in Whoville. Thanks to a very special little girl (Cindy Lou Who), though, The Grinch is not successful in his original scheme, as he finds his heart growing three sizes, returns all of the gifts, and even sits down to lead the holiday feast.
It is arguable that Dr. Seuss simply adapted Ebenezer Scrooge in A Christmas Carol to create the Grinch, but no one can deny the effect that this story-- and this special-- has had on pop culture and quite a few generations today. How I Met Your Mother did a whole episode spoofing the special called "How Lily Stole Christmas;" the original song "You're a Mean One, Mr. Grinch" is used just about any time a character in film, TV, or ads is depicted as the "villain" in a holiday tale; and even the Rotten Tomatoes website found itself affected by its message: their hearts grew three sizes, too, upon watching it, and awarded How The Grinch Stole Christmas the "freshest" rating of 100%. Not too shabby for a tiny little cartoon from the 60s!
Day Nineteen: December 14, 2009 - Unaccompanied Minors
Unaccompanied Minors is not your usual Christmas story. It features a group of kids flying alone for the holidays who get stranded at an airport on Christmas Eve. Though the manager of the airport (Lewis Black) is what they call a "non-believer" and doesn't allow any Christmas decorations or festivities in his airport, the kids decide they have to "save Christmas" for one of the girls in their group, who still believes in Santa.
They band together-- virtual strangers before this twist of fate-- and break into the storage room, and the luggage area, to create the perfect holiday away from home, all while outsmarting another airport worker (Wilmer Valderrama) who chases them and chases them to no avail. In some ways, it's a little like Home Alone set in the airport and without the fear of robbery or dismemberment. It's a true testament to what kids can do when they use their imaginations and work as a team!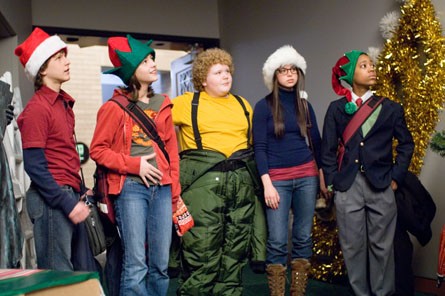 Image courtesy of Warner Bros. Entertainment Inc. All rights reserved
Day Twenty: December 15, 2009 - All I Want For Christmas
All I Want For Christmas was released in theaters in 1991 and told the tale of a young brother (Ethan Embry, then billed as Ethan Randall) and sister (Thora Birch) duo who decided that what they really wanted for their holidays was for their parents to get back together. Set in New York (which should explain the scene with the mice!), the kids utilize the power of Santa-- oh, okay, and some clever schemes of their own-- to go about getting exactly what they want.
To some, it may be just another in a very long line of kids taking on impossible tasks and managing to succeed due to the magic of the Christmas season. To others who may have had some similar personal experiences, though, All I Want For Christmas is as heart wrenching as it is heart-warming. There are some very real and very serious themes underlying the holiday backdrop, after all. And watching it now and as an adult, one can't help but marvel at the stellar supporting cast assembled in this often passed-over film: Renee Taylor, Lauren Bacall, Leslie Nielsen, Kevin Nealon, Andrea Martin, and Jamey Sheridan all looking bright-eyed and rosy-cheeked-- preserved not by the art of celluloid but by the spirit of the holidays!
Day Twenty-One: December 16, 2009 - Prancer
A holiday movie named after a reindeer is not such a surprising thing, but when I first learned of Prancer-- admittedly doing so really late in the game just earlier this year-- it did come as somewhat of a blow. Rudolph may have been the reindeer that got made fun of the most, but at least he got talked about at all! Prior to 1989, none of the other reindeer were really ever mentioned but for one line in a holiday song. Here was Prancer getting his own feature film! How I missed this, I still don't know.
In Prancer an eight year-old little girl who just lost her mother finds a hurt reindeer she thinks is one of Santa's. She decides she will nurse him back to health herself, and she ends up bonding with him deeply. This also leads to her bonding with a friendly vet and her older brother, yet she and her father fight over her keeping the reindeer as a pet, and he ends up selling the animal to the media. It turns out that he has only built up a tough exterior because of how hurt he is over losing his wife, though, and eventually he begins to break down the wall, inspired by his loving daughter and her openness and willingness to love another living thing.
When the little girl finally manages to heal her new reindeer friend, he does end up flying off to rejoin Santa's other reindeer, proving her beliefs were not just the fantasies of a sad little girl. Sweet enough to warrant viewing the straight-to-video sequel starring the adorable John Corbett? It just may be!
Day Twenty-Two: December 17, 2009 - Jack Frost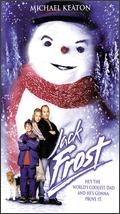 In keeping with the theme of children grieving the recent loss of a parent, 1998's Jack Frost stars Michael Keaton as a car accident victim who comes back as a snowman that his son (Joseph Cross) builds on a snowy winter's day. Sounds a bit convoluted and fantastical? It is, but it's sweet nonetheless. See, in his former life as a man and father, Jack Frost (yes that is Keaton's character's actual name) focused more time and energy into his band than his kid, and though he promised his son he'd be home in time for Christmas Eve, the car accident changes that. So a year later, when his spirit inhabits the snowman, he decides he has to make up for all of the lost time. Together the boy and CGI snowman go sledding and play sports, but obviously the snowman has to stay outside in the cold in order to stay alive.
One would think this would bring all sorts of extra problems, but perhaps everyone is blinded by the magic...or they just really, really need a male authority figure in their lives. Even Keaton's widow, played by Kelly Preston, doesn't seem to think twice and embraces the new snowman member of their family. Of course, winter begins to thaw, and the spirit must move on. But by that point, everyone has gotten the closure they need, and they can say good-bye to their husband and father with some lasting loving memories on which to dote.
Be very careful not to confuse the 1998 Jack Frost with the 1996 version. The 1996 version features a serial killer on a rampage for young co-eds and is not suitable for your little ones!
Day Twenty-Three: December 18, 2009 - Miracle on 34th St. (Both Versions)
For most, the only "right" answer when asked which version of Miracle on 34th Street you might be watching is "the original" (starring Maureen O'Hara and Natalie Wood). However, I have tons of friends who actually prefer the 1994 remake (with Elizabeth Perkins and Mara Wilson). Perhaps this is because we were just kids when that hit theaters, and for some of us, we had the same wide-eyed wonder that Wilson brought to the screen when it came to all things Kris Kringle. For that reason, I urge you to watch both movies during the holiday season-- even back to back as I did-- to show you that though remakes aren't always necessary, sometimes they can be just as endearing as the originals.
Miracle on 34th Street starts out with the Macy's Thanksgiving Day parade Santa being unfit for the job, so Kris Kringle convinces the store's marketing director (O'Hara and Perkins' role) to let him take over instead. Since he is a jolly older man with bright white hair and rosy red cheeks (that we can't confirm in the 1947 original because it is in black and white), she allows it. He does such a good job-- and looks so authentic-- the store keeps him on for the season.
The marketing director's daughter is a little girl who wants some very specific things from Santa this year: a house, a father, and a brother. And she has just the specific house in mind, having seen a picture of it in a magazine. She tells the Santa at Macy's exactly what she wants and is promised her dreams will come true.
The Santa at Macy's, meanwhile, doesn't just call himself Kris Kringle, but he also is convinced he really is Kris Kringle. Despite a bunch of lawyers trying to commit him as just a "mentally ill old man," gradually more than just this little girl begin to wonder and then believe if maybe he's the real thing after all.
What is so great about this movie is after Kris Kringle deliberately fails his mental sanity test and is put on trial, the question is raised as to what is real and what is not. If we believe in something, does that make it real? If we teach our children something is out there, are we lying to them, or are we creating something out of nothing? And furthermore, if Santa is not real, is God real? After all, Santa and God are both these omnipotent beings that see all, know all, and can reward or spite; no one sees either of them, but yet we are told they exist. Perhaps I am reaching a bit with that one, but it's part of what has always made this movie so special: it calls people out on their crap!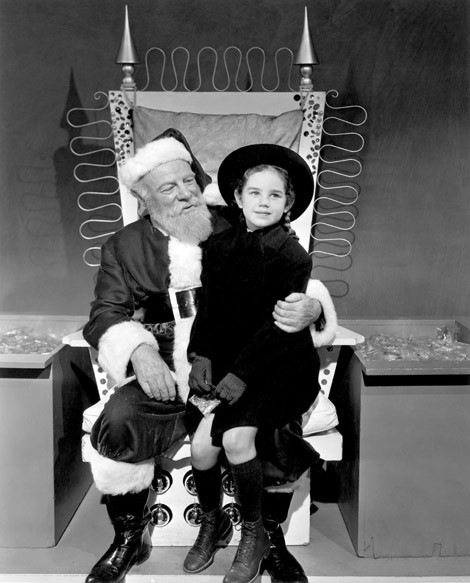 Image courtesy of Twentieth Century Fox Film Corporation. All rights reserved.
Day Twenty-Four: December 19, 2009 - A Christmas Carol
But not just any version of A Christmas Carol (because there are so many!): Mickey's Christmas Carol!!! This Disney-filed version of Charles Dickens' classic novella was released in 1983 and partially based on a musical version of the same name that predated it. However, this animated short film featured everyone's favorite high-pitched mouse in the Bob Crachit role with Scrooge McDuck as Ebenezer Scrooge.
What was always so great about this version was how, at the end when Scrooge McDuck goes to the Crachit family home, he keeps up his gruff persona. As a little kid, one might think he really didn't learn a lesson from the Ghosts of Christmas past after all, but in reality, he's just tricking the family. The big sack he drags with him is not filled with laundry or papers but toys for the kids. Mickey Crachit gets his raise and partnership in the company, and little Tiny Tim is so full of holiday joy, he no longer seems ill. Hard to read a lot of emotion on cartoon's faces, but Mickey's Christmas Carol makes it just a little bit easier!
Check out:
30 Days of Christmas Week One
30 Days of Christmas Week Two
30 Days of Christmas Week Three
Story by
Danielle Turchiano
Starpulse contributing writer