30 Days of Christmas: Week Five - Modern Classics

One holiday. One month. One woman. Thirty individual movies. Readers ready? Go!
Day Twenty-Five: December 20, 2009
-
Love Actually
"Love Actually" is a long one, as far as holiday movies go. Some would assume it is too long for a genre that is notoriously known for cheesy carols and over-the-top design. However, what is at the core here are some very sweet (and often intertwining) stories about young love. From the racy movie stand-ins who come together (no pun intended), bonding even in awkward situations, to the elementary aged boy who is convinced he has found his true love, to the youthful prime minister who falls for his saucy and somewhat inappropriate staffer, and the writer and his maid who don't even speak the same language, the relationships in this film are what warm you. And even though some of the relationships go south, the result is not a decent into holiday depression because everyone knows yet another clip from the fictional (and hilarious) "Christmas Comes Once A Year" music video is just around the corner!!
Day Twenty-Six: December 21, 2009
-
A Charlie Brown Christmas
"A Charlie Brown Christmas" premiered in 1965 and runs every year, showcasing little Charlie Brown's despondency during the holidays. Even though everyone is getting in the festive spirit by sending holiday cards and decorating their houses (and doghouses!) with lights and trees, Charlie Brown falls deeper and deeper into a funk. He decides, though, that the way to save the holiday is to be as traditional as possible, and he opts to prove this by directing the Christmas play with a real wooden tree, instead of the modern designs his friends come up with. He believes everyone has been corrupted by commercialism, after all.
In the crux of it all, his friend Linus proves Charlie Brown to be wrong about their motives, though, as he gives the infamous speech about the "true meaning of Christmas," and lo and behold, all of his friends join in on the sentiment, singing a carol to Charlie Brown. It's as if they pulled one big "Gotcha!" over his eyes the whole time. But it was all in good fun!
Day Twenty-Seven: December 22, 2009
-
The Nightmare Before Christmas
Some look at "The Nightmare Before Christmas" as much more of a Halloween film than a Christmas one. In part this is because the film is full of skeletons, ghosts, and ghouls-- including the protagonist of Jack Skelleton, a resident of Halloweentown-- but in larger part it is because it is a
Tim Burton
film, and he is known for dark and offbeat design.
"The Nightmare Before Christmas" is a musical stop-motion animated film that all started with a poem by Burton. Jack Skelleton decides he is bored with the same old-same old of Halloween and decides to bring Christmas to his town. Unfortunately, things get complicated when the other townspeople don't fully understand the concept and keep comparing it to the former holiday. He adopts a new persona, that of "Sandy Claus," and has some townschildren kidnap the real Santa so he can be the one to deliver the presents. Santa gets dropped off with a gambling boogeyman, though, and it is up to Jack and his ghost-dog-reindeer Zero to save the day.
Though some studio execs worried in its initial release that "The Nightmare Before Christmas" would be too scary for children, the film has won over generations and generations-- from the slightly cynical Christmas purists to the little ones with visions of gingerbread men dancing in their heads. Every year at Disneyland, those fans line up around the park to see the Haunted Mansion all done up for the "thirteen days of Christmas," just like in the movie!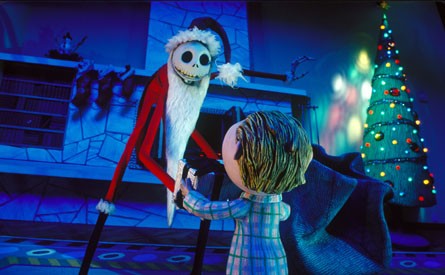 Image © Disney Enterprises, Inc. All rights reserved
Day Twenty-Eight: December 23, 2009
-
The Perfect Holiday
Oscar nominated
Terrence Howard
and
Queen Latifah
as Christmas elf-angels? What?? 2007's romantic holiday comedy, "The Perfect Holiday" features site gags but also a very sweet story about an aspiring songwriter (
Morris Chestnut
) who is just trying to make ends meet as a mall Santa while he follows his true dream. While on shift, he ends up spotting a single mom (
Gabrielle Union
) who comments that all she wants for Christmas is for a man to pay her a single compliment.
The pair end up dating, and the aforementioned omnipotent duo do what they can to make things work despite the odds of a young son who is jealous of the attention his mom's new beau is getting, as well as an ex-husband determined to try to buy back affections. The film is simple but has a lot of heart, and the eye-candy that is Chestnut never hurts either! Something for everyone this holiday season!
Day Twenty-Nine: December 24, 2009
-
A Christmas Story
For the last few years now, A Christmas Story has run in a marathon on television the night before Christmas. Well, lo and behold, we are at the home stretch of my 30 Days of Christmas experiment already! It is Christmas Eve, and therefore there are ample opportunities to catch this pick today!
A Christmas Story has become a classic for its imagery of a little boy in glasses in a pink bunny suit, a little boy in glasses with his tongue stuck to a pole, a little boy shooting off his own glasses...oh yeah, and a leg lamp! Telling the story of Ralphie Parker, who only wants one thing for Christmas ("an official Red Ryder carbine-action 200-shot range model air rifle"), A Christmas Story is one of the few movies to showcase that for most, the holiday season is all about just getting through. Ralphie has to survive bad grades and altercations bullies in school, bad presents from distant family, and annoying but persistent dismissing claims (like "You'll shoot your eye out!"). But of course, in the end, he still gets that BB gun on which he so desperately has his heart set. Because that, Charlie Brown, is the true meaning of Christmas: seeing a little kid's face light up with "the best present [he or she] will ever receive!"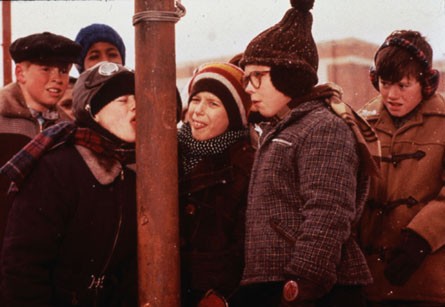 Image © Courtesy TBS
Day Thirty: December 25, 2009
-
The Parade & The One That Didn't Make The Cut
The annual Walt Disney World Christmas Parade is not technically a holiday film, but you have stuck with Starpulse for a holiday film a day-- and two on Fridays!-- for the past twenty-nine days, so today, we recommend nothing other than sitting around your tree with your family, eating Santa's leftovers, and watching this celebration.
The hosts are usually the same (
Regis Philbin
and
Kelly Ripa
), but the talent and attractions change to whatever was popular in the previous year, and what Disney assumes will be hot in the upcoming one. This year includes performances by
Stevie Wonder
and
American Idol
's latest winner,
Kris Allen
. Everyone's favorite classic characters are on hand (or on floats, as it usually is), too, decked out in big, bright Christmas sweaters.
But what is really remarkable about this parade is that year after year, families line Main Street with their little ones to partake in the tradition. Though we grow older and a bit more jaded towards giant talking mice or princesses and their woodland helpers, the cameras always zoom in on the littlest ones in attendance, eyes wide in awe of the magical spectacle they are watching unfold before their eyes. That alone is worth the price of admission for this increasingly more expensive holiday season!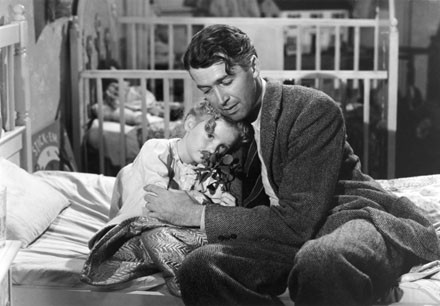 Image © Paramount Pictures
And as the day winds down, leaving behind a trail of Christmas cookie crumbs and exhausted but gleeful children clutching new toys. However, it will also inevitably leave behind a few disappointed readers of my site who will be unable to believe we left out one traditionally classic holiday film-- especially when I so many that seemed random, cheesy, or one-note were included. The film in question was
It's A Wonderful Life
, and preemptively, we are here to defend the decision.
The reason this writer personally doesn't like "It's A Wonderful Life" and therefore actively avoids it every holiday season, whether it's on television or just screening on a friend's DVD player, is because at the end, when George Bailey (
James Stewart
) realizes he has to go back to his life, he does it out of obligation to all of those around him. What he learns on his nocturnal journey is not that he suddenly loves his life but rather that everyone else is better off with him in their lives. It is an ego boost for him, but it is a momentary one and will probably be fleeting right after his holidays come to a close.
The film works really hard to make George Bailey seem noble in that way. His actions, as dictated by the narrative, are purely unselfish and therefore should be celebrated. And when the swell of that score wafts in, disagreeing seems downright Scroogelike! However, even George Bailey himself would probably admit that in the wake of the morning, without the glare of the lights on the tree in his eyes, he has to live and be happy with, for, and in himself before he can do any good for anyone else. Maybe those in his life wouldn't be better off without George Bailey, but what about George Bailey?? The way that movie goes, it seems like a trip to AA will be what George Bailey gets next Christmas!
Check out:
30 Days of Christmas Week One
30 Days of Christmas Week Two
30 Days of Christmas Week Three
30 Days of Christmas Week Four
Story by
Danielle Turchiano
Starpulse contributing writer