3 Things to Watch For in 'Nikita' Season 3
The CW's Nikita launched its third season last week, and it's markedly different from season one or season two. What should you be keeping your eye on in Division? Here's the short list.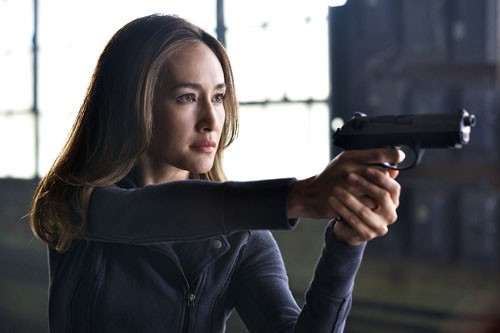 1. A renewed emphasis on characters' personal lives. Nikita has been building up the non-spy aspects of the show since the end of season one, and in season three, relationships are now a pretty big part of the picture. In the premiere, Michael (Shane West) proposed to Nikita (Maggie Q) - and tonight another character will ask Nikita about her feelings toward having kids.
Then there's the budding relationship between Alex (Lyndsy Fonseca) and Sean (Dillon Casey), plus Birkhoff's (Aaron Stanford) fling with fellow techie Sonya (Lyndie Greenwood). Season two didn't always fare well when it tried to mix the personal and the professional (remember Michael's surprise son?), so will season three find a better balance between the two?
2. The expanding cast. Recurring faces Sean, Ryan Fletcher (Noah Bean), and Owen Elliot (Devon Sawa) are all regulars this season, plus Amanda (Melinda Clarke) returns in the fourth episode. That makes for eight main cast members, although series creator Craig Silverstein says that they won't all appear in every episode of season three. Even with that in mind, how will the show service all the characters, and what will their places be long-term? Or will we lose some of them as the season goes on, as we did with the likes of Percy (Xander Berkeley), Madeline (Alberta Watson) and Carla (Erica Gimpel) in season two?
A particular character to watch is Ryan, who's gone from CIA desk jockey to becoming the boss at the new-look Division. Plus, he now provides the show's opening narration. That's one heck of a promotion - provided that it doesn't mean all he does is give orders and provide exposition.
3. It's no longer one season-long objective. In the first year, Nikita was all about taking down Division. In the second year, we got the black boxes. Season three sees Nikita and company working on a goal that lends itself to more stand-alone stories: pursuing the 'Dirty Thirty,' thirty Division agents who didn't respond to the order for them to come in from the cold. Tonight's episode involves the hunt for Wade (guest star Chance Kelly), who used to train Division's recruits before Michael.
No doubt, this new arc will allow for some more backstory about what all these rogue folks did for the organization (after lots of flashbacks in season two) - but once they're brought down, and now that Nikita has achieved the series' original premise of defeating Division, where will the series go next? Silverstein and company have shown before that they've got no qualms with taking big leaps forward in their narrative.
For more intel on the third season of Nikita, you can check out my interviews with the cast from this year's San Diego Comic-Con. Nikita continues its third season tonight at 9 PM ET/PT on The CW.
For more from Brittany Frederick, visit Digital Airwaves and follow me on Twitter (@tvbrittanyf).
(c)2012 Brittany Frederick/Digital Airwaves. Appears at Starpulse with permission. All rights reserved. No reproduction permitted.