3 New Fitness DVDs That Will Get Your Heart Pumping: 10 Minute Solution, Element Pilates & Walk To The Hits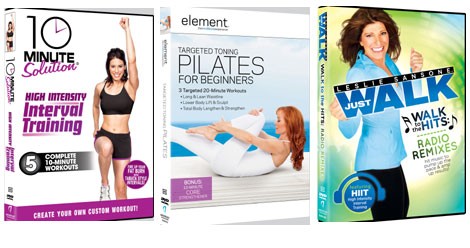 "10 Minute Solution: High Intensity Interval Training"
Short, intense bursts of exercise done with 20 seconds of all out effort followed by 10 seconds of rest, repeated in a four-minute cycle doubles a person's metabolic rate (the amount of calories burned) for 30 minutes afterwards. In fact, people following Michele Olson's workout burned more calories AFTER a four minute Tabata-style workout than it would take doing a 20 minute brisk walk.
The new "10 Minute Solution: High Intensity Interval Training" (HIIT) DVD keeps to that 20/10 format for workouts that keep working long after the workout ends. It offers five mini-workouts to challenge every part of the body while keeping that heart rate high to burn calories and build stamina. As with all the DVDs in this series, users get to design their workout of the day in 10-minute increments, whether it's just 10 minutes or the whole enchilada.

"Element: Targeted Toning Pilates For Beginners"

Beverly Hills, CA - Element, the best selling mind/body fitness video brand, brings the country's top instructors and workouts to people all over the world. In the new "Element: Targeted Toning Piates for Beginners" DVD, Elizabeth Ordway, one of the top five Pilates experts in Los Angeles (according to RateYourBurn.com) leads three powerful 20-minute programs plus a bonus core strengthener. Ordway's method is progressive with a classical tone influenced by her studies with Pilates and alignment experts including Romana Kryzanwka, Lolita San Miguel and Eric Franklin. Designed to reach even the hardest to access muscles, the effectiveness comes from the movements that radiate from one's center or powerhouse.  With repeated use, one will achieve that long, lean physique for which Pilates is known. They'll feel strong and graceful. The beautiful outdoor setting lends a spa feel.

Walk to the Hits Radio Remixes

Walking Expert Leslie Sansone gets this walking party started with her newest workout DVD, "Leslie Sansone: Walk to the Hits Radio Remixes." One can choose to walk for one, two or three miles while following the beat of some of today's most popular songs. Everybody talks about the benefits of High Intensity Interval Training and now Leslie incorporates these powerful quick bursts into the walks for the best results.

H.I.I.T. bursts of thirty seconds spice up these walks though the toughest moves are as simple as jogging in place. With Sansone leading, one never has to worry about getting a move wrong as long as they are moving! After each interval, ample recovery time is provided to get the heart beating at a comfortable pace again. Songs include:
-"Everybody Talks"
-"Get This Party Started"
-"I Like to Move it, Move it"
-"Let's Get Loud"
The DVDs are available now or in October on Amazon for $14.98.