3-D Films: Worth Watching Or Better Off Skipping?

The film industry has a long history with trying different avenues to bring more viewers in and keep them in their theater seats. In the 1930s, studios brought back what we remember as "Smell-o-vision," which first began around the late 1910s. This technology bombed with theater audiences but apparently works in theme parks, as it is popular in Disney World on rides like "Soarin" and "It's Tough To Be a Bug."
3-D technology was another attempt at creating a higher level of spectacle for cinema audiences. There are different ways to create three dimensional images - different cameras, different lenses, etc. The question is, is it worth it for cinemas in 2009? The technology has changed drastically from the early part of the decade to now. The red/blue paper glasses have been replaced with what resemble large sunglasses at a $3 to $4 extra charge. Since 3-D films now cost more than their two-dimensional standard siblings, are they really worth the extra cash? It depends.
What it depends on is genre. This is where different genres and categories are important within film, its audiences, and the producers. Since 3-D is meant to add on to the spectacle created within a specific film or genre, it is only natural that the film's narrative and cinematography correspond. Basically, this means that 3-D, like certain stereotyped demographics for mainstream genres, also has and requires an audience base.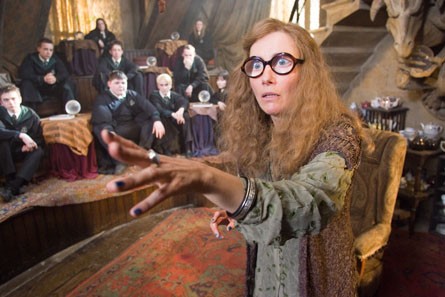 Image © Warner Bros. Entertainment Inc. All rights reserved.
The Good
Some of the most famous 3-D films include:
It Came From Outer Space
(1953),
Creature From The Black Lagoon
(1954),
Jaws 3-D
(1983), and
Amityville 3-D
(1983). Clearly, these films all have a common concept: fear and the creation of adrenaline for an audience member. Even horror film buffs came out of the first showings of "Jaws 3-D" white faced and terrified. This is why cinema was created - to develop productions that draw on human emotions, whether it is fear, love, or excitement. The main goal of cinema is to pleasure. If the audience doesn't like something it is guaranteed not to last.
The Bad
Unfortunately, the next round of 3-D films did not bring in much attention or excitement.
Robert Rodriguez
's films,
Spy Kids 3-D: Game Over
(2003) and
Adventures of Shark Boy and Lava Girl
(2005) were both released in 3-D in theaters, soon followed by
Superman Returns
(2006) with only specific scenes in 3-D.
Harry Potter and the Order of the Phoenix
also released a special 3-D version only for about 100 IMAX screens. Like "Superman," it also only showcased about 30 minutes of 3-D material. These films, unlike the films mentioned above, are all fantasy children's films. The creation of wonder and awe for the younger audience is a nice idea, however the parent who paid for the ticket also must be pleased. The bigger issue of these releases was that to the layman's eye, the 3-D provided more headaches than shock and awe.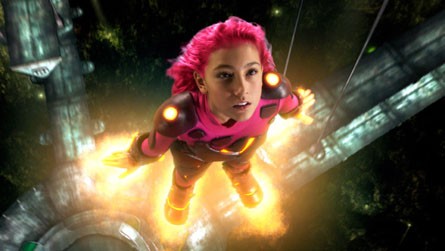 Image © Dimension Films // Photo credit: Rico Torres
The Better
This brings us to the recent trend of updated digital 3-D films. There is no question that these films, and the newer technology, are spectacular. The question is which films are worth the extra money for 3-D, and which are just as good in 2-D. This round also improved diversity within genres, with both horror and children's films on the menu.
Coraline
(2009), a film version of Neil Gaiman's children's novel, was a film created for 3-D technology. The film is brilliant on its own, but the 3-D gives deeper texture to the world Gaiman created and intended his audience to experience.
Monsters vs. Aliens
(2009) depended more on 3-D tricks and gags than on having the 3-D tie into the narrative.
Up
(2009) had us wishing all Pixar films were in digital 3-D. Pixar managed to immerse its audiences, both younger and older, into the film just as strong as "Coraline."
The anomaly to this animated lineup is
My Bloody Valentine 3-D
(2009). We believed the film would serve its purpose as a fun horror flick with clichéd 3-D gags. We were wrong. This was the best example of why 3-D can be extremely useful in film. There were some obvious uses, like a pickaxe thrown at the viewer's face, but for the most part the 3-D was tied extremely well into the film as a whole. Hopefully more horror or action films will start to be released in optional digital 3-D, as it is a reason to see a film in the theater instead of waiting for DVD.
All in all, 3-D seems to be making a lucrative comeback; especially in the 2009 lineup. The next release is another children's film,
Ice Age: Dawn of the Dinosaurs
on July 1, 2009 in Digital 3-D.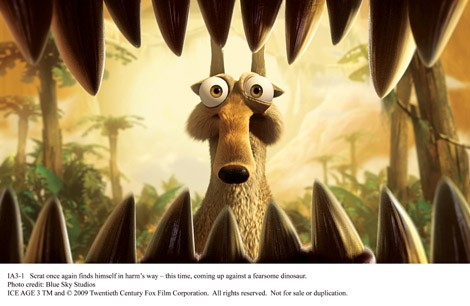 Image © Twentieth Century Fox Film Corporation. All Rights Reserved.
What are your 3-D experiences? Let us know in the comments!
Story by
Sarah Lafferty
Starpulse contributing writer