25th Anniversary Edition Of Laurie Anderson's 'Big Science' Due July 17; New Album Coming 2008

In the early 1980s
Laurie Anderson
was already respected as a conceptual artist and composer and as a familiar figure in the cross-pollinating, Lower Manhattan music-visual art-performance circles from which
Philip Glass
and
David Byrne
also emerged. At the time of its original release, the NME wrote of
Big Science
, "There's a dream-like, subconscious quality about her song which helps them work at deeper, secret levels of the psyche." With instrumentation ranging from tape loops to found sounds to bag pipes,
Big Science
anticipated the tech-savvy beats, anything-goes instrumentation and sample-based nature of much of the contemporary electronic and dance music that followed over the past 25 years.
The re-mastered 25th anniversary enhanced edition includes liner notes written by Anderson, the classic video for the surprise 1981 hit single "O Superman", and the original B-side track "Walk the Dog".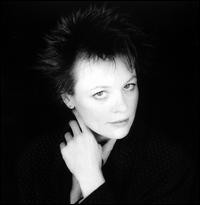 Anderson was able to articulate in these songs, most of which were adapted from
United State
(her now-legendary seven-hour performance art/theater piece) the social/political anxiety she perceived in American society, as well as a longing for safety and emotional connection. The themes of
Big Science
include images of planes falling out of the sky ("From the Air"), the simultaneously comforting and sinister embrace of technology ("O Superman"), and the failure of men and women to speak in the same language ("The It Tango").
Anderson's new studio album
Homeland
is scheduled for release on Nonesuch Records in 2008, when she will also tour North America.
Listen to 'Let X=X':
Windows
|
Quicktime