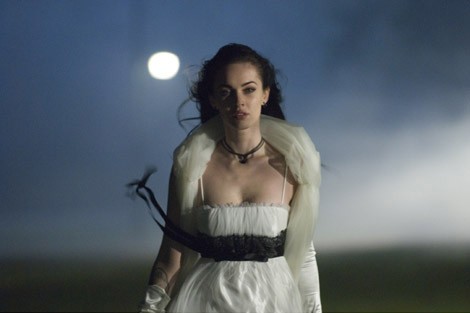 Wow, there were some bad movies, like really bad, in 2009 but since we are optimists we like to think the good outnumbered the bad. We already discussed the good movies, and now we will feature the bad and ugly of 2009. Sometimes bad movies are entertaining enough to keep our attention for a few hours but sometimes the movies are so bad we induce vomiting to make us feel better.
Couples Retreat
(25) had the cast and the budget to be a funny flick and it came out in the fourth quarter of 2009 when the best movies already came out. This movie was bad, not funny, and it might have marked the end of
Vince Vaughn
's career.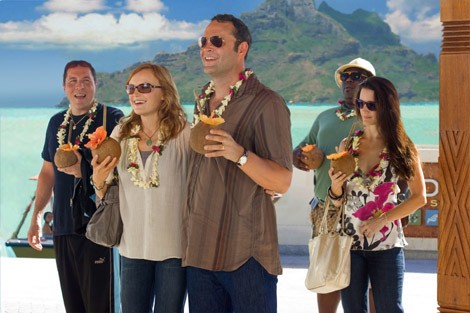 Couples Retreat © Universal Pictures
It is safe to say
Jennifer Aniston
's career of carrying movies/sitcoms is over. Her latest failed attempt to stay relevant past 2004 was called
Love Happens
(24) and it starred
Aaron Eckhart
. I wonder why Jennifer wanted to cast Eckhart … I sometimes feel bad for Aniston who is so desperate for love she is now making movies about it and casting single men near her age, ouch.
Now, we knew
Sorority Row
(23) would be bad but we thought it would be mildly entertaining and it was. Since we love MTV so much we were familiar with the cast as Real World alum
Jamie Chung
, Justin Bobby's ex GF
Audrina Patridge
, and
Bruce Willis
' daughter
Rumer
all starred in the thriller. We liked the cast, the screaming and the thrill ride but it was still a very bad movie, in fact the 23rd worst movie of the year.
Wow there must be some bad movies in 2009 because
All About Steve
(22) was horrendous. The movie had star power as
Sandra Bullock
and
Bradley Cooper
both had starring roles but the plot, writing, and even the acting was terrible. This was an all around bad movie.
Finally,
The Final Destination
(21) is supposed to be the last installment in the Final Destination series of horrible movies. If you are into bad writing, horrible acting, and ridiculous plots then you might enjoy this movie/series. But if you are like us you were thrilled to hear this is the final destination.
Ashton Kutcher
has not made a good movie since … never and has not had a hit since his days as Kelso and as producer on Punk'd. His latest movie
Spread
(20) starred him and
Anne Heche
(babe) and was as pointless of a movie we had ever seen. We think Ashton thought Anne was cute and wanted to get to know her better and Anne did not mind at all; good for them.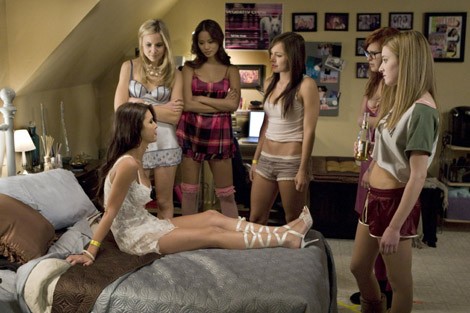 Sorority Row © Summit Entertainment and Walden Media
We had high hopes, like most people, for
Jeremy Piven
's
The Goods: Live Hard, Sell Hard
(19) but it ultimately failed hard. Piven was OK and it seems the only role he is good in is the role he wins countless awards for (
Ari Gold
). We thought the rest of the cast would make up for anything but they were surprisingly lackluster and The Goods was all but that and ties the movie Extract for most disappointing movie of 2009.
Image © Anchor Bay Films
The Ugly Truth
(18) starred this year's breakout (overrated) star
Gerard Butler
and everyone's favorite former nurse
Katherine Heigl
. This movie was dreadful and it was because neither of these "stars" seemed interested in making the movie any good. It seemed they collected their pay checks and Butler was only interested in starring in any as many films as he could in 2009.
Ever seen "The Good Son" with
Macaulay Culkin
and
Elijah Wood
? Yeah, that is what
Orphan
(17) was only it involved two female characters instead of males and it was far worse of a movie. It was supposed to be serious and thrilling but we were shaking our heads and laughing more than anything.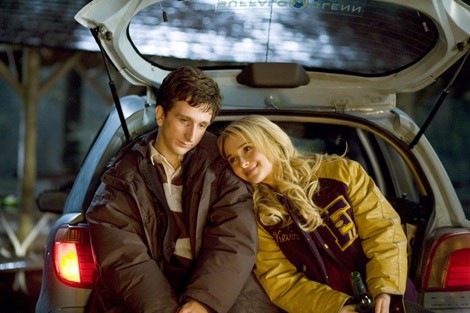 I Love You Beth Cooper © Twentieth Century Fox Film Corporation
We love
Hayden Panettiere
at Starpulse but
I Love You Beth Cooper
(16) did not do her justice. Is she a great actress, no, but she was really bad in this movie and we think she took the part to expand her roles but she struggled as Beth Cooper.
Jack Black
has been struggling lately with his roles and movies and
Year One
(15), paired with
Michael Cera
was bad for both. We had high hopes for this one and were highly disappointed as we fell asleep halfway through without a laugh.
The Da Vinci Code
was one of
Tom Hanks
' worst movies of all time until he made the sequel
Angels and Demons
(14). When handed the assignment to watch and review this one we started to feel queasy.
OK, think of the silliest movie that tried to be serious and thrilling and then remember how bad that movie was. Well, we have a movie that was sillier that tried very hard to be serious and was completely stupid. Beyonce struggled as an actress and we do not think she will be winning any acting awards any time soon, especially for
Obsessed
(13).
Fighting
(12) was one of the funniest trailers of the year, although they wanted it to be taken serious. Stud
Channing Tatum
brought in the box office but the money did not outweigh how bad and hilarious the movie was. The producers were going for a
Fight Club
2.0 but they failed … miserably.
Seth Rogen
has had an eventful past couple years and finally made a comedy that was not funny.
Observe and Report
(11) was terrible and not funny at all. We had high hopes since Rogen never fails but this time he did, miserably.
Knowing
(10) starred
Nicolas Cage
, which means it was pretty good or really (really) bad, and it was the latter. What was supposed to be a serious movie made us laugh every time Cage would have that goofy serious look on his face.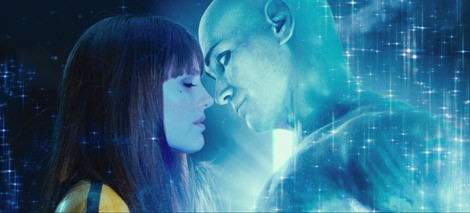 Image © Warner Bros. Entertainment Inc.
Watchmen
(9) entertained many audiences but not this one. In the genre of comic book thriller Watchmen failed to thrill or entertain us but
Malin Akerman
always does a great job of looking good.
As big fans of
Sacha Baron Cohen
it is hard for us to make fun of anything associated with him but his wife's movie
Confessions of a Shopaholic
(8) was dreadful.
Isla Fisher
had funny scenes but the movie was not entertaining at all. It did nothing for us or our girlfriend, who loves these types of movies, and it seemed like a contrived
Legally Blonde
.
Push
(7) was pathetic and we do not understand the point behind making the movie and
He's Just Not That Into You
(6) made us look at our girlfriend differently. I thought she was smart and intellectual until we watched this one together.
Paul Blart: Mall Cop
(5) makes us wonder why people made
The King Of Queens
such a popular show as
Kevin James
is a better comedian than actor. "The Room" (4) is widely known as the worst movie possibly of all time but we cannot rank it as such since we think it was made to be bad but it still falls as the fourth worst movie of 2009.
Everyone's favorite babe
Megan Fox
struggled in her starring role in
Jennifer's Body
(3), like really struggled as the writing and plot had a chance but we are starting to question Fox's abilities.
The Unborn
(2) was the second worst movie of the year and it is because we thought it had potential to scare the you know what out of us but is was just plain awful. The trailer was very cool and intriguing but it failed to meet expectations and we cannot believe we fell for that.
Miss March
(1) is the worst movie we have seen in years. It is so bad we watched the entire movie just so we could write how we watched the worst movie of the decade. OK, maybe it is not the worst movie of the decade but it is the worst movie of 2009.
2009's Worst Films

1. Miss March
2. The Unborn
3. Jennifer's Body
4. The Room
5. Paul Blart: Mall Cop
6. He's Just Not That Into You
7. Push
8. Confessions of a Shopaholic
9. Watchmen
10. Knowing
11. Observe and Report
12. Fighting
13. Obsessed
14. Angels and Demons
15. Year One
16. I Love You Beth Cooper
17. Orphan
18. The Ugly Truth
19. The Goods: Live Hard, Sell Hard
20. Spread
21. The Final Destination
22. All About Steve
23. Sorority Row
24. Love Happens
25. Couples Retreat
Story by
Matt Anaya
Starpulse contributing writer
Twitter.com/shmattshmanaya