25 Best R&B Albums Of 2013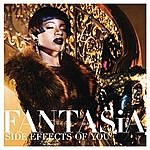 6) Fantasia - Side Effects of You
RCA
Over the course of four albums, former American Idol winner continues to captivate vocally.  Sure, sometimes the material doesn't always match up with her prodigious pipes, but more often than not, Fantasia makes up for it with her heart-wrenching, soulful vocals. Side Effects of You overall is well put together featuring some enjoyable songs showcasing 'Tasia at her best.
Recommended Spins:
"Supernatural" featuring Big K.R.I.T.; "Ain't All Bad"; "Without Me" featuring Kelly Rowland & Missy Elliott; "Change Your Mind"; "Lose To Win"; "End of Me"
7) Bilal - A Love Surreal
Entertainment One
Bilal has been captivating alt-soul fans' hearts years before Frank Ocean, Miguel, or The Weeknd came along.  He continues to shine on his fine A Love Surreal, where his vocals remain powerful and soulful. Eclectic and consistent, A Love Surreal is easily one of the year's top R&B efforts.
Recommended Spins:
"Westside Girl"; "Back To Love"; "Winning Hand"; "Slipping Away"; "Butterfly"
8) Alice Smith - She
Rainwater
Alice Smith's She easily ranks among 2013's best albums.
Underrated and under-appreciated, Alice Smith is an exceptional artist by all means.  On She, Smith delivers magnificent vocals coupled with magnificent songwriting and production.  Among her most triumphant moments is a fierce cover of Cee-Lo Green's "Fool For You", which she makes her own.  A tight album with only 11 tracks and 36 minutes in duration, She is that exceptional album you definitely shouldn't be sleeping on.
Recommended Spins:
"Cabaret"; "Another Love"; "Loyalty"; "Fool For You"; "Be Easy"
9) Jhene Aiko - Sail Out (EP)
Def Jam
Don't let Jhene Aiko's chill delivery discourage you – the girl can pack a knockout punch without sweating once! Sail Out provides an excellent picture of what the singer's full length will sound like, embracing elements of pop and alternative R&B.
Recommended Spins:
"The Vapors"; "Bed Peace"; "Stay Ready (What A Life)"; "Comfort Inn Ending (Freestyle)"
10) Chrisette Michele - Better
Def Jam
Chrisette Michele just might be R&B's most underrated female.  While commercial success has only been so-so for Michele, she's been rock-solid where consistency is concerned.  Better is a sensational and eclectic R&B effort that shows Michele's range as an artist.  Nothing is better here than promo single "A Couple of Forevers", which was easily among the year's best.
Recommended Spins:
"A Couple of Forevers"; "Let Me Win";  "Love Won't Leave Me Out"; "Visual Love"; "Charades"