'24 x 24: Wide Open With Jeff Gordon' Extended Version DVD To Be Released July 10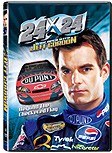 SANTA MONICA, CA, - Lionsgate (NYSE: LGF), the leading independent film entertainment studio, announced it has obtained the exclusive North American home entertainment distribution rights to an all-new DVD feature starring legendary NASCAR driver
Jeff Gordon
. The documentary-style feature,
24 x 24: Wide Open With Jeff Gordon
, produced by Wide Open Entertainment in association with Pepsi Entertainment, is sponsored by Pepsi Racing, DuPont Motorsports and Nicorette Racing. The film explores the life both on and off the track of one of NASCAR's greatest athletes.
Available July 10th, the DVD will include an extended version of the feature with an additional 30 minutes of never-before-seen footage. Interviews with legends from the world of racing, sports and entertainment, along with interviews with Jeff's family and friends, are included in the film.
Jeff Gordon has earned four NASCAR Cup Series Championships, three Daytona 500 wins and four Brickyard 400 wins throughout his illustrious career. Recently, Gordon surpassed another racing milestone by obtaining his 77th victory, surpassing
Dale Earnhardt
for number six on the NASCAR all-time win list. The release of
24 x 24: Wide Open With Jeff Gordon
will give fans unparalleled access to Gordon's life as cameras follow him for 24 hours, exposing viewers to the driver, the family man, the adventurer, the entrepreneur and the philanthropist.
The DVD distribution agreement was facilitated by Pepsi, as they celebrate 10 years of successful sponsorship of Jeff Gordon. Pepsi has partnered with Gordon co-sponsors DuPont and Nicorette to bring this project to life. Through the deal, Lionsgate looks to tap in to the bourgeoning NASCAR racing market. With more than 75 million fans worldwide, NASCAR has become a national phenomenon with its position as the number one spectator sport and the number two televised sport in the U.S. Gordon has been credited as one of the reasons for its enormous success.

"This deal marks our first domestic partnership with Pepsi Entertainment and we couldn't have imagined a better driver to spotlight than Jeff Gordon, the man who helped broaden the appeal of what is now America's number one spectator sport," said Lionsgate President Steve Beeks. "We are looking forward to this being the beginning of a long term partnership with Pepsi to bring the best in sports entertainment to the fans with the marketing clout of both companies."
"Lionsgate shares our passion for unique and entertaining content and is the ideal partner to help us showcase Jeff Gordon to a broader audience," said Ralph Santana, VP of sports, media, and entertainment marketing, Pepsi-Cola North America. "Chronicling a time in Jeff Gordon's life, which seamlessly bridges the gap between sports and entertainment, provided us with a ton of exciting footage that will not only appeal to NASCAR fans, but also to people who may not be familiar with Jeff or his great career."
"Most people are familiar with my life as a driver, but now it will be great to show fans a side of me they rarely see," said Gordon. "I can't wait to bring them along so they can see my life off the track, where I'm having meetings with my sponsors, spending time with my family, and even on a wild fishing trip with my friends!"
DVD Special Features:
* Deleted scenes
* Behind-the-scenes
* Extended version of the film with over 30 minutes of footage never seen on TV!