'21 & Over' Star Sarah Wright Knows Her Comedy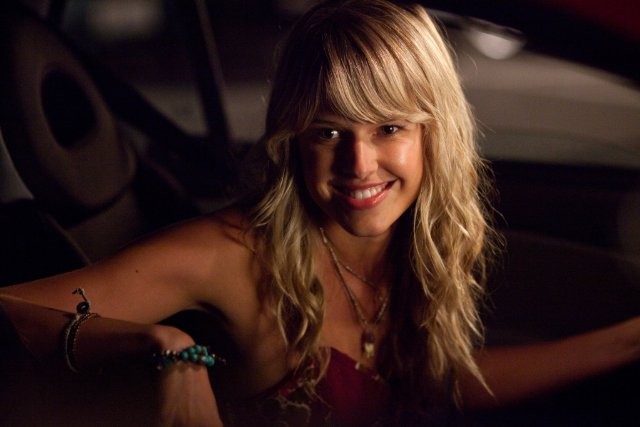 "When I started to read this movie exactly what was in my head was 'Oh, it's another college comedy,'" admitted Sarah Wright, who plays Nicole in 21 & Over, which hits Blu-Ray and DVD today. "But when I read the script, I loved the writing. I thought it was so funny. I loved the aspect to it where it was sort of about relationships, and what happens to your friends when you leave high school and go into college. And I think we all sort of go through that. There's also a sweet love story in there."
In 21 & Over, which comes from the writers of the original hit The Hangover, she got to dig deeper into a character than usually happens with most youth-oriented comedies. "I think a lot of times in these movies [with] the lead girl, usually the part is pretty small and there's not a lot going on, and I felt there was more to this character than I'd read before. It was a great opportunity," Sarah told BFTV.
"There's a scene in a bar, when Skylar [Astin] and I first meet - we sort of sit down and start talking, and I'm grilling him a little bit about what he's doing with his life. That was so fun to shoot. They just sort of us let us roll on and do some improv and play around with it a little bit. I love that scene."
The flick isn't Sarah's first foray into comedy, and it won't be her last. "I did a movie [called] The House Bunny a few years ago with Anna Faris. That's a different character. I play a total bitch in that movie. But it was a blast to shoot," she said. "I also have a movie coming out next year with Elizabeth Banks. I play her best friend in this movie called Walk of Shame." That also co-stars James Marsden and Gillian Jacobs.
TV fans know Sarah from her recurring role as Millicent Gergich, daughter of the loveable, put-upon Jerry, on NBC's Parks & Recreation. She had nothing but kind words to say about her TV dad, actor Jim O'Heir. "He's a dream," she gushed. "Everybody loves him on the show and how much they've developed his character. I think fans really are drawn to him.
"He's so loveable and wonderful. The day we were shooting with Christie Brinkley [who plays Jerry's wife] for the first time, Jim had already told Christie in the make-up trailer that she was going to love me. He's a sweet Midwestern guy."
"I love a lot of comedy movies," she told us. "I think I fell in love with comedy when I was younger. My brother and I would always sit down and watch some of the classics. Bottle Rocket is one of my favorite comedies. I also am a huge fan of documentaries. I think it's a pretty amazing type of filmmaking and if it's done right, it can definitely do something to you. So I love that and I love comedy." It's a perfect match, given how good she is at making us laugh.
21 & Over is now available on Blu-Ray and DVD from Fox Home Entertainment.
(c)2013 Brittany Frederick. Appears at Starpulse with permission. All rights reserved. No reproduction permitted. Visit my official website and follow me on Twitter at @tvbrittanyf.