'21 Jump Street' Gets Cooler Via Regency Bruin in Westwood, California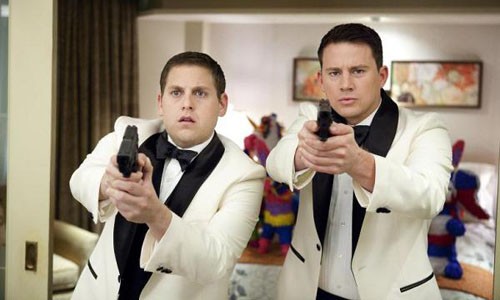 All "21 Jump Street" movie fans dying to see the flick this one is for you!  For those who follow my movie review/interview work via Starpulse (and for those who don't!) you might not know that I am also part of the management team at the famed Westwood Village and Bruin theaters in sunny California which is family owned by the great Regency Theater Chain.  My goal there is simple – add something special to going out to the movies. 
There will be a ton of upcoming sights and spectacles in the future (I'm hoping for some Ridley Scott Q&A for Prometheus myself!), but this week I'm focusing on the upcoming Jonah Hill/Channing Tatum action/comedy "21 Jump Street" (opening March 16 from Sony Pictures!) and there are some real tasty extras to be had for ticket holders.  Not only do you get to see the film at one of the best sound and picture quality palaces in the world (next to the famed Village of course!), but there will be a ton of great "21 Jump Street" themed prizes and giveaways at screenings all weekend, beginning with a first Midnight show on March 15. (For tickets click HERE!)  Plus to make it even more fun for the college crowd, we've teamed up with UCLA Radio to provide free "21 Jump Street" prize packs with tickets included – check out and click the details below.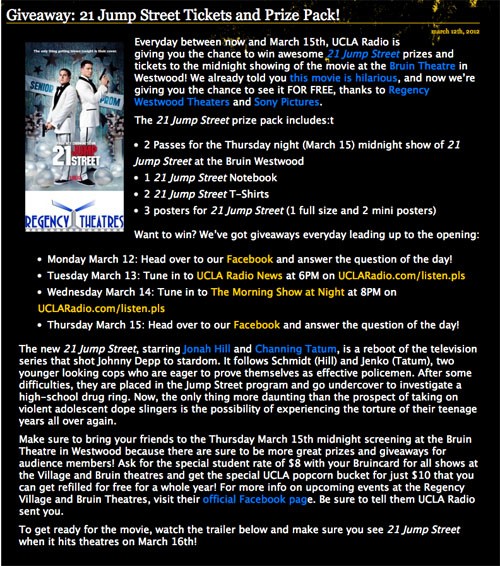 So let's show and send a message the studios and industry folk that we want more then the simple popcorn and the movie – bring back when it was an experience.  (At least while I'm at Westwood it will be!)  Make sure to check back next week as we've got a TON of prizes, giveaways and visual hoopla for the Village run of "The Hunger Games" that would make Jennifer Laurence blush!  In the meantime check out our Facebook page (it's Facebook.com/RegencyWestwood) for more details and stay entertained – special style!  (Jonah Hill - where are you?!)