'21': An Entertaining Thriller

So, I couldn't help but wait for
Jim Sturgess
, the dashing leading actor in 21, to break out into a full-fledged
Beatles
cover of "I've Just Seen a Face," one of the several numbers he killed as the
Paul McCartney
equivalent in last year's tour de ummmmm,
Across the Universe
. He settles down into a generally believable American accent, or totally believable if you don't know he's British, and cascades through the emotions of any young protagonist put to screen. 'Yeah,' I keep thinking, 'But where's The Beatles, man?' Seriously though, with all jokes aside,
21
turns out to be if nothing else, an entertaining thriller turned in with stronger-than-usual performances by most of the cast.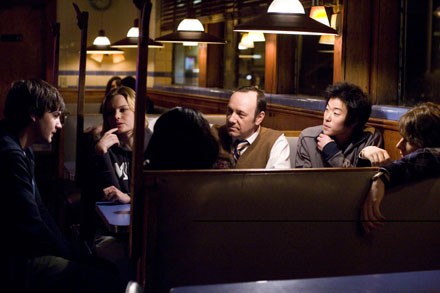 "21" is a based-on-the-true-story of six overachieving students from MIT who go to Las Vegas under the tutelage of their math professor by beating the system with an operation that's more sophisticated than simply counting cards. If the one sentence summary makes you mildly interested, it's because the premise is mildly interesting, and I don't mean that in a bad way; The real fun is won in the execution of the plot. Sturgess plays Ben Campbell, an MIT whiz who's been accepted to Harvard Med for graduate studies, only he can't afford the $300k tab on tuition. His only realistic chance of attending is by winning the Robinson scholarship-a full ride-but school only give out one of those each academic year. Peddling around on an $8 makes his situation dire. But an opportunity presents itself when Professor Micky Rosa (
Kevin Spacey
, in all of his
American Beauty
glory) pulls him aside into a dark Chemistry room one night to introduce him to a small team of students who practice a system they then use to go fly to Vegas every weekend to clean out Casinos. Campbell tussles with the idea, then he goes, then he says he's only there to pay for his tuition, then he stays, you get the idea…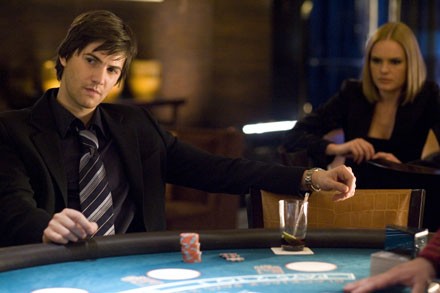 It's the people in this film who mostly make this movie work the way it does. Campbell has two supremely nerdy friends who have no hopes of scoring with women, and they're quite okay with that (
Jonah Hill
could certainly learn a thing or two about loser humor from Josh Cad, who plays Campbell's "fat" friend with beautiful humilitya).
Aaron Yoo
(
Disturbia
) is also good comedy as Choi, one of Campbell's Vegas teammates who takes nothing seriously and has an insatiable knack for stealing everything he can get his hands on. And Spacey is diabolic as a man with two faces but one agenda: bags of cash. He is as equally protective of his students as he is a threat to them. It's really up to
Kate Bosworth
to fall flat as the only true unconvincing character in this film. If this were merely based on true events, I would say that everything here were plausible except for that romance to Campbell. It's not completely her fault; the script was written (or the film edited) in such a way that basically drops her into Campbell's lap; for all the nerd that he's supposed to be, it's perplexing to think that a lady of her caliber would've been even mildly attracted to him at all, let alone from the start. As for
Laurence Fishburne
as the Casinos' muscle for cheaters, let's just say that it isn't one of his best performances.
Still, the narration that Sturgess lends as Campbell as he interchanges between his Clark Kent and
Superman
identities in Boston and Vegas respectively is nothing short of awesome to follow, and the casino scenes play exciting, suspenseful, and sexy, everything you want for your ten dollars and your time. And despite the fact the fact that the film had several little issues it could've delve into further, like why Spacey's professor would've pulled the plug on one bad night when his former protégé had been screwing around for a while, the film somehow manages to play just a few minutes too long. To be honest, that's just me being nit-picky.
My Grade: B+
Story by
Simbarashe
Starpulse contributing writer
Rated PG-13, Running time 122 minutes
Starring: Kevin Spacey, Jim Sturgess, Kate Bosworth, Laurence Fishbourne
Written by Peter Steinfeld and Allan Loeb, based on the novel "Bringing Down the House" by Ben Mezrich
Directed by Robert Luketic
Distributed by Sony Pictures