2013 Sports Illustrated Swimsuit Issue Features A Topless Kate Upton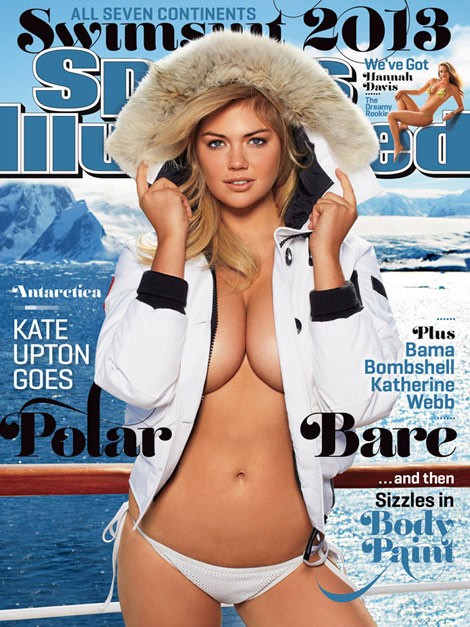 A sizzling Kate Upton graces the cover of the Sports Illustrated Swimsuit Issue for the second year in a row. Technically, the model, 20, has been featured on the cover three times, if you count an insert photo in 2011 when she was given the title "Rookie of the Year."
The magazine cover was leaked on Friday, and the 50th anniversary issue is set for release next week. Upton is featured wearing very little - a furry parka (open wide to show her extensive cleavage) and white string bikini bottoms.
The photo was shot in Antarctica, and Upton tweeted after the reveal: "We can finally talk about Antarctica!!!!!...Took us 2 months to thaw out." She then posted: "I know youv'e seen it, but here is the OFFICIAL 2013 Sports Illustrated Swim cover: http://t.co/QTlMo4tV" I look...Cold lol."
It had been rumored that Derek Jeter's girlfriend Hannah Davis would be the cover girl, but those rumors have obviously been laid to rest.
Other lucky girls who have appeared multiple times on SI include Christie Brinkley (1979, 1980, 1981), Elle MacPherson (1986, 1987, 1988), Paulina Porizkova (1984, 1985), and Tyra Banks (1996, 1997).
We wonder if Upton will be one of the elite who makes the cover in 2014 for a three-year streak?