2013 Holiday Gift Guide: DVDs & Blu-ray, Tech Goodies, Ice Cream & More!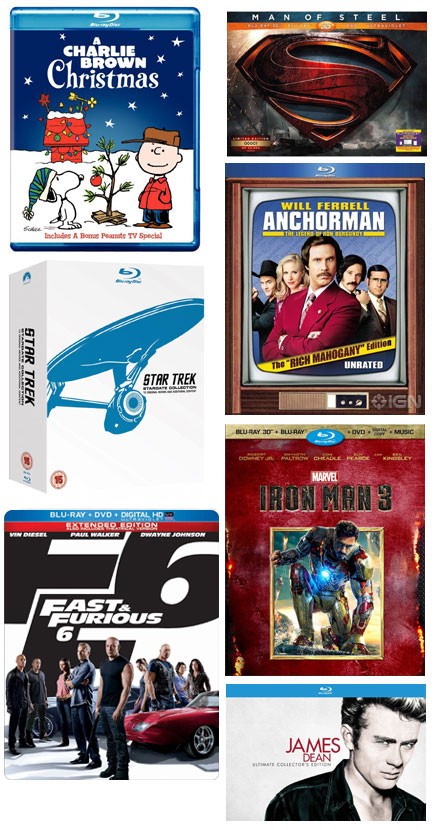 It's that time of year again, and even if you're a last-minute shopper, there are plenty of gifts you can buy your parents, kids and even that hard-to-please uncle on your list. It doesn't matter if you get up early for Black Friday deals or wait until Cyber Monday to make your purchases, we have some ideas for all your shopping needs.*
Your favorite films on Blu-ray and DVD

Star Trek: The Stardate Collection (all films on Blu-ray) (Paramount): Discover the Star Trek Universe and experience every unforgettable moment in the 10 "Star Trek" films on Blu-ray. The spirit of the Enterprise lives on in the heart-stopping action and unforgettable characters of this brilliant collection. Great for those sci-fi fans out there. $97.79 on Amazon.



Jack Ryan Collection (Paramount): Celebrate the big-screen adaptations of some of Tom Clancy's greatest works: Hunt For Red October, Patriot Games, Clear and Present Danger, and Sum of All Fears. Clancy may be gone, but his work lives on. $53.99.

Iron Man 3 (Disney): Brilliant industrialist Tony Stark/Iron Man is pitted against an enemy whose reach knows no bounds. When Stark finds his personal world destroyed at his enemy's hands, he embarks on a harrowing quest to find those responsible. This action-packed film is a must-have for fans of the franchise. $19.99 DVD + Digital Copy.

Mary Poppins 50th Anniversary Edition (Disney): The world's greatest nanny turns a family upside-down. The Banks' children have chased off every nanny in London, and it's up to the magical Mary Poppins to set them right. If your kids haven't seen this yet, now's the time. $32.96 Blu-ray + DVD + Digital Copy.



Planes (Disney):  Dusty  (Dane Cook) is a big-hearted, fast-flying crop duster who dreams of competing in the most exhilarating around-the-world air race in history. There are only a couple of not-so-small problems - Dusty is not exactly built for racing and he also happens to be afraid of heights. Who doesn't love a Disney film? $17.49.

A Charlie Brown Christmas on Blu-ray  (Warner Bros.): The story relates Charlie Brown's attempt, in the midst of a nightmare of crass commercialism, to discover what Christmas is really all about. Instead of waiting for it to air on TV, have it ready for Christmas morning in high definition. $16.99.

Anchorman: The Rich Mohagany Edition (Paramount): Ron Burgundy is the top-rated anchorman in San Diego in the 1970s. When feminism marches into the newsroom in the form of ambitious newswoman Veronica Corningstone, Ron is willing to play along at first - as long as Veronica stays in her place. Watch the original before the sequel hits theaters on Dec. 20. $21.98.

Man of Steel Limited Collector's Edition 3D Blu-ray (Warner Bros.): This set features the theatrical version of the film in 3D hi-definition, hi-definition and standard definition, and also includes a limited release metal "S" glyph with acrylic glass stand. It's a great gift for the super Superman fan. $42.96.

James Dean Ultimate Collector's Edition (Warner Bros.): Experience the movies that made James Dean a Hollywood legacy. The set includes his three films: "East of Eden," "Rebel Without a Cause" and "Giant" along with a 40-page commemorative book, mini reproductions of the original theatrical movie posters, authentic production memos from East of Eden and Rebel Without a Cause and Behind-the-scenes photos. This is a must for classic film buffs. $72.49. 

Monsters University (Disney): Mike Wazowski (Billy Crystal) and James P. Sullivan (John Goodman) are an inseparable pair, but that wasn't always the case. When these two mismatched monsters met they couldn't stand each other. This is the story of how Mike and Sulley overcame their differences and became the best of friends. Kid approved! $16.99 DVD.

Despicable Me 2 (Universal): Just as Gru, Margo, Edith and Agnes, Dr. Nefario and the Minions have some free time on their hands, an ultra-secret organization dedicated to fighting evil around the globe comes knocking. The world's greatest ex-villain and his new partner Lucy Wilde must discover who is responsible for a spectacular crime. This is definitely another children's favorite. $23.96 Blu-ray + DVD + Digital HD with Ultra Violet.
Mickey's Christmas Carol 30th Anniversary (Disney): Ebenezer Scrooge (Scrooge McDuck) doesn't understand that Christmas is about giving. But when he's visited by ghosts (Goofy and Jiminy Cricket) and sees what he's missing, he changes his Christmas tune. A twist on the original Charles Dickens tale, it still resonates with parents and their little ones. $24.99.
China Beach: The Complete Series (StarVista Entertainment): The ABC series just celebrated its milestone 25th anniversary, and the 21-disc collector's set featuring all 62 episodes and over 10 hours of exclusive, never-before-seen bonus features. $199.95 from Timelife.com.
Fast & Furious 6 (Universal): Hobbs has Dom and Brian reassemble their crew in order to take down a mastermind who commands an organization of mercenary drivers across 12 countries. It's got Paul Walker and Vin Diesel, so it appeals to both men and women. $23.99 Blu-ray + DVD + Digital HD.

One Direction: This Is Us (Sony Pictures): This pseudo-documentary gives fans an all-access look at life on the road for the global music phenomenon One Direction. $19.96 DVD.
The Twilight Zone: The Complete Series (Image Entertainment): All 156 episodes of Rod Serling's classic, groundbreaking series in one special box set!  Travel to another dimension of sight and sound again and again. $157.45 on Blu-ray.
The Heat (FOX): An uptight FBI Special Agent (Sandra Bullock) is paired with a foul-mouthed Boston cop (Melissa McCarthy) to take down a ruthless drug lord. Everyone needs a little comedy during the holidays. $13.99 on DVD.
Check out some tech goodies on the next page...