2013 Golden Globe Awards Fashion: Stars Dazzle In Black, White & Red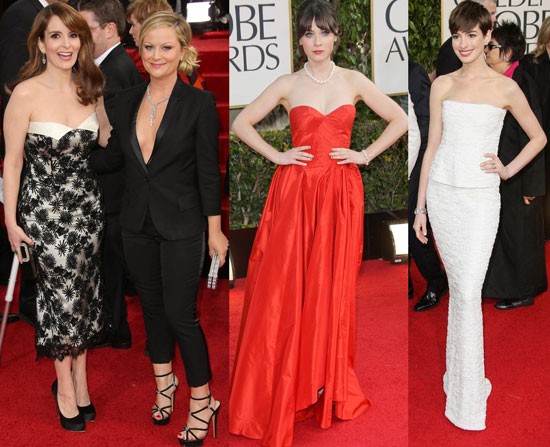 Sunday night was one of the of the biggest events in Hollywood - the 2013 Golden Globes Awards. Red, white and black were some of the more popular choices on the red carpet, with stars such as Zooey Deschanel, Jennifer Garner, Claire Danes, Marion Cotillard and Jennifer Lawrence opting for crimson gowns.
Hosts Amy Poehler and Tina Fey wore black and white, and Eva Longoria looked very leggy in a black gown with a slit up the thigh. Salma Hayek also stunned in a strapless black dress that showed off her curvy figure. Rachel Weisz wore black with a sheer polka dot skirt and her best accessory? husband Daniel Craig. Katharine McPhee also looked "Smash"-ing in a low-cut black dress.
Celebrities that chose wedding white for the event included Anne Hathaway, Jennifer Lopez, Megan Fox, Hayden Panettiere, Heidi Klum and Lea Michele, who all looked stunning in their dresses.
A few ladies took a risk with printed gowns, including Halle Berry who rocked a pink patterned dress that showed some skin on her hip and leg. Less successful was Lucy Liu, who wore a billowing blue and floral number.
Check out tons of images from the red carpet...