2013 Fall TV Preview: The Returning Shows On ABC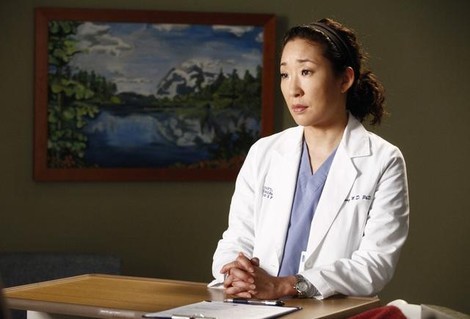 GREY'S ANATOMY returns on Thursday, September 26 at 9PM

The season 10 premiere spans 2 hours and features a mudslide. Last season opened with the aftermath of an exploded bomb. Is this show still a hospital drama? The Grey's doctors will treat a bunch of firefighters, if I read what I read correctly. 10 seasons is an impressive feat. It's the longest running scripted drama (unless Supernatural's been on a few weeks longer). Sandra Oh will leave the series during the season. I'm sure something horrible will befall her character. How many original characters remain?

ONCE UPON A TIME returns on Sunday, September 30 at 8PM

I quit on OUAT 11 episodes into season 2. I couldn't do it anymore. I couldn't take the crappy special effects, the absurd amount of characters and storylines, and the sense that none of it mattered and none of it was going anywhere. I read the little myrmaid will be introduced into the story. Evil Peter Pan wants Henry, but it'll take 11 episodes to understand Pan's interest in the kid. Are you kidding me? 11 episodes? Using 11 episodes to explain evil Peter Pan's intentions is why I'll never watch Once Upon a Time again. Co-creator Adam Horowitz said the adventure to Neverland is its own story with comedy, adventure, romance, and unnecessarily long plot developments. No one needs an 11 hour Peter Pan movie.

REVENGE returns on Sunday, September 29 at 9PM

Season 2 of Revenge was a miserable experience. Mike Kelley and his room couldn't create enough stories to justify a 22 episode order. Plot threads dragged and then dropped when something more interesting came up. I still don't know how the Jennifer Jason Leigh plot line resolved. Did it resolve? Mike Kelley departed the show. The new show runner must justify a 22 episode order. It's all that matters. Don't make your audience aware they are wasting their time watching television. Make it worthwhile enough to help people forget they're wasting their time. I wrote about the first two seasons of the show, but I've bid it goodbye.

SCANDAL returns on Thursday, October 2 at 10PM

Recappers and reviewers need to find a different adjective to describe cliffhangers. If I ever use 'explosive' to describe a cliffhanger, I deserve spam from the DISH network. A simple perusal of the internet about the Scandal finale results in recaps about the explosive cliffhanger. I think a bomb went off. In fact, Olivia learned her dad plotted to kill her; plus, she needed to decide whether or not to continue with her affair with the president. Those plot points aren't explosive. Surprising? Yes. Use surprising. Another headline for season promises a 'shocking' premiere. Of course. Expect shocking storytelling and Lisa Kudrow.

Tomorrow: the returning shows across the cable and premium channels.