2012 Television Premiere Dates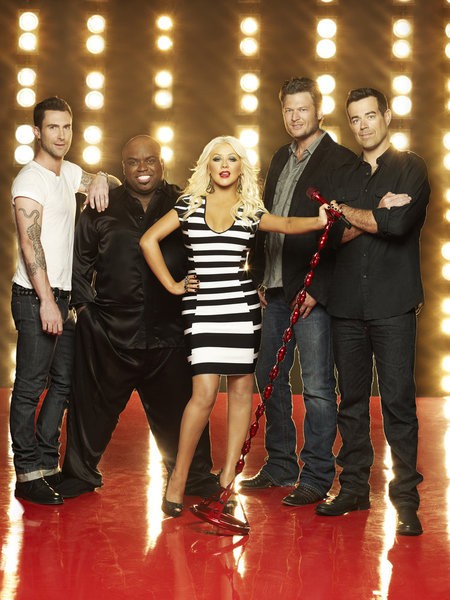 It's that time of year again. Television fans have appointments with their couches as the fall season kicks off this month with tons of returning favorites and new shows. DVRs will be working overtime as viewers record their must-see-TV programs and talk about them later at the watercooler.
Check out the premiere dates of the new season (brand new shows are indicated with italics and by *). All times are eastern unless otherwise indicated.

Monday, September 10
The Voice 8 p.m. NBC
Tuesday, September 11
Go On 9 p.m. NBC *
The New Normal 9:30 p.m. NBC *
Parenthood 10 p.m. NBC

Wednesday, Sept. 12
The X Factor 8 p.m. FOX



Thursday, September 13
Glee  9 p.m. FOX

Sunday, September 16
Boardwalk Empire 9 p.m. HBO

Monday, September 17
Bones 8 p.m. FOX
The Mob Doctor 9 p.m. FOX *
Revolution 10 p.m. NBC *

Wednesday, September 19
Survivor: Phillipines 8 p.m. CBS

Thursday, September 20
Up All Night 8:30 p.m.  NBC
The Office 9 p.m. NBC
Parks and Recreation 9:30 p.m. NBC

Sunday, September 23
Treme 10 p.m. p.m. HBO



Monday, September 24
Dancing With The Stars: All Stars 8 p.m. ABC
Castle 10 p.m. ABC
How I Met Your Mother 8 p.m. CBS
Partners 8:30 p.m.  CBS *
2 Broke Girls 9 p.m. CBS
Mike & Molly 9:30 p.m. CBS
Hawaii Five-0 10 p.m. CBS

Tuesday, September 25
NCIS 8 p.m. CBS
NCIS: Los Angeles 8 p.m. CBS
Private Practice 10 p.m. ABC
Vegas 10 p.m. CBS *

Wednesday, September 26
CSI  10 p.m. CBS
Criminal Minds 9 p.m. CBS
Law & Order: SVU 9 p.m. NBC


Animal Practice 8 p.m. NBC *
Guys With Kids 8:30 p.m.  NBC *
The Middle 8 p.m. ABC
Modern Family 9 p.m. ABC
The Neighbors 10 p.m. ABC *
Chicago Fire 10 p.m. NBC *

Thursday, September 27
The Big Bang Theory 8 p.m. CBS
Two and A Half Men 8:30 p.m.  CBS
Last Resort 8 p.m. ABC *
Person of Interest 9 p.m. CBS
Grey's Anatomy 9 p.m. ABC
Scandal 10 p.m. ABC
Elementary 10 p.m. CBS *



Friday, September 28
CSI: NY 8 p.m. CBS
Kitchen Nightmares 8 p.m. FOX
Made in Jersey 9 p.m. CBS *
Blue Bloods 10 p.m. CBS
Fringe 9 p.m. FOX

Sunday, September 30
Dexter 9 p.m. pm Showtime
Homeland 10 p.m. pm Showtime
The Good Wife 9 p.m. CBS
The Mentalist 10 p.m. CBS
The Amazing Race 8 p.m. CBS
Once Upon a Time 8 p.m. ABC
Revenge 9 p.m. ABC
666 Park Avenue 10 p.m. ABC *
The Simpsons 8 p.m. FOX
Bob's Burgers 8:30 p.m.  FOX
Family Guy 9 p.m. FOX
American Dad 9:30 p.m. FOX

Tuesday, October 2
Hart of Dixie 8 p.m. The CW
Raising Hope 8 p.m. FOX
Ben and Kate 8:30 p.m.  FOX *
New Girl 9 p.m. eastern FOX
The Mindy Project 9:30 p.m. FOX *

Wednesday, October 3
Supernatural 9 p.m. The CW

Thursday, October 4
30 Rock 8 p.m. NBC

Monday, October 8
90210 p.m. 8 p.m. The CW
Gossip Girl 9 p.m. The CW

Wednesday, October 10
Chicago Fire 10 pm NBC *
Nashville 10 p.m. ABC *
Arrow 8 p.m. The CW *

Thursday, October 11
The Vampire Diaries 8 p.m. The CW
Beauty and the Beast 9 p.m. The CW *

Sunday, October 14
The Walking Dead 10 AMC

Tuesday, October 16
Emily Owens, M.D. 9 p.m. The CW *

Wednesday, October 17
Suburgatory 10 p.m. ABC

Friday, October 19
Whitney 8 p.m. NBC
Community 8:30 p.m.  NBC
Nikita 9 p.m. The CW

Tuesday, October 23
Happy Endings 9 p.m. ABC
Don't Trust The B---- in Apartment 23 9:30 p.m. ABC

Friday, October 26
Touch 8 p.m. FOX
 
Friday, November 2
Last Man Standing 8 p.m. ABC
Malibu Country 9 p.m. ABC *