2012 MTV VMAs Fashion - Rihanna's New 'Do, Miley's Plunging Neckline & More (Pics)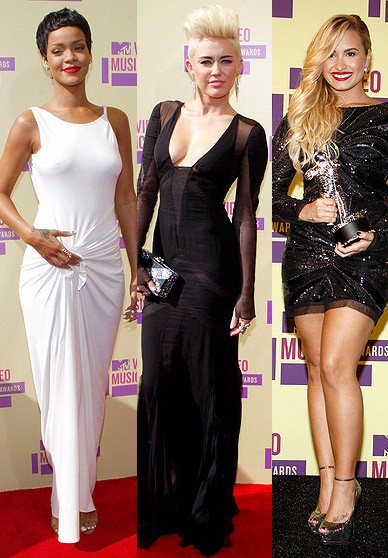 Rihanna showed off a new pixie haircut on the red carpet at Thursday night's MTV Video Music Awards (VMAs) and Miley Cyrus took the plunge in another cleavage-baring gown.

Nicki Minaj looked like an arachnid, with a very black widow-like black and red dress; Katy Perry dazzled in a see-through black gown with a blue and red floral print.

Rapper Wiz Khalifa and fiancee Amber Rose announced their pregnancy by showing off her big belly; Alicia Keys opted for the Angelina Jolie Oscars look, showing off one leg through the slit in her dress; and Hollywood made its presence with stars Emma Watson, Peter Facinelli and Zoe Saldana in attendance.

The big winners for the evening included British boy band One Direction, who took home three awards -- Most Share-Worthy Video, Best Pop Video and Best New Artist.

Rihanna took the Moonman trophy for Video of the Year for her single "We Found Love"; while her ex, Chris Brown won for Best Male Video ("Turn Up the Music"). Nicki Minaj took home the Best Female Video ("Starships").

Olympic gymnast Gabby Douglas showed off her gold medal-winning moves during Alicia Keys' performance.

Check out more pics from the red carpet on the following pages!