2012 Grammy Awards Fashion: Some Wore Colors While Most Wore Black On A Bittersweet Evening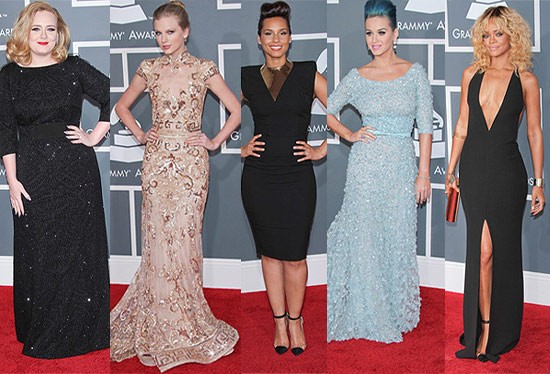 The 2012 Grammy Awards will forever be remembered for one reason: the event took place the night after the music industry lost one of their biggest stars in an untimely fashion: Whitney Houston.

Despite the somber undertones of host LL Cool J's opening prayer for the late singer and a rousing performance of her hit song "I Will Always Love You" by Jennifer Hudson; the night was about the music and the attitude that the show must go on.

As always with award shows, the night is also about the fashion. While many stars wore black - perhaps in honor of the late Houston - many stars let the colors shine through on a somber evening.

The night's big winner Adele and Rihanna both showed off new blonde locks while dressing in black. Presenter Kate Beckinsale once again affirmed Seth Rogen's comments from the Golden Globes (see the video here) a few weeks ago as she stunned in a short cream colored dress with a black velvet bow over one shoulder. And Nicki Minaj easily beat a seldom seen Lady Gaga at her own game with both the night's WTF outfit and WTF performance.

See all the pics on the following pages, and don't forget to leave us a comment to let us know what you think!

See the full list of winners & show recap here.