2012 Golden Globes Fashion: Who Rocked The Red Carpet & Who Didn't?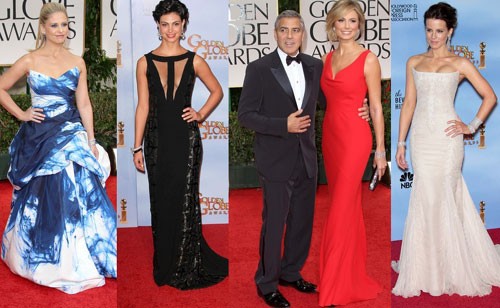 The Golden Globes are the first big awards show of the season, and the stars came out in colorful ensembles to attend one of Hollywood's most prestigious events leading up to the Academy Awards.
There were very few fashion missteps at this year's event. "Homeland" actress Morena Baccarin wore a daring black dress that showed quite a bit of cleavage (is that appropriate?), while "Ringer" star Sarah Michelle Gellar took a chance with a blue and white tie-dyed gown (too bohemian?).
There wasn't a lot of flash on the red carpet. Few stars wore sequins (Laura Dern, Madonna, Diane Lane and did), but many opted for strapless looks.
Check them all out in the following pages, and let us know who you think rocked the red carpet & who didn't!