2012 DVD & Blu-ray Holiday Gift Guide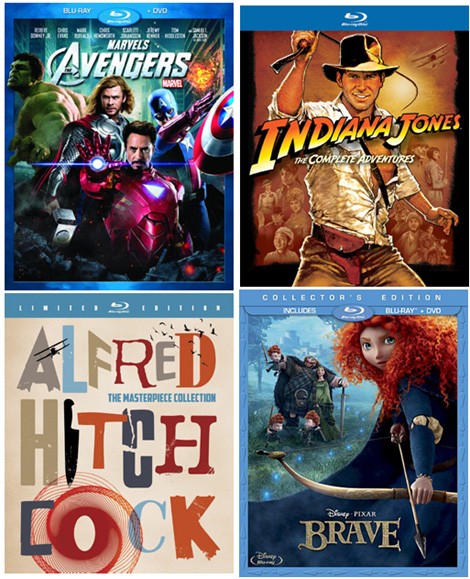 Hollywood has put out some great home entertainment releases over the past few months, and we have some suggestions for the film lover, TV fanatic, secret santa and more!
Not sure what to buy your picky uncle or reclusive sibling? Do you need something for the office grab bag? Check out our list of this season's must-have DVDs and Blu-ray discs...
FOR THE WHOLE FAMILY

The premium 4-Disc Blu-ray Combo Pack provides 5-unique ways to enjoy "Marvel's The Avengers" (on Blu-ray 3D, Blu-ray, DVD, Digital Copy and Digital Download of "Avengers Assembled" Music from and inspired by the film) and brings to life the Super Hero team-up of a lifetime in a whole new dimension on Blu-ray hi-def with stunning visual effects, superior sound and unparalleled bonus content.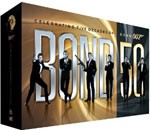 BOND 50
Metro-Goldwyn-Mayer Studios and Twentieth Century Fox Home Entertainment released BOND 50, a collectible box-set  featuring all 22 James Bond films on Blu-ray Disc for the first time in one complete offering.
INDIANA JONES: THE COMPLETE ADVENTURES on Blu-ray
All four of the "Indiana Jones" films are now available in a special blu-ray set available from Paramount Home Media Distribution. For the first time ever, watch the completely restored version of "Raiders of the Lost Ark" and remastered versions of "Indiana Jones and the Temple of Doom," "Indiana Jones and the Last Crusade" and "Indiana Jones and the Kingdom of the Crystal Skull."
The Men in Black are back, and this time Agent J (Will Smith) must take a trip into the past in order to save both the future and his taciturn partner Agent K (Tommy Lee Jones) in the third installment of the hit sci-fi comedy series.
FOR HER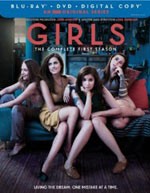 GIRLS: THE COMPLETE FIRST SEASON on Blu-ray and DVD
Created by and starring Lena Dunham, the HBO series "Girls" takes a comic look at the assorted humiliations and rare triumphs of a group of girls in their early 20s.
MAGIC MIKE on Blu-ray and DVD

Mike (Channing Tatum) is an entrepreneur with a lot of talent and a lot of charm. He spends his days seeking the American dream, from roofing houses to designing furniture. At night, he takes off his clothes for money. The hot headliner at an all-male revue, Mike has been working at the strip club for years, showing off his original dance moves. But eventually a new woman enters his life, and it makes him second guess his late-night occupation.
TITANIC on Blu-ray 2D & 3D
Available in high definition for the first time ever, James Cameron's timeless and unforgettable tour de force "Titanic" is now available in stunning 2D and 3D, providing a cinematic in-home experience like never before.  
THE HUNGER GAMES on Blu-ray and DVD
The film, based on the best-selling young adult novel by Suzanne Collins, was an international hit, making nearly $700,00,000 worldwide.
FRIENDS: THE COMPLETE SERIES on Blu-ray
The ultimate collector set features over 110 hours of content (90 hours of features and 20 hours of bonus content). All 236 original broadcast episodes.
FOR HIM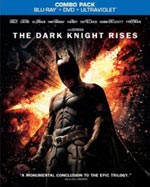 THE TERIMNATOR ANTHOLOGY - A Collection Of All Four Films On Blu-ray
Special features include: The Terminator: A Retrospective, "Other Voices" Documentary with James Cameron, Deleted Scenes with James Cameron, Audio commentary with James Cameron and writer William Wisher, T2 Cast & Crew audio commentary, Deleted Scenes/ Outtakes, Over 8 hours of interactive special features: behind-the-scenes video and multimedia galleries, storyboard-script mode, quizzes and games, Terminator: Rise of the Machines 3 Audio Commentaries, Terminator Salvation mythology timelines, Terminator Salvation "Re-Forging the Future" documentary.
The Expendables return with a vengeance in a follow-up to the 2010 surprise hit. This time, Barney Ross (Sylvester Stallone) and his merry band of mercentaries (including Jason Statham, Randy Couture, Dolph Lundgren, and Terry Crews) take on a mission from Mr. Church (Bruce Willis) to clear Ross' record.
Christopher Nolan's Batman trilogy concludes with The Dark Knight pitted against Bane, an unstoppable foe possessed of tremendous physical and intellectual strength.
Typical teenager Peter Parker (Andrew Garfield) embraces his incredible destiny after uncovering one of his father's most carefully guarded secrets in a reboot of the Spiderman franchise.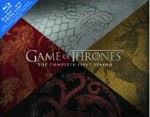 THE BOURNE LEGACY
The fourth installment of the highly successful Bourne series sidelines main character Jason Bourne in order to focus on a fellow estranged assassin (Jeremy Renner).
GAME OF THRONES: THE COMPLETE FIRST SEASON COLLECTOR'S EDITION on Blu-ray
The beautiful collector's box set is designed with the sigils of the four main houses and comes with a premium dragon egg paperweight, a Blu-ray bonus disc of season two, episode one, as well as all of the bonus materials and interactive features from the original DVD and BD releases.
FOR KIDS
CINDERELLA: DIAMOND EDITION Blu-ray and DVD

The Cinderella: Diamond Edition sparkles like never before with a wide-array of bonus features, including never-before-seen material, family-friendly interactive activities, games and more. Audiences can enjoy this timeless masterpiece in a 6-Disc Jewelry Box Set, 3-Disc Blu-ray Combo Pack, 2-Disc Blu-ray Combo Pack or High-Definition Disney Digital.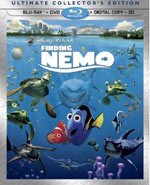 FINDING NEMO 3D Blu-ray

Disney Pixar's "Finding Nemo " dives back into theaters and homes this year in breathtaking Digital 3D. This must-have underwater adventure swims into living rooms for the first time ever in high-definition Blu-ray, Blu-ray 3D and Digital Platforms.
BRAVE 3D Blu-ray

An original and thrilling journey set in the ancient and magical Highlands of Scotland; Brave follows the heroic journey of the headstrong, young adventurer Merida. The 5-Disc Ultimate Collector's Edition (1 Blu-ray 3D + 2 Blu-ray Discs + 1 DVD + 1 Digital Copy) has something for everyone – from the home entertainment enthusiast who demands the highest quality, state-of-the-art technology offerings, to the family who enjoys the interactive and engaging bonus features that only Blu-ray can provide.
DIARY OF A WIMPY KID: DOG DAYS on Blu-ray
In this third film in the Diary of a Wimpy Kid series, Greg Heffley (Zachary Gordon) wants to spend the summer before eighth grade playing video games and maybe, if he can finagle it, getting closer to his crush Holly Hills (Peyton List). The former plan goes out the window when his dad Frank (Steve Zahn) decides to ban video games from the house.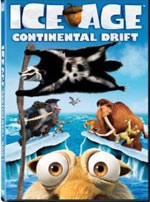 ICE AGE: CONTINENTAL DRIFT on Blu-ray
Scrat's acorn obsession sparks a continental catastrophe that sends Manny (Ray Romano), Diego (Denis Leary), and Sid (John Leguizamo) on an epic adventure involving a ship full of fearsome pirates, and an unexpected reunion as the Ice Age saga continues in this eye-popping sequel.
MADAGASCAR 3: EUROPE'S MOST WANTED
The third entry in the Madagascar franchise finds the tightknit group of animals joining a traveling circus in order to get back home.
This charmingly morbid tale centers on an eccentric young hero facing supernatural forces that would make most grown-ups cower in fear.
E.T. on Blu-ray
It's been a whopping 30 years, and it's time to head back to glowing finger land with a look at the new DVD/Blu-ray.
SEASONAL

THE MUPPET CHRISTMAS CAROL It's Not Easy Being Scrooge Special Edition on Blu-ray

Available for the first time ever on Blu-ray with high definition sound and picture, so you can enjoy even more of my blue-ness, not to mention the incredible spectacle of Kermit the Frog as Bob Cratchit, Miss Piggy as Emily Cratchit, Michael Caine as Scrooge, wonderful songs by Paul Williams and, of course, Rizzo the Rat as … well, Rizzo the Rat. 
Take a trip to the North Pole and discover exactly how Santa Claus makes Christmas magic happen every year in this imaginative comedy for the entire family.
TELEVISION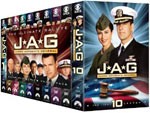 JAG: JUDGE ADVOCATE GENERAL -  THE COMPLETE SERIES
This one-hour drama follows the adventures of the JAG team as they investigate, defend and prosecute military-related cases from their home base near Washington, D.C. Commander Harmon 'Harm' Rabb, Jr. (David James Elliott) is a daring Navy officer and lawyer who works together with partner Lt. Colonel Sarah 'Mac' MacKenzie (Catherine Bell), commanding officer Admiral Chegwidden (John M. Jackson) and attorney Lieutenant Bud Roberts (Patrick Labyorteaux).
MAD MEN SEASON 5
Season Five plunges into the seductive and intriguing world of Sterling Cooper Draper Pryce. Jon Hamm and the rest of the award-winning cast continue to mesmerize as they adapt to changing times, social revolution, and a radical world. Lust is back. Adultery is back. Deception is back.

THE DICK VAN DYKE SHOW - THE COMPLETE SERIES on Blu-ray
Trip into the living room of comedy writer Rob Petrie (Dick Van Dyke) along with his lovely wife, Laura (Mary Tyler Moore), wisecracking co-workers and nutty neighbors. Consistently ranked among the top TV comedies of all time and renowned for its top-notch cast and stellar writing, this groundbreaking series is now available in one special collectible box set, presented fully restored and uncut! All Episodes Digitally Remastered for Unsurpassed Video and Audio Quality!
CLASSICS FOR THE FILM ENTHUSIAST
ALFRED HITCHCOCK: THE MASTERPIECE COLLECTION

Fifteen of the most acclaimed films by legendary director Alfred Hitchcock come together on Blu-ray for the first time ever.  This ultimate collector's set features 13 films previously unavailable on Blu-ray, a collectible 50-page book featuring storyboards, costume sketches, correspondence, photographs, and much more. Plus a treasure trove of over 15 hours of documentaries, filmmaker commentaries, interviews, screen tests, trailers and a new documentary "The Birds, Hitchcock's Monster Movie, enough to satisfy even the most ardent Hitchcock fan.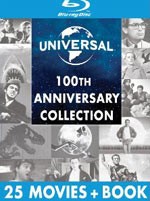 UNIVERSAL 100TH ANNIVERSARY COLLECTION
For 100 years, Universal Pictures has been entertaining audiences all around the world with some of the most unforgettable movies ever made.  The collection features a selection of 25 unforgettable films that helped shape the legacy of one of the most successful movie studios of all time. Featuring prestigious Academy Award® winners such as To Kill a Mockingbird and The Sting, genre-defining classics like Dracula and Spartacus, captivating storytelling such as Field of Dreams and Do the Right Thing, blockbusters like Jurassic Park and E.T. The Extra-Terrestrial and pure entertainment with franchises including The Bourne Identity and The Fast and the Furious, these movies continue to have an enduring impact throughout the world.
THEY LIVE (COLLECTOR'S EDITION) on blu-ray
They influence our decisions without us knowing it. They numb our senses without us feeling it. They control our lives without us realizing it. They Live. Horror master John Carpenter directs this heart-pounding thriller. Aliens are systematically gaining control of the Earth by masquerading as humans and lulling the public into submission. Humanity's last chance lies with a lone drifter who stumbles upon a harrowing discovery : a unique pair of sunglasses that reveals the terrifying and deadly truth.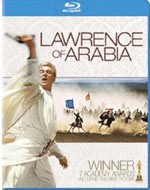 LAWRENCE OF ARABIA (5OTH ANNIVERSARY COLLECTOR's EDITION) on Blu-ray
David Lean's biography of the enigmatic T. E. Lawrence paints a complex portrait of the desert-loving Englishman who united Arab tribes in battle against the Ottoman Turks during World War I.
EDUCATIONAL
ANCIENT ALIENS: COLLECTOR'S EDITION 
This 13-disc box explores the theories first proposed by Erich von Daniken in his 1968 book, "Chariots of the Gods".  The series provides historical context to the questions and speculations surrounding ancient astronaut theory, as well as firsthand accounts and groundbreaking evidence supporting these controversial opinions. From the age of dinosaurs to the mysteries of ancient Egypt, and from the possibility of time travel to present-day sightings and cover-ups, each disc provides the information you need to make up your own mind. ANCIENT ALIENS examines 25 thousand years of the most credible alien evidence here on Earth.