2012-13 TV Pilots: Most Promising, Maybes & The Absolutely Nots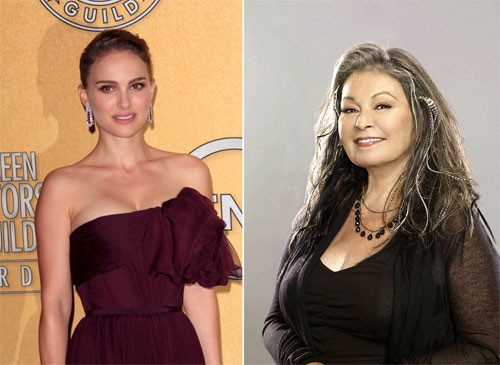 So you've just dragged your withered Christmas tree corpse to the curb, already given up on your New Year's resolution, stocked up on head lamps and Zoloft in anticipation of six more weeks of winter. The holidays aren't over yet! Turn that frown upside down - it's time for pilot season again! Yes it's that time of year where network pod people awkwardly put on their best human heads, try to imagine what the humans want to see on their teevee screens, hilariously bungle the task, and amuse us endlessly in the process! It's ripe for comedy, and no doubt will be a pilot in and of itself next season.
Monday, The Hollywood Reporter released a list of all pilots that have been picked up for the 2012-13 season. Let's take a look, shall we?
The Most Promising
"Downwardly Mobile" - a multicam NBC comedy from the mind and wheelhouse of Roseanne Barr!! Roseanne serves as the leader of a trailer park, and surrogate mother to the inhabitants who have been affected by the current economic downturn. This could be delightful. Roseanne is particularly gifted in the execution of blue collar comedy, able to pull it off without that ridiculous Foxworthy cartoonishness. In my dreams this project blends the wit of the original Roseanne show (the sitcom) with a zany "Raising Hope"-esque charm. Attaching Laurie Metcalf to the project can't hurt either. Just sayin'.
"Untitled Mindy Kaling Project" - even though this is being billed as a Bridget Jones-esque comedy, we can't help but be excited about Mindy's first solo project. She will be EPing and starring, playing a doctor, who, judging from the homage above, is fairly clumsy in the ways of the menz. It's a Fox single cam comedy which is also a hit-or-miss setup, but let's cross our fingers and think good thoughts. 
"Beautiful People" - The logline of this NBC drama is confusing but oddly intriguing, so here it is verbatim: An imaginative and thematically rich ensemble "what-if" drama set 10 minutes in the future where families of mechanical human beings exist to service the human population -- until some of the mechanicals begin to "awaken." So it's kind of fantasy/sci-fi-y, but it still has potential. PLUS - Frances Conroy is involved. And she is one of the best character actors in all the land. 
"Go On" - NBC, single camera comedy about an irreverent sportscaster forced into group therapy. That's kind of vague, but I have a good feeling about this one. Kind of like "Sports Night" meets "Californication." Of course, the TBD cast is a giant question mark. Scott Silveri is the writing EP, though. And with credits like "Joey" and "Perfect Couples..." OK, I'm changing my vote. This is a 'maybe.' I like the title though.
"The Selection" - this is another one that's hovering between 'most promising' and 'maybe.' The premise is undoubetdly the most original on this list. Based on the novels by Keira Cass, set 300 years in the future, this CW drama/romance chronicles the life of a poor woman who wins a lottery to become the next queen of a war-torn nation. The romance interest isn't mentioned, but, hm. This could be amazing. The only thing that keeps it from being something that we're genuinely excited about is the fact that it's on the CW. And. It's on the CW. 
"Scruples" - Truth? We never pictured ourselves endorsing a Judith Krantz adaptation. But it's a cheesy 70s soap opera set in Beverly Hills and has real potential. And Natalie Portman is an executive producer (what?). It follows a socialite obsessed with her husbad's death, and also opening a boutique or something: The Real Housewives of Beverly Hills meets Knots Landing. We know it'll be desecrated by ABC. They'll add that kooky Brothers & Sisters soundtrack all over moments that should be silent, and it'll be overlit and overstylized not at all reminiscent of anything 70s, but we're still holding out hope. Yes, this is what it souds like when we're hopeful. 
The Maybes
"Gotham"/"666 Park Avenue" - NYC is haunted in both of these ABC dramas. Other than the fact that one takes place in a specific apartment building, and one takes place in the whole New York City, they appear to be the same show. Leaving both of these here just in case this turns out to be a "Studio 60/30 Rock" kind of throwdown and one turns out to be brilliant. And the other... just fades delicately into the wind. 
"Gilded Lilys" - or perhaps known better under its working title: ABC's most egregiously obvious stab at a Downton Abbey knock off. The logline:revolves around the opening of the first luxury hotel in New York in 1895 and the intermingling of love, treachery and disdain between the classes set against a backdrop of vicious family rivalries, scandalous secrets and conflict and co-mingling of the classes. Cast is still TBD. Fact: America never does the Brits justice when imitating their originals (The Office). Another fact: network adaptations of successful trends never works (Pan Am). It does not excape us that The Office is a wildly successful American show, though in our opinion, it should have been cancelled after Season 3, hence its 'maybe' status. It probably won't be good, but it will probably overstay its welcome by a few seasons. 
"Go On" - see above.
"Nashville" - I'm feeling romantic and optimistic about this guy, and picturing it much like the Altman classic of the same name. This is an ABC drama-soap about life in the Nashville music scene. Cast, TBD. EPs, solid (W/EP Callie Khouri; EP/D RJ Cutler; EP Steve Buchanan/Grand Ole Opry). I just really, really hope it takes place in the 70s. Then it can't lose. But it won't. It will be all Hollywood-stylized and everyone's teeth will be too white, and all the guys will look like 14 yr old girls and the 14 yr old girls will look like over-sexualized babies, and there probably won't be one banjo. And the entire soundtrack will be comprised of whiny, emo puberty monsters. Ugh. 
"Joey Dakota" - this one's on the list mainly for fun. The CW is adapting the Israeli show "Danny Hollywood" which is apparently about a time-travelling reporter who goes back to the 90s, falls in love with the subject of her doc, but then when is suddenly transported back to present day, has to find a way back to warn her love of his untimely death. This is just funny, and, even funnier because we are envisioning that Joey Dakota is the real-life brother of "Saved By The Bell" guest role, Johnny Dakota, created to teach the gang to say nope to dope. So it would be great if these two anamolies could intersect. 
The Absolutely Nots
"How to Live With Your Parents For The Rest Of Your Life" - On the surface, this ABC multicam comedy could work. The logline (Polly, a recently divorced single mom, moves in with her eccentric parents, Elaine and Max, a couple who's full of life but knows no bounds) is so vague that there's ample room for potential and excellence to thrive, especially because it's a Brian Grazer/Ron Howard production. Why oh why did they go and cast Sarah Chalke (a.k.a. the reason most of us skipped Roseanne from 1993-95) as the lead? Girl cannot and will not be able to carry a series. Prediction. Boom. Might we suggest someone who is... funnny, for example? An Aubrey Plaza, perhaps? Too young? How about a Parker Posey then? Kristen Schaal? Katie Micucci? Kathy Bates, even. 
"Super Fun Night" - a sad multicam CBS comedy about nerds trying to have fun. Logline: Revolves around three nerdy female friends on their "funcomfortable" quest to have "super fun" every Friday night. And it stars someone named Rebel Wilson. We'll just leave it "funcomfortably" at that.  
"The Carrie Diaries" - Haha. Candace Bushnell went from HBO to the CW. The "Carrie" in question here is, yes, "Sex and The City's" Carrie Bradshaw. These are her prequel years. We. Just. The only way we'd tune into this is if her origins included a wholesome, midwestern upbringing, fathered by hulking football legend Terry Bradshaw (cuz their names rhyme, see). But no, she plays the exact same narcissis monster flouncing all over the pink isle of Manhattan inflicting her worldview on other like-minded sycophants. We don't like Carrie Bradshaw is what we're saying.