2011 - The Year In Review, September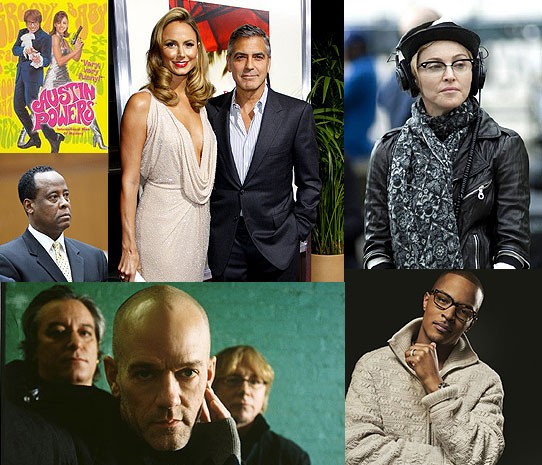 September was a month rapper T.I. would like to both remember and forget - he completed an 11-month prison sentence for a probation violation only to run into legal trouble again soon after his initial release for conducting illegal business deals on his way to a halfway house. It wasn't a great month for Madonna either - her movie take on the romance between Wallis Simpson and Edward VIII was savaged by critics at the Venice Film Festival, while her ex-husband Guy Ritchie became a dad again.

Celine Dion was left shaken up after an intruder was found running a bath at her Montreal, Canada home; Neil Diamond revealed his engagement, and Dr. Conrad Murray's involuntary manslaughter trial got underway in Los Angeles as prosecutors attempted to prove the medic was responsible for Michael Jackson's death.

R.E.M. announced they were splitting after 31 years; My Chemical Romance fired drummer Michael Pedicone after accusing him of stealing from them; Boyzone singer Ronan Keating swam the Irish Sea for Cancer Research in the U.K., and Paul McCartney became a grandfather again and was named the MusiCares Person of the Year - while he also celebrated as his first ballet score debuted in New York.

The Amy Winehouse Foundation was launched on what would have been the tragic singer's 28th birthday, and the star's "Body & Soul" duet with Tony Bennett became a hit, making the 85-year-old crooner the oldest living artist to have a single in America's Hot 100.

Eddie Murphy was confirmed as the host for the 2012 Oscars; model Lauren Bush became Lauren Lauren when she exchanged vows with Ralph Lauren's son David; British funnyman David Walliams braved the chills of the River Thames and a stomach bug to complete a charity 140-mile swim in eight days.

Actress Evan Rachel Wood lost a tooth during a boozy night out in Paris; Reese Witherspoon was hospitalized after she was hit by a car while out jogging in Santa Monica, California; soul legend Chaka Khan won temporary custody of her granddaughter after claiming the girl's mother was struggling with drug abuse issues, and The Saturdays singer Una Healy announced she was pregnant.

INXS dropped frontman J.D. Fortune for a second time and replaced him with Ciaran Gribbin; Austin Powers: International Man of Mystery henchman Joseph Son was sentenced to life behind bars for a Christmas Eve rape in 1990, and George Clooney went public with his new girl, Stacy Keibler, at the Toronto Film Festival in Canada.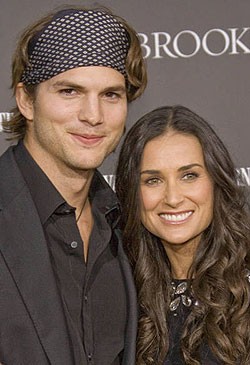 Ashton Kutcher had a month of ups and downs - his debut on TV sitcom Two And A Half Men was a big hit as 28 million Americans tuned in, but then came the news that his marriage to Demi Moore was in trouble amid infidelity rumors. Comedienne Wanda Sykes opened up about her breast cancer battle and double mastectomy; Sharon Stone won a restraining order against an obsessed fan and promptly put the home he visited uninvited on the market, and reality TV star and filmmaker Jack Osbourne announced his engagement to actress Lisa Stelly and followed that up with the news he was to become a dad.

Third time was not the charm for Clueless star Stacey Dash, who announced her plans to divorce husband number three, Emmanuel Xuereb, and X-Men star James Marsden's wife also joined the divorce club as she filed papers against her husband. Elizabeth Hurley's love life was on the up - she accepted cricket star Shane Warne's wedding proposal just three months after divorcing Arun Nayar.

Meanwhile, Elton John launched his new Million Dollar Piano residency in Las Vegas; Smokey Robinson accepted the coveted Ella Award at the Society of Singers Gala, and the month wrapped up with Shania Twain's alleged stalker pleading guilty to harassing the singer in court in Ontario, Canada.

Among September's Hollywood weddings, Amy Smart married reality TV star Carter Oosterhouse; Cougar Town co-stars David Rogers and Sally Pressman became man and wife, and model-turned-actress Molly Sims wed in a Napa Valley vineyard in California. There were also nuptials for British filmmaker Michael Winner and DJ/producer Mark Ronson, while R&B singer Keyshia Cole and former Friends star David Schwimmer both renewed vows with their spouses in Hawaii and London, respectively.

There was baby news for model Jodie Kidd, who gave birth to a son; actress Mary McCormack, who became a mom for the third time, and January Jones, who welcomed Xander Dane to the world while staying mom about the tot's father. Actors Emily Deschanel, Ana Ortiz, Mike Myers, Danny McBride and Jenna Fischer also became new parents. In the music world, former Spice Girl Melanie Brown gave birth to her third daughter, and country star John Rich and former Pussycat Dolls member Carmit Bachar welcomed babies too.

On September's sick list were rocker Scott Weiland and pop stars Katy Perry and Adele, who both scrapped shows due to illness, while Megadeth headbanger Dave Mustaine underwent surgery for a serious neck injury.

The month's big winners included movie mogul Tyler Perry, who was named Forbes magazine's Highest Paid Man in Entertainment; actor Michael Fassbender and director Alexander Sokurov, who claimed Best Actor and Best Film honors, respectively, for Shame and Faust at the Venice Film Festival. Gritty TV drama Boardwalk Empire picked up eight Emmy Awards; Calle 13 landed a record 10 Latin Grammy Award nominations, and Happy Days star Henry Winkler picked up an honorary Order of the British Empire medal at the British Embassy in Washington, D.C.

Also winning: PJ Harvey, who scooped the Mercury Prize in Britain, Arcade Fire, who claimed Canada's Polaris Prize, and U2 and Rolling Stone Keith Richards, who were named GQ magazine's Men of the Year.

September's losers included Scarlett Johansson, who was left exposed in a series of leaked naked phone photos; Cameron Diaz, who split from baseball beau Alex Rodriguez, and John Travolta, whose beloved Mercedes-Benz was stolen outside a Jaguar dealership in Santa Monica, while his Swordfish co-star Halle Berry broke her foot while on location in Spain.

Meanwhile, we said a sad goodbye to a slew of famous faces, including actors Andy Whitfield and Cliff Robertson; and beloved TV star Mary Fickett; actor Jack Garner; French DJ Mehdi Faveris-Essadi; blues great Willie 'Big Eyes' Smith; R&B hitmaker Vesta Williams; gospel icon Jessy Dixon; celebrated British writer/producer David Croft; Happy Gilmore star Frances Bay, and moviemakers David Pressman, Charles Dubin, George Kachar and Paul Hunt.



See The Rest Of Our Month-by-Month Year In Review Special:

January
February
March
April
May
June
July
August
September
October
November
December
Editor's Picks