2011 - The Year In Review, February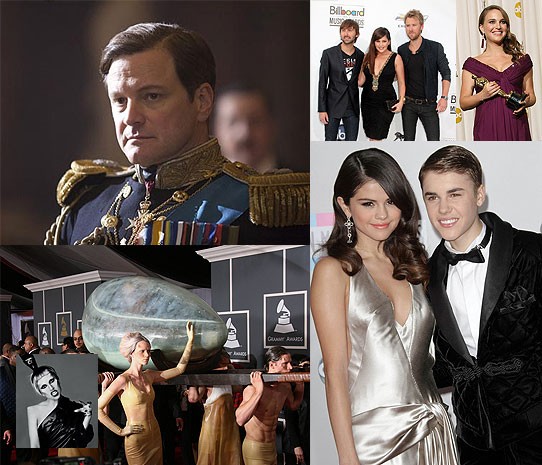 As awards season got into full swing, The King's Speech was the toast of Hollywood after scooping four Oscars including Best Picture, Best Actor for the movie's star, Colin Firth, and Best Director for Tom Hooper, while Natalie Portman fought back tears as she walked away with the Best Actress honor for her role as a tormented ballet dancer in Black Swan. It was a different story at the Independent Spirit Awards, where Black Swan trounced its rivals, picking up four honors including Best Director for Darren Aronofsky.

In the world of music, Lady Gaga's incredible rise continued as she picked up three Grammy Awards, including Best Pop Vocal Album, but her achievements were overshadowed by country trio Lady Antebellum, who scored five accolades, and the shock win for Canadian rockers Arcade Fire in the prestigious Album of the Year category for their disc The Suburbs. Across the pond at the Brit Awards in London, Arcade Fire were again bathed in glory when they were handed the International Group and International Album honors, while newcomer Tinie Tempah crowned a triumphant 12 months by taking home the British Breakthrough Act and British Single titles. Rihanna was named Best International Female solo star, and Justin Bieber was named the International Breakthrough Act of the year.

Away from the red carpet, it was a bleak month for My Name Is Earl actress Jaime Pressly, who was charged with driving under the influence after failing a field sobriety test, Dirty Dancing star Jennifer Grey, who was underwent an operation to remove a growth from her foot, Slayer guitarist Jeff Hanneman, who was hospitalized with a flesh-eating bug, and Dame Judi Dench, who broke two of her toes on the set of her new movie J. Edgar.

There were also woes for Rihanna, whose raunchy promo film for single S&M provoked outrage around the world and was banned in 11 countries, actress Eliza Dushku, who broke a finger on vacation, and fashion king John Galliano, who was suspended and later sacked by Christian Dior after he was filmed launching an anti-Semitic rant at stunned drinkers in a bar in Paris, France.

Rock duo The White Stripes stunned the music world when they announced they were splitting up after 14 years, and Lady Gaga's much-hyped new single "Born This Way" was unveiled to a barrage of accusations she had ripped off Madonna's classic "Express Yourself." But there was good news for older music fans, as '60s icons The Monkees announced they were reuniting for a U.K. tour.

Loved up celebrity couples Justin Bieber and Selena Gomez, and Anna Friel and Rhys Ifans, both confirmed their engagements, and there were wedding bells for Kelsey Grammer - who married for the fourth time - and Mark Ronson and Katherine Jenkins, who both announced their respective engagements.

Among the stars hearing the pitter-patter of tiny feet this month were Christina Applegate, who gave birth to a daughter, magician David Blaine, who became a first-time father to a baby girl, reggae star Zac Marley, rocker Rod Stewart, Sex And The City's Cynthia Nixon, and No Doubt star Tom Dumont.

Jude Law continued his unlucky-in-love streak when he split - yet again - from Sienna Miller, Iron Man star Terrence Howard was hit with divorce papers, Olivia Wilde split from her husband after eight years, and celebrity couple Ashlee Simpson and Pete Wentz announced their marriage was over.

The world of showbiz bid farewell to guitar legend Gary Moore, who died aged 58, blues legend Eddie Kirkland died in a car crash at the age of 88, Seinfeld star Len Lesser succumbed to pneumonia aged 88, and The Dukes Of Hazzard actress Peggy Rea, who passed away at the age of 89.



See The Rest Of Our Month-by-Month Year In Review Special:

January
February
March
April
May
June
July
August
September
October
November
December
Editor's Picks