2011 - The Year In Review, December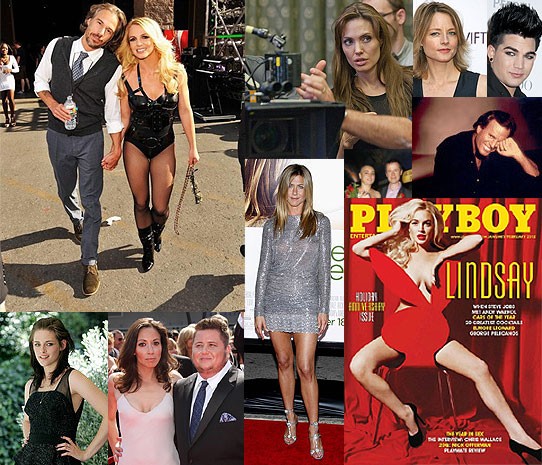 The holiday bells were peeling for newlyweds AJ Mclean, actress Judy Greer, reality TV star Jeff Probst and Yeah Yeah Yeahs rocker Karen O, while Sinead O'Connor married an addiction counselor in Las Vegas only to call off the union 16 days later. There were also splits for actress Debra Messing and Chaz Bono.

Britney Spears led the month's bride and grooms-to-be when she accepted former agent Jason Trawick's proposal on his 40th birthday, while Steven Tyler, John Legend, Matthew Mcconaughey, basketball legend Michael Jordan and Lady Antebellum's Dave Haywood all popped the question to their girlfriends - and there was baby news for new dads Robert De Niro, Halle Berry's ex Eric Benet, It's Always Sunny in Philadelphia star Charlie Day (whose wife & Sunny co-star Mary Elizabeth Ellis gave birth), Westlife star Kian Egan, actress/singer Fantasia Barrino, Essence Atkins and pop star Dev, while actress Alyson Hannigan, Bollywood star star Caleb Followill's supermodel wife Lily Aldridge, Alessandra Ambrosio and Irish singer Andrea Corr announced they were pregnant.

There was drama for rapper Tyler, the Creator, who was arrested for alleged acts of vandalism during a show in Hollywood; singer Christina Perri, who was attacked in a car-jacking incident; Barry Manilow, who underwent hip surgery, and Morrissey, whose concert in Puebla, Mexico was evacuated following an earthquake, while Britain's Prince Philip and R&B star Etta James spent Christmas in hospital.

Lindsay Lohan bared all for Playboy magazine; Adam Lambert was arrested in Finland following a pre-Christmas fight with his boyfriend; rapper The Game halted a gig in Norway to confront a bottle-throwing fan; boxer Floyd Mayweather Jr. was sentenced to 90 days in jail for a 2010 fight with his ex; a man who leaked an unfinished new Madonna song online was arrested in Spain, and Michael Douglas' incarcerated son Cameron was handed an extra four-and-a-half years behind bars for another drug conviction.

And there was yet more drama for Terrence Howard, who requested a restraining order against his wife; model Lauren Scruggs, who lost her hand and an eye in a freak plane propeller accident; Hollywood couple Eric Dane and Rebecca Gayheart, who had to vacate their home after high winds brought a tree crashing into their living room, and pop star Selena Gomez suffered a family tragedy when her mother miscarried.

Meanwhile, Jodie Foster's estranged father was jailed for five years after he was found guilty of a property scam; Angelina Jolie was sued by a Croatian journalist who alleged his chronicle of the Bosnian War inspired her directorial debut; Kirsten Dunst won a restraining order against an obsessed French fan; Goodfellas actor Tony Darrow was sentenced to six months behind bars for arranging a real-life mob beating, and Charlie Sheen had to change his phone number when he accidentally tweeted it to his followers in a message meant for pop star Justin Bieber.

The month's big winners included singer Melanie Amaro, who became the first winner of the U.S. version of The X Factor; Julio Iglesias, who was named Spain's best-selling recording artist of all time; Russell Simmons, who was crowned PETA's Person of the Year; Chaka Khan, who won permanent custody of her granddaughter; Lady Gaga, who was hailed the year's highest earning female musician, and Taylor Swift who picked up Billboard magazine's coveted Woman of The Year honor.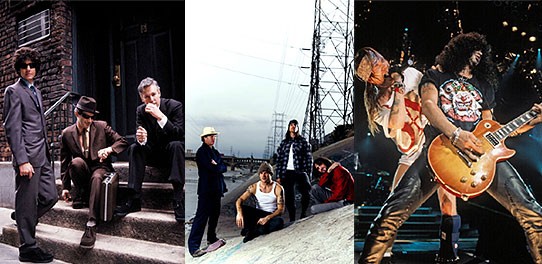 Also winning in December: Guns N' Roses, the Beastie Boys and the Red Hot Chili Peppers, who were all announced as the members of the Rock & Roll Hall of Fame's Class of 2012, and Twilight star Kristen Stewart, who was named Forbes magazine's Most Lucrative Star. Adele dominated the year's end album and singles polls; Jason Newsted reunited with Metallica for their 30th anniversary bash in San Francisco, and Martin Scorsese's first 3D movie Hugo was the surprise Best Film winner at the National Board of Review Awards in America.

In other movie news, Transformers: Dark Of The Moon was named the year's most mistake-ridden film; Orson Welles' Citizen Kane Oscar sold at auction for $861,000; Drive dominated the Satellite Awards while The Help, The Artist and The Descendants picked up the lion's share of nominations for the Golden Globes and Screen Actors Guild Awards, and Angelina Jolie's directorial debut, In the Land of Blood and Honey, also picked up Golden Globes nods and she was named the 2012 recipient of the Stanley Kramer Award at the Producer's Guild of America Awards.

In music news, Amy Winehouse's posthumous album debuted at number one in Britain; 30 Seconds to Mars broke a concert record at a show in New York - their 309th in a single album cycle, and Gucci Mane was released from prison.

Wrapping up the month, Oscar winner Colin Firth was immortalized in wax at Madame Tussauds in London; Men's Health magazine bosses crowned Jennifer Aniston the Hottest Woman of All Time; Liz Taylor's diamonds and gems set a new auction record by becoming the most valuable private jewelry collection; LMFAO were forced to abandon a gig in Honduras after a fire broke out at the venue; Welsh opera star Katherine Jenkins announced her split from fiance Gethin Jones, and Coldplay rang in 2012 with a $1.6 million gig in Abu Dhabi.

And the last month of the year saw the notable deaths of actor Bill McKinney, soul stars Dobie Gray and Howard Tate, M*A*S*H regular Harry Morgan, Clark Gable and Loretta Young's love child Judy Lewis, actress Doe Avedon Siegel, former child star Susan Gordon, country singer Billie Jo Spears, Aussie actor Graham Bown, world leaders Vaclav Havel and Kim Jong-Il, songwriter Ralph MacDonald, Kojak star Dan Frazer, directors Don Sharp and Yoshimitsu Morita, writer Christopher Hitchens and Tarzan's chimp sidekick Cheetah, who died of liver failure, aged 80.



See The Rest Of Our Month-by-Month Year In Review Special:

January
February
March
April
May
June
July
August
September
October
November
December
Editor's Picks