2011 Reality TV Highlights, Jan. 9-15: Russell, 'Boston' Rob Return To 'Survivor'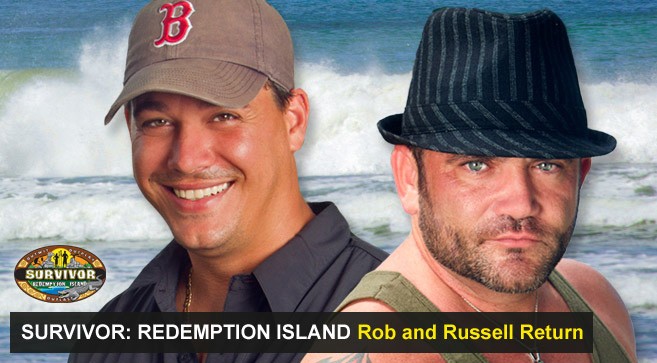 "Boston" Rob Mariano and Russell Hantz return for "Survivor: Redemption Island"
It's official: Russell Hantz and "Boston" Rob Mariano will return to "Survivor" this February for the show's 22nd season, "Survivor: Redemption Island." Speculation surrounding who the mystery former castaways would be had been circulating for weeks, and it is safe to assume there were a lot of fingers crossed for at least one, if not both, of these contestants returning. While both have played on multiple seasons, neither has ever won a season.
"Survivor: Redemption Island" premieres Wednesday, Feb. 16 on CBS. Meet the 16 new castaways here, plus get to know Russell and "Boston" Rob here.  
Winter 2011 TV schedule  + TV premieres, Jan. 16-22
Top reality TV highlights from the week of Jan. 9, 2011:
The Bachelor
Drama, drama, drama; would it really be a "Bachelor" season without drama on day two? Of course not! This week, the drama revolved around Melissa and Reichal. Melissa and Reichal were constantly arguing during this week's episode, although it is hard to pin point what the issue truly was. In fact, in an interview with Melissa on Thursday, she said she still didn't know why Reichal kept "attacking" her (read more from that interview, including if she blames Brad for sending her home here). All viewers can say for sure is that Melissa appeared to be the attacker, but she also played victim to Brad and to visitors/"Bachelorette" couple Ali Fedotowsky and Roberto Martinez. Whatever the true story is, it no long matters because neither Melissa nor Reichal made it through the rose ceremony. To find out which bachelorette was the third bachelorette sent home on Monday, plus how Ashley H. and Brad's first date went, click here.
Biggest Loser: Couples 4
The Ranch teams were extra lucky this week, with all players crushing the dreaded week two plateau and surviving the week's elimination. That's right; no one was eliminated from "The Biggest Loser" this week! At the beginning of the episode the Ranch teams, after suffering a terrible loss to the Unknowns the previous week, were challenged to lose more weight than the Unknowns and were incentivized with $10,000 and a non-elimination week. At first, it looked as if the Unknowns were going to, once again, be the biggest losers of the week, but at the last moment, the Ranch teams pulled it off, saving everyone for one more week. To find out how much weight each player lost, click here.
Live to Dance
The Vibe earned the first spot in the "Live to Dance" season one finals on Wednesday's live episode. They beat out five other performers for the judges' choice to move forward. Of course, the five groups who were not chosen by the judges are not out … not yet, at least. Those five groups are now forced to rely on viewers' votes for a spot in the finals; the winner of the viewers' votes will be announced on next Wednesday's episode. To find out what Paula Abdul had to say about The Vibe's performance and to find out which of the three Dance Off performers made it to next week's semifinals, click here.
Jersey Shore
 "Jersey Shore" was surprisingly less than dramatic this week, although viewers can see trouble on the horizon for Sammi and Ronnie. The huge fight that ended last week's season premiere only took up the first two minutes of this week, and the next 58 minutes were spent showing Ronnie growing increasingly annoyed with him and Sammi's separation from the other roommates. Ronnie is, no doubt, caught in the middle of the issues between Sammi and the other women, and it looks like he is starting to get sick and tired of it. Who can blame him?
The Real Housewives of Beverly Hills
For all those who were praying for a huge blow up between Camille and Kelsey Grammer this week, let me just burst your bubble now. In fact, the couple's situation lacked drama so much that, if you tuned into the episode a little late, you would've thought they were reconciling! At the beginning of the episode, Camille informed viewers that Kelsey had called her in the middle of the night to tell her he wanted out of their marriage. Forty five minutes later (TV time), the couple was smiling, kissing, saying "I love you" to one another and toasting to 13 years of marriage; it blew my mind! Granted, they were probably putting on a brave face in front of the group of friends they were with, but it was still shocking to see. Elsewhere in Beverly Hills this week, Kyle was celebrating her daughter graduating from college, and Lisa was becoming increasingly frustrated with the strong bond forming between Kyle and Taylor.
Bonus:
ABC announced that "Castle," "Cougar Town," "Grey's Anatomy," "The Middle," "Modern Family" and "Private Practice" will return for the 2011-12 season.
Celebrity chef Curtis Stone, former "American Idol" judge Kara DioGuardi and singer/songwriter Jewel are headed to BRAVO, each with a new original series set to premiere on BRAVO in 2011. Also, look for "Million Dollar Decorators," "Pregnant in Heels" and the new seasons of "The Real Housewives of New York" and "The Real Housewives of Orange County." For more info on new and returning series, including premiere dates, click here.
On Thursday, Oxygen announced its new and returning seasons for 2011. The list includes a series following Danity Kane singer Aubrey O'Day and a docu-series following Paris Hilton. For more info on new and returning series, including premiere dates, click here.
On Friday, NBC announced the names of the 16 celebrities who will compete on the upcoming season of "The Celebrity Apprentice." The list includes Gary Busey, La Toya Jackson, Lisa Rinna, John Rich and more. To see the complete list, click here.
While last season of "So You Think You Can Dance" was amazing, it was a little sad without favorite judge Mary Murphy. Well SYTYCD fans, guess what? Mary is returning! It's true! Mary will return to her judge's chair for the eighth season of the show, which premieres this summer.
For more TV recaps, news and interviews, follow Amanda on Twitter  and click Subscribe at the top of this page