2010 Year In Entertainment Review: September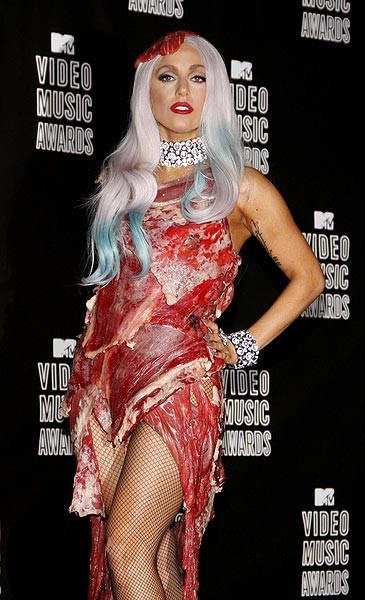 Lady Gaga was the big winner and talking point at the MTV Video Music Awards this month - she picked up eight accolades and stunned everyone by taking to the stage in a meat dress. Meanwhile, Penelope Cruz confirmed the news she was pregnant with Javier Bardem's baby, and Angelina Jolie - who visited flood-ravaged Pakistan - was named Best Celebrity Role Model in an online poll.

George Michael began his eight-week prison sentence in London after being found guilty of cannabis possession and driving under the influence of drugs, and Guns N' Roses were booed and bottled offstage in Ireland after making fans wait for their performance.

Smashing Pumpkins star Billy Corgan confirmed reports he was dating Aussie pop star Jessica Origliasso, and the Charlatans axed U.S. shows after Jon Brookes collapsed onstage during a concert in Pennsylvania. He was later diagnosed with a brain tumor.

Isla Fisher and Sacha Baron Cohen welcomed their second child, John Lennon's killer Mark Chapman was denied parole for a sixth time, and Sofia Coppola picked up the Golden Lion Award at the Venice Film Festival amid a storm of controversy - her ex-boyfriend, Quentin Tarantino, led the jury!

Meanwhile, Take That bandmates Robbie Williams and Gary Barlow performed together for the first time in 15 years at a benefit for injured British soldiers, but Duff McKagan quit Jane's Addiction after five months and just three gigs.

The Troggs star Reg Presley suffered a stroke while vacationing in Spain and country music duo Brooks & Dunn split after an emotional night at a Nashville charity gig.



Elsewhere, T.I. and his wife were arrested in Los Angeles on suspicion of drug possession, UB40 star Ali Campbell was diagnosed with Epstein-Barr Syndrome, and Leonardo DiCaprio won a three-year restraining order against a woman claiming to be his wife.

Johnny Depp was named the highest paid actor by Forbes magazine, Britney Spears' one-time minder, Fernando Flores, filed suit against the pop star, claiming she had sexually harassed him and exposed herself in front of him, and The xx picked up Britain's prestigious Mercury Music Prize.

Eddie Vedder, Johnny Knoxville and David Essex wed - not to each other - and R&B star Lyfe Jennings was jailed for three and a half years over a violent altercation with his former girlfriend.

Meanwhile, James Gandolfini was caught driving on a suspended license, Paris Hilton was refused entry to Japan; Kings of Leon star Caleb Followill and hot model Lily Aldridge announced their engagement, and actor Randy Quaid and his wife were arrested and charged with burglary amid allegations they had been illegally squatting in the house they once called home.

Actor Shelley Malil was convicted of attempted murder, Wyclef Jean announced he'd be running for presidential office in Haiti again in 2015 after his 2010 bid was dismissed, and comedian Greg Giraldo died in hospital after suffering an accidental drug overdose. Lindsay Lohan returned to rehab, David Beckham's lawyers served a writ to a hooker who claimed she'd slept with the soccer stud, and Heart rocker Nancy Wilson filed for divorce from moviemaker Cameron Crowe.

There was baby news for Mario Lopez, actresses Jodie Sweetin and Danica McKellar, actor James Van Der Beek, Rascal Flatts star Joe Don Rooney and celebrity chef Jamie Oliver.

ELO star Mike Edwards was killed in a freak accident, while veteran actors Harold Gould, Gloria Stuart and Kevin McCarthy also passed away along with legendary French director Claude Chabrol and filmmakers Arthur Penn and Clive Donner.

Other deaths included that of former boy band star Rich Cronin, who passed away after a stroke, aged 35, and Hollywood lost true legends in Eddie Fisher and Tony Curtis.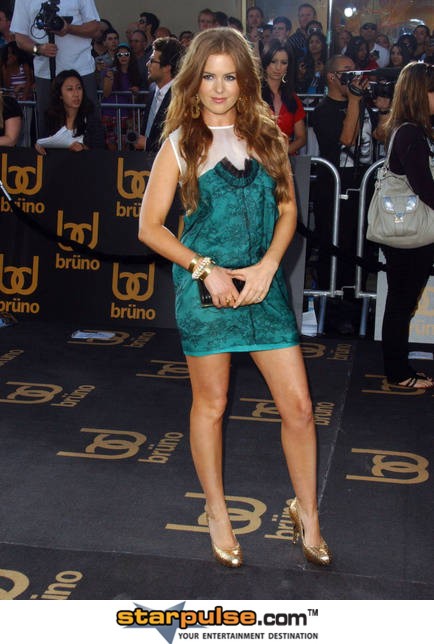 Click for more great Lady Gaga pictures: