2010 Year In Entertainment Review: June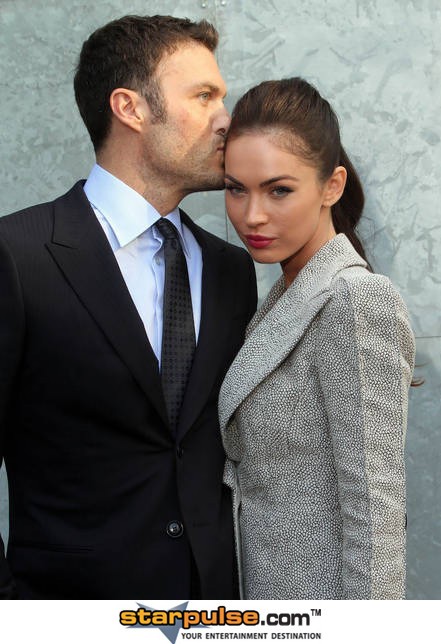 June was a bumper wedding month with Megan Fox and Brian Austin Green marrying on a beach in Hawaii, while Harrison Ford and Calista Flockhart wed after seven years together. Gemma Arterton married Stefano Catelli, and Alanis Morissette married MC Souleye. British newsman Piers Morgan wed Celia Walden and Mena Suvari married music producer Simone Sestitos. Glee star Jane Lynch married Lara Embry in a civil partnership ceremony – and love was also in the air for Orlando Bloom, who announced his engagement to longterm girlfriend Miranda Kerr.
 
"Ugly Betty" star America Ferrera became engaged to Ryan Piers Williams, while Kate Hudson hit headlines when she started dating MUSE frontman Matt Bellamy.
 
It was a baby boom month - Kevin Costner became a dad for the seventh time, Sheryl Crow adopted her second son, director Sofia Coppola welcomed another daughter, and R&B star Ne-Yo announced he is to be a father for the first time.
 
June was not such a good month love wise for actor Mark-Paul Gosselaar, who filed for divorce from his wife of 13 years. Meanwhile British singer Leona Lewis split from her childhood sweetheart and "Twilight's" Nikki Reed broke up with Paris Latsis. Brandy's romance with rapper Flo Rida came to an end, Welsh singer Charlotte Church split from fiance Gavin Henson, and former U.S. vice president Al Gore split from his wife of 40 years.
 
Rock stars were in mourning when former Stereophonics star Stuart Cable passed away, former The Kinks bassist Pete Quaife also died, and country music legend Jimmy Dean passed away at the age of 81. Hollywood was saddened when Golden Girls star Rue McClanahan died aged 76 after suffering a major stroke and actor/director Corey Allen passed away. Zorro star Eugenia Paul also died at the age of 75.
 


June also caused havoc for the music industry with numerous gigs being axed - Drake, Jay-Z, Ke$ha and Grace Jones all had to cancel shows, while illness caused cancellations for John Mayer, Cher and Wolfmother, and SUM 41 brought the curtain down on their European tour after Steve Jocz was involved in a car crash.
 
Gossip Girl star Chace Crawford was in the news following his arrest for pot possession, while Motley Crue frontman Vince Neil and The Sopranos star Joseph Gannascoli were arrested separately on suspicion of driving under the influence (DUI). Meanwhile it was also another DUI arrest for actor Chris Klein - he then checked himself into a rehabilitation facility to deal with alcohol addiction later in the month.
 
Incarcerated rapper Lil Wayne's troubles worsened - he was sentenced to three years probation after striking a plea deal with U.S. prosecutors in relation to a 2008 drugs charge.
 
Other notable events in June included the launch of the soccer World Cup tournament, which saw stars including the Black Eyed Peas, Shakira, Alicia Keys and John Legend perform at the opening ceremony in South Africa. There was also a flurry of tributes on the one-year anniversary of Michael Jackson's death, and Larry King announced plans to retire from his 25-year run as the host of CNN talk show "Larry King Live."
 
A number of awards were also handed out - The Twilight Saga: New Moon was the big winner at the MTV Movie Awards in Los Angeles, picking up four honors, while Sandra Bullock and Scarlett Johansson caused a stir by locking lips onstage at the ceremony. Chris Brown stole the show at the 2010 BET Awards when he performed a dance tribute to Michael Jackson, while Alicia Keys and Drake were crowned the big winners.