2010 Emmys: Who Should Win & Who Will Win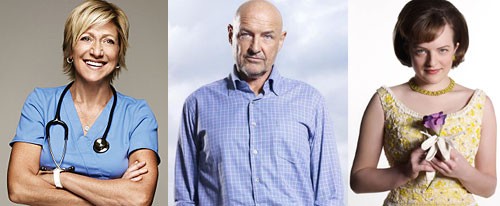 It's a transitional year for the Emmys, meaning this is one of the more exciting races in recent memories. The flood of new nominees (brought on by a stellar development slate) means that we can no longer rely on the predictable Emmy voting to determine winners. Instead, this is a year where we can see many newcomers emerging and starting a whole new slate of predictable nominees.
Yes, that was a little cynical, but it's the sad truth of the Emmys – habits are hard to break for the voters. Luckily, this year the virgin nominees have afforded them an extensive choice for brand new habits.
But what will they be? More importantly, what should they be? Oh yes, time for a round of who will win/who should win. 2010 Emmy Edition:
Outstanding Actor in a Drama Series
The Nominees:
Kyle Chandler for playing Eric Taylor on Friday Night Lights
Bryan Cranston for playing Walter White on Breaking Bad
Matthew Fox for playing Jack Shephard on Lost
Michael C. Hall for playing Dexter Morgan on Dexter
Jon Hamm for playing Don Draper on Mad Men
Hugh Laurie for playing Dr. Gregory House on House
Will Win and Should Win: Cranston
There's a reason Bryan Cranston is a two-time defending champion in this category. In one of the rare instances of getting it right, voters recognized Cranston's genius right out of the blocks, awarding him an Emmy for his first two seasons on this show. A third is certainly in order, not only because Emmy voters love to cast identical votes year after year, but because Cranston was as good as ever this year – showing us the completed transformation of his formerly meak chemistry teacher to full-blown monster. The show relies on his performance more than any other on television and he carries the weight with ease.
In most years, every single other nominee would be an easy choice as the winner, but Cranston just keeps staying ahead of the fray.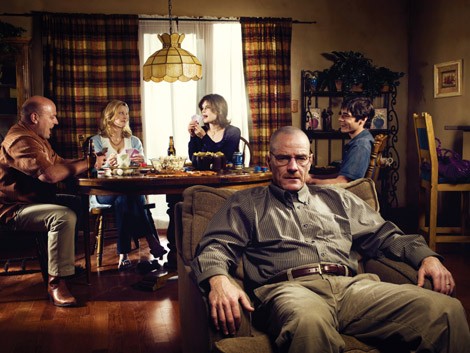 Outstanding Actress in a Drama Series
The Nominees:
Connie Britton for playing Tami Taylor on Friday Night Lights
Glenn Close for playing Patricia "Patty" Hewes on Damages
Mariska Hargitay for playing Olivia Benson on Law & Order: Special Victims Unit
January Jones for playing Betty Draper on Mad Men
Julianna Margulies for playing Alicia Florrick on The Good Wife
Kyra Sedgwick for playing Brenda Leigh Johnson on The Closer
Will Win: Margulies
So far Margulies has taken home the SAG, Golden Globe and Television Critics Award for this performance. The love is palpable as industry types are flocking to this old-school network drama and the actress that makes it possible. She's a lock.
Should Win: Britton
 A weak category (which is strange seeing as there are so many good leading female performances on television) sees Britton as its clear standout. Finally earning a nominee for her work as embattled High School principal and coach's wife Tami Taylor, Britton had another stellar season showing that it is possible to make an entirely real character compelling without all the window dressing that seems a requirement for recognition these days.
Outstanding Actor in a Comedy Series
The Nominees:
Alec Baldwin for playing Jack Donaghy on 30 Rock
Steve Carell for playing Michael Scott on The Office
Larry David for playing Larry David on Curb Your Enthusiasm
Matthew Morrison for playing Will Schuester on Glee
Jim Parsons for playing Sheldon Cooper on The Big Bang Theory
Tony Shalhoub for playing Adrian Monk on Monk
Will/Should: Baldwin
It's boring to say it, but Baldwin is the clear front-runner here again. He's doing the best work out of anybody and likely has the votes again. Pretty much the only category where it's a boring nominee winning again, but thems the breaks. Though Morrison and Parsons could pull the upset – not likely, however.
Outstanding Actress in a Comedy Series
The Nominees:
Toni Collette for playing Tara Gregson on United States of Tara
Edie Falco for playing Jackie Peyton on Nurse Jackie
Tina Fey for playing Liz Lemon on 30 Rock
Julia Louis-Dreyfus for playing Christine Campbell on The New Adventures of Old Christine
Lea Michele for playing Rachel Berry on Glee
Amy Poehler for playing Leslie Knope on Parks And Recreation
Will: Falco
The Emmys love Edie Falco. Plain and simple. Why else would a Showtime show in its first season rake in nominees like it was "Frasier" or something?  It's all about the Falco. And the Emmys won't miss a chance to honor her here.
Should: Dreyfus
Simply the best comedic performance by a woman on television. And one of the best since as far back as Lucille Ball. It's a testament to Dreyfus' comic timing – a complete dolt of a character that can only be handled with the finest brilliance. Dreyfus makes Christine a uniquely comic creation yet entirely believable. An excellent role that ends too soon. An Emmy would be a worthy swan song.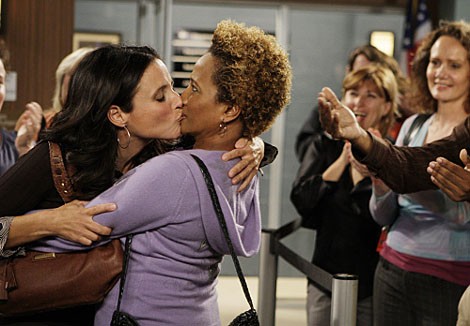 Outstanding Supporting Actor in a Drama Series
The Nominees:
Andre Braugher for playing Owen on Men of a Certain Age
Michael Emerson for playing Benjamin Linus on Lost
Terry O'Quinn for playing John Locke/The Man in Black on Lost
Aaron Paul for playing Jesse Pinkman on Breaking Bad
Martin Short for playing Leonard Winstone on Damages
John Slattery for playing Roger Sterling on Mad Men
Will: O'Quinn
A past winner in this category already has a leg up on the competition, and a past winner in his show's final season seems poised for a second trophy. O'Quinn's submission of "The Substitute" should lock him in, as voters will likely be wowed by his portrayal of two entirely different characters simultaneously.
Should: Paul
What a season for Aaron Paul. The writers of "Breaking Bad" through a firestorm at him: coping with the death of his girlfriend, frustration as a flunky, revenge fantasies, and, finally, crossing over to the ultimate dark side. A tremendous workload, and a journey that Paul made the audience feel every step of.
Outstanding Supporting Actress in a Drama
The Nominees:
Christine Baranski for playing Diane Lockhart on The Good Wife
Rose Byrne for playing Ellen Parsons on Damages
Sharon Gless for playing Madeline Westen on Burn Notice
Christina Hendricks for playing Joan Harris on Mad Men
Elisabeth Moss for playing Peggy Olson on Mad Men
Archie Panjabi for playing Kalinda Sharma on The Good Wife
Will: Moss
This is the absolute closest race of any on the board: It's possible to make an argument for every single actress here. You have two from "The Good Wife": A critical darling with one Emmy vet in Baranski; two from "Mad Men": another critical darling; an Emmy coattailer in Byrne; and a two-time winner in Gless.
Wow! How do we make sense of all this? It's kind of impossible, but if anybody can do it, Moss can – a past Lead Actress nominee who seems poised to notch "Mad Men's" long overdue first acting Emmy, if just for the fact that somebody has to win an acting award for this show at some point.
Should: Hendricks
 No longer a one-dimensional character, Hendricks showed remarkable vulnerability this season as we saw Joan stripped of her power under a rapist husband and a boring housewife lifestyle. Hendricks deftly showed us the transition, revealing a weak and insecure character that always lurked under a strong veneer, making her eventual reclamation all the more triumphant.
Outstanding Supporting Actor in a Comedy
The Nominees:
Ty Burrell for playing Phil Dunphy on Modern Family
Chris Colfer for playing Kurt Hummel on Glee
Jon Cryer for playing Alan Harper on Two and a Half Men
Jesse Tyler Ferguson for playing Mitchell Pritchett on Modern Family
Neil Patrick Harris for playing Barney Stinson on How I Met Your Mother
Eric Stonestreet for playing Cameron Tucker on Modern Family
Will: Cryer
This is a boring choice, but this is the Emmys and boring choices rule the day.  If NPH can't win when he's hosting, then he'll probably never win, and Colfer is a bit green to take this down. That leaves last year's winner Cryer and a whole lotta vote splitting. Cryer takes this down for the second straight year in one of the most egregious example of Emmy repetition.
Should: Burrell
Much like Dreyfus, Burrell is given an impossibly mindless character and manages to make him seem entirely real. "Modern Family" nearly hinges on his portrayal of Phil Dunphy as something too over-the-top would unhinge the realism of this show and destroy its whip-smart comedic touch.
Outstanding Supporting Actress in a Comedy
The Nominees:
Julie Bowen for playing Claire Dunphy on Modern Family
Jane Krakowski for playing Jenna Maroney on 30 Rock
Jane Lynch for playing Sue Sylvester on Glee
Holland Taylor for playing Evelyn Harper on Two and a Half Men
Sofía Vergara for playing Gloria Delgado-Pritchett on Modern Family
Kristen Wiig for playing various characters on Saturday Night Live
Will/Should: Lynch
Other than Margulies, Lynch is the lock of all locks to win this year, and why not? She destroyed every single second she was on screen this year and smartly submitted her seminal Madonna episode. It's her time.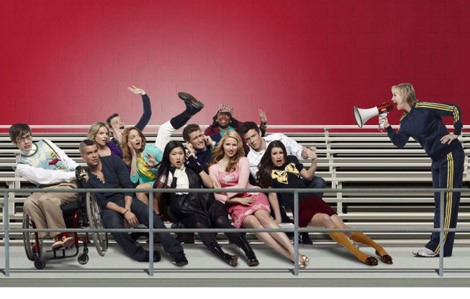 Outstanding Drama Series
The Nominees:
Will: The Good Wife
An absolute shootout of a race with the two-time defending champ "Mad Men", the buzz magnet "Breaking Bad", the sentimental favorite "Lost", and the upstart "The Good Wife" leading the pack. All that plus the megahit "True Blood" and the beloved fourth season of "Dexter" in the fight. But who will win? I'll take the dark horse and go with "The Good Wife".
Ever since "The Sopranos", it seems networks have been searching for a hit drama of their own that the critics love as well. One with great performances, solid ratings, and the deep network pockets that can ultimately keep the Academy members in mansions with sparkling views of West Hollywood. "The Good Wife" is that show, a throwback procedural with rich character and a depth worthy of a cable drama. The Academy should throw its full support behind it.
Should: Breaking Bad
This is another very tough call. "Lost" hardly felt like a TV show this season – more like a passport into another world while "Mad Men" and "Dexter" delivered superb seasons in their own right. Ultimately, however, "Breaking Bad" simply did the things of which TV Dramas are capable better than any show on television particularly during its second half when it kept backing itself into corners with situations that seemed impossible from which to escape, yet blazed paths that were right there all along. An excellent season as deep as it was fun.
Outstanding Comedy Series
The Nominees:
Will/Should: Modern Family
The theme of this year's Emmys seems to be "The Networks are Back!" With multiple nominations for "Glee", "The Good Wife" and "Modern Family", Emmy voters seem ready to accept that networks are capable of the same kind of quality normally only found on cable.
"Modern Family" is a shining example of that. A show that's edgy and smart yet manages to keep a wholesome and warm core that it flashes at the most opportune moment. This felt like a family sitcom from the 50s but gave us comedy worthy of the most refined humor palette. For that "Modern Family" deserves this Emmy and will ultimately edge out another new fave in "Glee" and returning champion "30 Rock" in a very close race.
That's it for this round. Remember to check back Monday for The Mega Emmy Diary to see how I did!