2009 Spirit Awards Air Saturday, February 21 on IFC

The 2009 Film Independent's Spirit Awards ceremony, hosted by award winning actor/comedian
Steve Coogan
, will air uncut, uncensored, and commercial free on IFC (Independent Film Channel) Saturday,
February 21 LIVE at 5 pm ET/2 pm PT
.
IFC.com
will deliver up-to-the-minute news and video on the event, including a live streaming webcast during the red carpet arrivals and from the press room, an updated announcement of the winners, and photo galleries of both the red carpet at the event and at the IFC Indie Film Celebration after party. Last year's Spirit Awards telecast was honored with a 2009 Writer's Guild Award.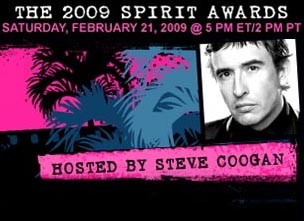 Presenters and performers for this year's show include,
Jessica Alba
,
Christina Applegate
,
Alec Baldwin
(who also serves as the Honorary Chair for this year's awards),
Elizabeth Banks
,
Jason Bateman
,
Thomas Haden Church
,
Bryan Cranston
,
Claire Danes
,
Laura Dern
,
Zooey Deschanel
,
Cameron Diaz
,
Aaron Eckhart
,
Chiwetel Ejiofor
,
Teri Hatcher
,
Anne Hathaway
,
Taraji P. Henson
,
Emile Hirsch
,
Robyn Hitchcock
, Sir
Ben Kingsley
,
John Leguizamo
,
Melissa Leo
,
Lucy Liu
,
Andie Macdowell
,
Michelle Monaghan
,
Sandra Oh
, Mary-Kate Olsen,
Ellen Page
,
Robin Wright Penn
,
Rosie Perez
, Tarra Riggs,
Blair Underwood
,
Kerry Washington
,
John Waters
,
Rainn Wilson
,
Evan Rachel Wood
, and ZO2.
Other highlights in this year's broadcast include the Spirit Awards' signature musical performances with Christina Applegate spoofing Frozen River, Taraji P. Henson lampooning Ballast, Teri Hatcher parodying Wendy and Lucy, and Rainn Wilson delivering what is sure to be memorable song for
The Wrestler
. In addition, Robyn Hitchcock will perform a live acoustic version of "Up to Our Nex" from
Rachel Getting Married
.
Spirit Award nominees include Best Feature contenders Ballast,
Frozen River
, Rachel Getting Married,
Wendy and Lucy
, and
The Wrestler
for Best Feature; with acting nods going to Anne Hathaway for Rachel Getting Married,
Michelle Williams
for
Wendy and Lucy
,
Javier Bardem
for
Vicky Cristina Barcelona
,
Sean Penn
for
Milk
,
Mickey Rourke
for The Wrestler,
Penelope Cruz
for
Vicky Cristina Barcelona
,
Rosie Perez
for
The Take
,
Debra Winger
for Rachel Getting Married, and
James Franco
for Milk, among others.
Film Independent's Spirit Awards is a celebration honoring films made by filmmakers who embody independence and who dare to challenge the status quo. Televised on IFC for more than ten years and covered internationally by the press, Film Independent's Spirit Awards has become the vanguard event in independent film, recognizing the achievements of independent filmmakers and promoting independent film to a wider audience. Often referred to as the "Un-Oscars," the Spirit Awards ceremony is a lively, casual event shot on location in a beachfront tent in Santa Monica, CA.