2009 Early Oscar Nomination Predictions

The first major precursor award nominations were handed out this morning as the Screen Actors Guild revealed their 15th set of nominations.
This marks the end point of the first phase of the Oscar race as many of the critics awards have been handed out and the more reliable industry awards are starting to trickle in.
This is a perfect time to take a look at the locks, likely nominees, longshots and losers of the Oscar season thus far.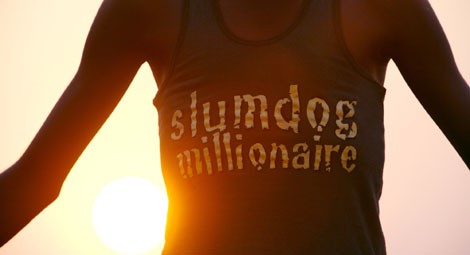 Best Picture
The Locks:
Slumdog Millionaire
is the most certain nominee in this category after sweeping through the critics awards, picking up
Golden Globe
nominations for Best Picture and Director and then a surprise
SAG
nomination for its star, Dev Patel. This one is getting the broadest support of any candidate for Best Film.
Nearly as certain is
The Curious Case of Benjamin Button
which this morning picked up three
SAG
nominations (
Brad Pitt
, Taraji P. Henson, Ensemble) when many thought it might not get any. These nods go along with a pretty healthy stable of critics awards and
Golden Globe
nominations.
Likely:
Milk
is as close to a lock as could be but its virtual shutout at the
Golden Globe
awards means you can't quite call it a certainty.
Had
The Dark Knight
gotten a
Golden Globe
or
SAG
nod that wasn't for
Heath Ledger
then it too would be a lock. It didn't so it's not.
Frost/Nixon
seems like it should be a lock, but it just isn't getting the type of enthusiasm that we're seeing for "Button" or "Slumdog". The Academy's adoration of
Ron Howard
certainly gives it a great shot, but it's just not quite a lock,
Golden Globe
and
SAG
Ensemble nominations notwithstanding.
Longshots: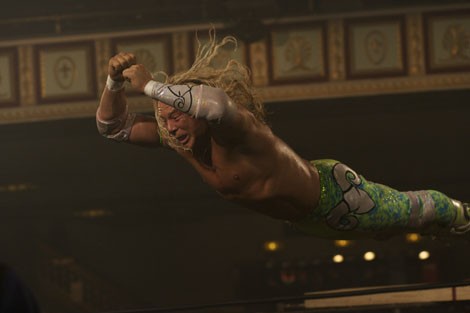 The Wrestler
is the fastest riser of this Oscar season. What at first seemed like a nomination for
Mickey Rourke
and nothing else has turned into a contender in all categories. Its lack of
SAG
nods for anybody but Rourke hurts, but the buzz is starting to become overwhelming.
Like The Wrestler,
Rachel Getting Married
has a shot of its lead propelling it to a nomination for the top prize, but it seems less likely than its male-dominated counterpart.
Wall-E
should be a lock or even a likely nominee by all rights. It's won as many critics awards as any film this year, including the prestigious
Los Angeles Film Critics Association Award
. Problem is, it's animated - and ever since the creation of the Best Animated Feature category, no toon's had a chance. So this one is still a longshot at best.
The hardest film to figure out this year is
Revolutionary Road
. Just when you want to count it out, it gets a
Golden Globe
nomination for Best Picture. Just when you want to write it off again,
Kate Winslet
gets it a
SAG
nomination. Who knows where this will end up, but right now it's a longshot.
Another Kate Winslet film,
The Reader
, just keeps hanging around. Despite lukewarm reviews, it managed a
Golden Globe
nomination for Best Picture and Winslet just earned a
SAG
nomination for her role in the film. Its director, Stephen Daldry (
The Hours
,
Billy Elliot
), is an Academy fave and its subject matter, The Holocaust, is surefire awards bait, so don't count this one out.
Losers:
The biggest loser in this category is
Doubt
. Here's the sum total of its precursor love so far -
A Broadcast Film Critics Award
nomination. That's it. That's the list. What seemed like a lock about a month ago now has no shot at a Best Picture nomination.
Australia
, Baz Lurhrmann's sprawling adventure piece that was supposed to revive the Hollywood romantic epic may as well have been called "DOA". It's made little money, gotten very middling reviews and hasn't gotten any sort of precursor nomination whatsoever. Seeya in another ten years, Baz.
Best Director
Locks:
Because Best Picture and Best Director usually sync up, Slumdog Millionaire's
Danny Boyle
and Benjamin Button's
David Fincher
have to be considered locks.
In addition to those two, throw
Christopher Nolan
into the lock column as well. Other than Heath Ledger's performance, Nolan's direction was the most heralded component of this film, and that should lead him to his first nomination in this category.
Likely:
Building on Best Picture,
Gus Van Sant
(Milk) and
Ron Howard
(Frost/Nixon) are likely nominees in this category. The
Golden Globe
shutout hurts Van Sant, but he's gotten as much precursor love as anyone and Ron Howard could probably release his home movies in the theaters and get an Oscar nomination.
Stephen Daldry got a surprise
Golden Globe
nomination for directing
The Reader
. His Oscar pedigree with noms for
The Hours
and
Billy Elliot
, could help him into the director-whose-movie-didn't-get-nominated-for-best-picture slot.
Longshots:
Benefiting from
The Wrestler's
growing buzz is its director,
Darren Aronofsky
. He's been hailed as a great talent for years, and it seems he's finally made the movie to match. He hasn't gotten any real precursor love yet, but don't be shocked by his sneaking into a Director's Guild nomination.
Sam Mendes
is nearly as hard to figure out as his film,
Revolutionary Road
. He got a
Golden Globe
nomination for Best Director but that's pretty much it. Hard to call him much more than a longshot despite the prestige of his lone award.
It may be an animated film, but Andrew Stanton has been getting significant precursor attention for directing
WALL-E
. Don't be shocked to see him lock up a surprise DGA nomination and move squarely into contention.
His film may be a quirky British Comedy that nobody saw, but that didn't stop Mike Leigh from winning the
New York Film Critics Circle
award. He's a very long-acclaimed director with two Oscar nominations in this category (
Vera Drake
and Secrets & Lies) to his credit. There's a chance this could be his third.
Losers:
Just like,
Doubt
, John Patrick Shanley has gotten no love from the precursor awards. Looks like directing his adaptation of his play may have been a mistake.
Maybe
Clint Eastwood
shut himself out by directing two films in one year, maybe it's because
Changeling
didn't get great reviews and
Gran Torino
has been more recognized for his performance. Whatever the case, doesn't look like Eastwood will pick up a nomination this year.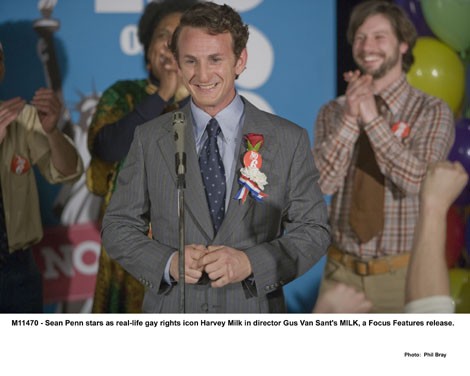 Best Actor
Locks:
Sharing is a wonderful thing, and
Sean Penn
(Milk) and
Mickey Rourke
(The Wrestler) have been doing just that with just about every precursor award so far this year. Both are stone cold locks.
You may not know it, but
Frank Langella
(Frost/Nixon) has won about 950,000 acting awards in his career. None of these have led him to an Oscar nomination, but after this morning's recognition by the
Screen Actor's Guild
, Langella has a shot to add an Oscar to his mantle of stage acting awards.
Likely:
Richard Jenkins
(
The Visitor
) earned overwhelming raves for his performance in this March release. Like all things released before the fall, the buzz faded and he was ignored for much of the early precursor season. That all changed in recent weeks as he's been picking up mentions from critics society's all over the map and just notched a
Screen Actors Guild Award
nomination.
A couple of actors better known for their looks than their chops haven't quite done enough to get their names into the lock category. Neither Brad Pitt (The Curious Case of Benjamin Button) nor
Leonardo DiCaprio
(
Revolutionary Road
) has very many precursor awards but the former notched both a
Golden Globe
and
SAG
nomination while the latter a
Golden Globe
nod of his own. Still, that's just about all either of them has gotten.
Clint Eastwood hasn't gotten much precursor love (though he did win the
National Board of Review Award
) but how can anybody count out a screen legend in a well-reviewed performance he's claiming is his final appearance onscreen? More importantly, how can the Academy resist?
Longshots:
A couple or comedic roles have garnered a bit of precursor attention.
Dustin Hoffman
(
Last Chance Harvey
) and
Brendan Gleeson
(
In Bruges
) both receive
Golden Globe
nominations for their work and Gleeson has piled up a few other nominations as well. The former's clout and the latter's growing collection of nods give them an outside shot at moving up the ladder.
Another comedic figure with a shot is
Josh Brolin's
portrayal of the tragic clown
George W. Bush
. He's gotten some light critical recognition for his efforts and even though nobody saw or seemed to like the film, he drew raves for his portrayal of Dubya.
Losers:
Benicio Del Toro
playing Che Guervara in an epic directed by Stephen Soderbergh seemed like a cinch for a nomination a few months ago when Del Toro won the Best Actor award at Cannes. Now it's just a four-and-a-half hour film dumped in two theaters with no chance at anything.
Hugh Jackman
was buzzed about for months for his show-stopping performance in
Australia
. Then the movie came out and nobody saw it and the few who did didn't like it very much. It seems he'll have to take solace in, ya know, actually hosting the Oscars.
Best Actress
Locks:
What a strange year for
Anne Hathaway
. She starts out presenting for the first time at the Oscars after a career breakthrough in
The Devil Wears Prada
. Then she stars in a blockbuster with
Steve Carell
. Then her boyfriend allegedly cons old ladies out of money by pretending he has ties to the Vatican (Nigerian e-mailers think he needs a better story) she gets obscenely great raves for
Rachel Getting Married
, she hosts the best episode of SNL this year and not she's a lock for an Oscar nomination for her role as Kym in Rachel Getting Married. Too bad "
Bride Wars
" is the thing that's going to kick off her 2009.
Despite middling reviews for
Doubt
and several scathing reviews for her performance therein,
Meryl Streep
, will break her own record for nominations this year. She's picked up a
Golden Globe
and
SAG
nod so far, and she's friggin' Meryl Streep after all!
Likely:
Due to the abhorrent lack of good roles for women in Hollywood, this category is usually the easiest to predict. Not this year. Check this out:
Sally Hawkins
(
Happy-Go-Lucky
) has won far more critics awards than anybody in this category. Even Anne Hathaway. Problem is, she stars in a light British comedy that exactly 17 people saw - not exactly Oscar bait. Her bigger problem is that she missed out on a Screen Actors Guild Award nomination.
The only movie with a smaller audience than Happy-Go-Lucky was
Frozen River
starring
Melissa Leo
. 14 people saw this one. That hasn't kept its lead from racking up some solid precursor nominations including a
SAG
nod. Unfortunately, she missed out on a
Golden Globe
nod!
Kate Winselt is Kate Winslet. She's like 15-years-old and already has 47 nominations (okay, maybe it's closer to 33 with 5 nods) and this year she's got the enigmatic
Revolutionary Road
earning her both a Globe and
SAG
nod. But guess what? Those are about the only awards she's gotten and she's far more likely to get nominated in the supporting category for
The Reader
. Aghhh!!
A few years ago, in a little-known decision, the Academy passed into a law a rule stating that Cate Blanchett must be nominated every year no matter what. This year, that rule will be put to the test because her role in The Curious Case of Benjamin Button notched her a BFCA nomination and nothing else. Still, you can't count her out.
The albatross of the
Golden Globe
nominations is
Kristin Scott Thomas
(
I've Loved You So Long...
). She's got a solid pedigree with
The English Patient
on her resume and the added difficulty of performing the role in French. Plus, she's got that Globe nod. It's about all she's got, but it's a pretty big cog.
The surest thing in this section is probably
Angelina Jolie
who earned great buzz coming out of Cannes and has been piling up the awards this season, including a
Golden Globe
and
SAG
nomination. Still, her tabloid status demotes her a bit, as unfair as that may seem, in the eyes of Academy voters.
Longshots:
Unfortunately for
Meryl Streep
, Academy rules prohibit an actor from being nominated twice in the same category (Funny, isn't the award for "Best Performance"?) otherwise Streep might have a shot at a nom for her role in the half-a-billion dollar behemoth
Mamma Mia!
As it stands, she's just a lock to win a
Golden Globe
.
Many of the critics awards that have come out in the late going have singled out
Michelle Williams
' performance in
Wendy and Lucy
as the best of the year. It's probably a bit too little and too late for Williams; however, as she has failed to rack up any significant precursor awards.
Don't count out
Kate Beckinsale
for her role in
Nothing But the Truth
. She got a BFCA nomination for the film and it's been slowly gaining some buzz.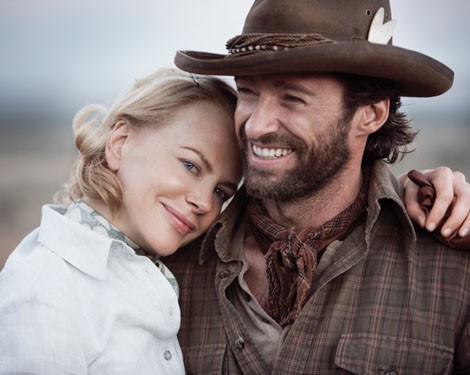 Losers:
Australia is DOA and so are Nicole Kidman's Oscar chances.
Keira Knightley
in
The Duchess
. Yeah. That didn't happen.
Best Supporting Actor
Locks:
There's only one lock here and it's
Heath Ledger
. The most talked-about performance of the year is now getting the most awards. Ledger takes the title of Lock of the Year with regards to all Oscar nominations.
Likely:
It's been a wild ride for
Josh Brolin
(Milk). He starts Oscar season like a house on fire, winning more awards than Ledger. Then he disappears and gets shutout by the
Golden Globe
s. Then he bounces back with more awards including the all-important
SAG
nomination. He's very close to a lock.
Also very close to a lock is
Philip Seymour Hoffman
(Doubt), a film that's gotten slammed for everything but the performances. The
Golden Globe
and
SAG
nominations mean PSH should make it back-to-back supporting actor nods.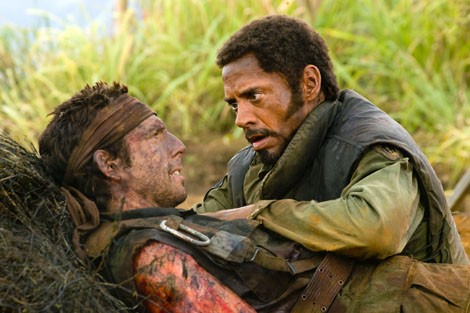 It may be for a comedy, and he may have performed almost entirely in blackface, but
Robert Downey Jr.
has gotten a
Golden Globe
and
SAG
nomination for his role in
Tropic Thunder
. Oscar should be next.
Longshots:
Dev Patel (Slumdog Millionaire) earned a
SAG
nomination for his part as older Jamal, but it was his first nomination in any way shape or form all year. Still, that's a pretty good lone nomination to have.
In Milk, James Franco gave the best performance of his career so far. It's been earning him a fair amount of praise and precursor love, but not enough to put him over the top, and certainly not enough to vault him past co-star Josh Brolin.
Hugging tight to Anne Hathaway's coattails is here movie dad Bill Irwin. He hasn't gotten a ton of love from the precursors, but just enough to entertain the possibility that the Anne Hathawave (see what I did there?) could sweep him into the Kodak.
Like everything else Revolutionary Road, Michael Shannon's Oscar prospects remain a mystery. He's yet to get a major precursor nomination or award, but he just keeps poppin up enough that you can't write him off. His role is crucial to the film and if it hits bigger than it looks like, he could reap the rewards.
Much less likely than his costar is Happy-Go-Lucky's
Eddie Marsan
. He hasn't gotten any widespread recognition, but he's been shortlisted by the Los Angeles Film Critics and a few other prestigious critics' societies. Hawkins' lack of a
SAG
nod could spell his doom, however.
The coolest
Golden Globe
nomination of the year was
Tom Cruise
for his work in
Tropic Thunder
. It certainly was a tremendous performance and everybody who came into the film talking about Downey, Jr. left talking about Cruise. The Globes were the only group to recognize this bald-capped role, but maybe that could push him over the top.
Losers:
Ralph Fiennes
can't catch a break. His big Oscar role was supposed to be for
The Reader
and then his only nomination comes in the form of a
Golden Globe
nod for his performance in
The Duchess
. Was that a misprint?
For one reason or another
Michael Sheen
(Frost/Nixon) has been campaigned in this category even though the name of his character is in the title of the movie. He hasn't gotten any sort of recognition for his performance, but he probably wouldn't have in the lead category either.
When
Changeling
failed to live up to expectation,
John Malkovich's
Oscar hopes went up in flames. Speaking of flames, he did get a tiny bit of recognition for his role in Burn After Reading, but that won't translate into an Oscar nod.
Best Supporting Actress
Locks:
Penelope Cruz
has won several dozen awards already for her role as Maria Elena in
Woody Allen's
Vicky Cristina Barcelona
and those include a
Golden Globe
and
SAG
nomination. Como se dice "lock" en Espanol?
Both
Viola Davis
and
Amy Adams
should round out a grand slam of acting nominations for
Doubt
. Neither has won many awards (though Davis' are starting to pile up) but it's been pretty hard for anybody to snatch any prizes when Cruz is currently putting a second wing on her house contain all her new statues. Plus, they each got a
Golden Globe
and
SAG
nomination - and that's what really matters.
Kate Winslet's awards are kind of spread out, because some critics' societies gave her a lead award for her role in The Reader. That doesn't matter because she's entered as supporting for the Oscars and both
SAG
and the
Golden Globe
s followed suit with the corresponding nominations.
Likely:
Tarji P. Henson
(The Curious Case of Benjamin Button) got a
SAG
nomination but no
Golden Globe
,
Marisa Tomei
(The Wrestler) got a
Golden Globe
nod but no
SAG
, and
Rosemarie DeWitt
(Rachel Getting Married) has won more critics awards than anyone but Cruz and has the Anne Hathawave working in her favor. It's a toss-up between these three for that fifth slot.
Longshots:
Beyonce Knowles
could get nominated for
Cadillac Records
. Stranger things have happened. Really, there are only seven ladies with a shot at a nomination here.
Losers:
There's not mystery about this,
Kathy Bates
will not get nominated for
Revolutionary Road
. Unlike the sporadic love for the rest of the film, Bates has gotten ZERO love thus far.
Last year,
Tilda Swinton
broke what seemed like a four-way tie and won an Oscar for Best Supporting Actress. She'll have to be content with present the Best Supporting Actor award this year, because her chances for The Curious Case of Benjamin Button are nil.
Story by
Andrew Payne
Starpulse contributing writer