2008 Tribeca Film Fest Movie Review: 'Boy A'

One of the neat things about TV's Lost is that by now you can hypothetically extract a character-any character-and recreate a situation in which only their scenes and flashbacks exist. You could easily get a movie's worth of material out of that character for any one season that's aired.
Think of "Boy A" as a character that never actually made it to the island, but whose story is told with such an empathy and passion that it stands as one of the best films at Tribeca this year.

In a nutshell, "Boy A" is the story about a 24 year-old young man who is released from prison and sent to Manchester by way of a program that's not unlike witness protection. At first, we don't know why his identity is changed, but we know he must have done something real bad to warrant all the paranoia and fright he ("Jack", played by Andrew Garfield) feels. His handler (Peter Mullan) is his only figurative link to his past, but instead of talking as a way of calming his demons, the handler simply encourages him to forget and move forward. In between Jack's points of progress we are reminded at key occasions that once upon a time his name was Eric Wilson and he was an outcast of a boy who had a troubled childhood. All in all, it's a pretty straightforward journey.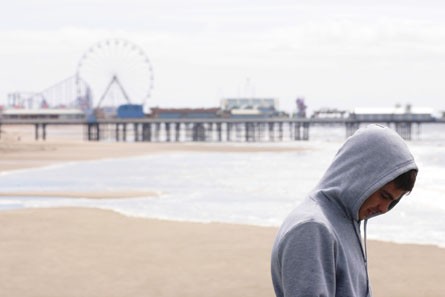 It's the stuff that happens in between the lines, however, that make this film so brilliant. Having spent his entire childhood in prison, Jack never had the opportunity to experience the things that teenagers and young adults experience to turn them into functioning human beings. He's horribly shy. He doesn't know how to communicate with the opposite sex, and is completely at a loss for words when he meets Michelle (Katie Lyons), a girl who isn't supposed to be all that attractive. On his first exposure to ecstasy, he seriously thinks he's in love. He manages to secure a solid friend in a coworker named Chris (Shaun Evans), but otherwise he spends his time trying to figure out how to put the puzzle pieces of his so-called life together. All of this matters because as the flashbacks continue to occur, we become invested in it. What could he have possibly done that was so horrible?

As a boy, Eric was often beat up after school. His teacher had given up on him. His mother was diagnosed with breast cancer, and father was at best a functioning alcoholic. When he meets a fellow outcast named Philip Craig (Taylor Doherty), he finds validation enough to cut class and discover new ways to get into trouble. For him, it's all about bonding with someone who understands. For Philip, it's all about conditioning a peer to sink to the same level he's drowned in. By the time he confides his darkest secret to Eric, a foreshadowing of the inevitable has already occurred.

Meanwhile, as an adult, Jack is well on his way to rehabilitation. He treats his girlfriend Michelle with an astonishing amount of love and respect. He's even compelled so far as to risk his own life in saving that of a complete stranger's. It's a total tragedy then, that at the moment we learn of the crime he committed as a child, his new life is destroyed when the unlikeliest person discovers his true identity and rats him out to the press. In minutes he loses everything, including contact with his handler, the one person he could trust if all else failed. The minutes leading up to the film's final scene are both poignant and heartbreaking.

I suppose in some ways this film, despite being produced in England, does stirs up thoughts of capital punishment debate in the U.S.; specifically how the legal system is so exhausting that we end up putting people to death for crimes they committed decades ago, and how we do so to so many inmates who have "turned their lives around". Where "Boy A" ultimately succeeds is in its relentless conviction that Jack is no longer Eric in any way, shape, or form. Here is a young man that spent so many remorseful years in the correctional system that by the time he got out, righting his past wrongs was simply part of his DNA. And despite his eloquent reminder to us that he was responsible for saving a life, we're left ultimately to view him the way we view people just like him in real life: once a criminal, always a criminal.

My Grade: A
Running time: 100 minutes
Starring: Andrew Garfield, Peter Mullan, Katie Lyons, Taylor Doherty
Written by Mark O'Rowe, based on the novel Boy A by Jonathan Trigell
Directed by John Crowley
A Cuba Pictures Film, For Channel 4
Distributed by The Weinstein Company