20 Best Rap Albums Of 2013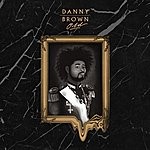 6) Danny Brown - Old
Fool's Gold
Eccentric yet brilliant, Danny Brown is one of a kind.  Old highlights both Brown's musical eclecticism and his brash delivery.  Overt he may be, Brown can definitely spit.
Recommended Spins:
"The Return"; "Wonderbread"; "Dope Fiend Rental"; "Torture"; "Clean Up"; "Dip"; "Float On"
7) A$AP Ferg - Trap Lord
RCA
I know, I know – it was A$AP Rocky that broke through back in January, but Rocky's album is killer.  Ferg definitely has a cool style about his rhymes, and a unique voice to match.  Maybe I'm overrating Trap Lord, but several of its 'big guns' remain on my iPod rotation.
Recommended Spins:
"Shabba"; "Lord"; "4:02"; "Work (Remix)"; "Murda Something"
8) Wale - The Gifted
Atlantic
Wale's more intellectual approach is certainly refreshing, particularly on "Golden Salvation (Jesus Piece)" where Wale wordplays between "piece" and "peace".  That said, 'the gifted' MC can also deliver an awesome club banger.  Maybe he didn't have Diplo in his corner this go-round ("Slight Work"), but his booty anthem certainly held up pretty capably ("Clappers").  The Gifted may lack the shock value of Eminem or Kanye, but Folarin still definitely had one of the best rap albums of 2013.
Recommended Spins:
"The Curse of the Gifted"; "Love Hate Thing"; "Golden Salvation (Jesus Piece)"; "Clappers"; "Bad"
9) Childish Gambino - Because The Internet
Glassnote
Childish Gambino made a late push for the best rap album of 2013 and did so convincingly.  A conceptual album that also has a 75-page script to clarify the songs, Because the Internet is one of the most ambitious albums (regardless of genre) of the year. 
Recommended Spins:
"Crawl"; "The Worst Guys"; "Sweatpants"; "3005"; "Zealots of Stockholm"; "Pink Toes" 
10) A$AP Rocky - Long. Live. ASAP
RCA
Probably the biggest reason A$AP Rocky sits at number ten is because it was released back in January.  That isn't to say Long. Live. A$AP doesn't have enduring value (it does), but some of the material was less memorable than some of the albums sitting ahead of it.  Still, can't deny the endurance of "F**kin' Problems", right?
Recommended Spins:
"Long Live A$AP"; "Goldie"; "F**kin' Problems"; "Wild For the Night"; "Suddenly"; "I Come Apart"