2 New Yoga DVDs To Check Out: Bob Harper The Skinny Rules & Zuzka Zcut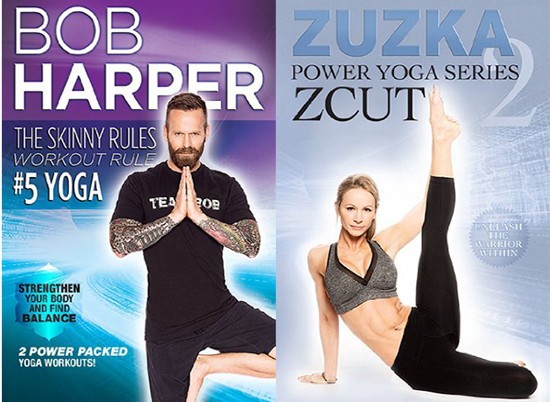 The Skinny Rules Workout Rule # 5: YOGA
Fitness expert, television star and #1 NY Times bestselling author Bob Harper launches the newest addition to his DVD Series, The Skinny Rules Workout Rule #5: YOGA - Inspired by his New York Times Bestseller, "The Skinny Rules."

Bob designed these DVDs to improve your strength, endurance and flexibility, combining some of the most effective exercises into circuit routines that can be done anywhere and fit into any schedule. These workouts are fit for beginners as well as athletes, and will give you the energy AND body you have always wanted.

The Skinny Rules: Yoga contains TWO 30 minute yoga workouts, which incorporate yoga moves and strength training to get your heart rate up, improve your flexibility and trim you down!

ZCUT Power Yoga Volume 2

Zuzka Light is the leading fitness personality on YouTube, fostering a following of hundreds of millions worldwide. Her impact via YouTube, in contrast to a wide range of top celebrities and brands, is enormous and her staggering digital presence is confirmation that her contribution to the fitness industry will only expand with time. 

Zuzka Light, is back with another yoga inspired workout DVD, ZCUT Power Yoga Volume 2. Get ready to go beyond the mat and take your fitness to a whole new level!

This DVD combines yoga-inspired poses for increased flexibility and improved balance with basic body weight exercises that strengthen and tone your entire body. In Volume 2, Zuzka leads you through a challenging, body-changing workout series that is unlike any yoga routine you've experienced before.

This non-traditional yoga workout improves your endurance and motivates you for real results! Enjoy the freedom of being barefoot in the comfort of your own home as you chaturanga your way to a better body.