'1968 With Tom Brokaw' Premieres This Weekend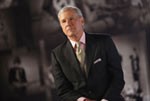 Cities burned. Students marched. Idealism flourished. Drugs flowed. A nation mourned its slain leaders. It was a year both tragic and galvanizing. But was 1968 truly as revolutionary as it felt? Did its fury and pain propel us forward?
Now a new, two-hour special on The History Channel explores the significance of 1968 and the ways it continues to affect the American landscape. The special "1968 with
Tom Brokaw
" premieres Sunday, December 9 at 9-11pm ET/PT on The History Channel.
Brokaw, author of the newly released book BOOM! Voices of the Sixties, Personal Reflections on the '60s and Today, shares the rich personal odysseys of people who lived through that chaotic time, along with the stories of younger people now experiencing its aftershocks. The special "1968 with Tom Brokaw"— which marches to the drumbeat of the era's mesmerizing music – includes archival footage and new interviews with rock stars, black power activists, political insiders, anti-war protestors and others.
A few of those interviewed include former Atlanta Mayor Andrew Young, who was with
Martin Luther King
when he was assassinated and rushed to his side to try to staunch the wound; Olympic gold medalist Rafer Johnson, who wrestled Robert F. Kennedy's assassin, Sirhan Sirhan, to the ground; Stewart Brand, a pioneer of the counter-culture featured in Tom Wolfe's Electric Kool-Aid Acid Test; Tommy Smothers, former co-host of CBS's
The Smothers Brothers
Comedy Hour, which ran afoul of censors by criticizing the war and the establishment;
Jon Stewart
, who traces the roots of his
Daily Show
to the Smothers Brothers;
Arlo Guthrie
, son of legendary folk singer
Woody Guthrie
, and best known for his humorous, draft-mocking song "Alice's Restaurant"; Pat Buchanan, then a speechwriter for
Richard Nixon
; Robin Morgan, the political activist and feminist leader who organized the "braless" protest of the 1968 Miss America pageant; and musicians
Bruce Springsteen
and
James Taylor
.
"So much of who we are now, across a broad spectrum of interests, is rooted in the sixties and particularly 1968," said Brokaw, who is shown in the special as a young newsman reporting from the center of the hippie culture, Haight-Ashbury. "It was a profoundly eventful time, and the lasting effects are as vigorously debated as the era that produced them."
The special takes an immersive, unflinching look at the present-day impact of the black power and anti-war student movements and their turn to violence; the era's culture, fashion, and captivating and sometimes groundbreaking music, ranging from the
Rolling Stones
and
Aretha Franklin
to
The Rascals
; the "turn-on, tune in, drop out" drug culture; the women's movement; and landmark political events that include Eugene McCarthy's stunning near upset of then-president Lyndon Johnson in the New Hampshire Democratic primary and George Wallace's divisive presidential campaign.
"Why don't you learn some other four letter words like w-o-r-k, and s-o-a-p. You ought to learn those. You don't know those," Wallace says to protestors at a campaign event. Adds Pat Buchanan in an interview for the special: "I remember when they had the riots at Columbia and Mark Rudd [also interviewed for the special] took over the campus. I wrote a statement [for Nixon] denouncing these over-privileged kids for what they were doing ... Let me tell you, they didn't have any support in Middle America."
Which brings us to one of the special's central questions: What have we learned since then? How have we changed as a society? As noted in the special, today's anti-war activity seems muted, compared to the Vietnam protests. "If there was a draft, man, this would be a whole different game," notes Daily Show host Stewart. "And they know that. And that's why there's no draft."
A witness to history, Brokaw describes his personal memories of waiting for news outside a Los Angeles hospital after Robert F. Kennedy was shot, of losing one of his best friends in the Vietnam war, and of the mayhem at the Democratic convention in Chicago. Brokaw recalls that his own father was angered by the student protests at the convention. "At the end of the week, I went back to South Dakota to visit my workingclass dad, a longtime Democrat, who was opposed to the war in Vietnam," he says. "But he was enraged by … the behavior of the anti-war demonstrators, the way they had flown the Viet Cong flag and taunted the police. I knew then that the Democratic party was in real trouble."
Pulitzer Prize winner and conservative journalist Dorothy Rabinowitz believes the assassinations of Dr. King and RFK may have scarred an entire generation. "You can't underestimate the power that this had over a very depressed and shattered people," she says. "People would get up in the morning and say, 'What's going to happen now?' And… children, it was noted at the time, didn't know that leaders actually died a natural death. They began to think everybody was assassinated. It was one of the dark, gothic, terrible jokes of the time that the children of that era saw that."
And yet Brokaw argues the traumatic time ultimately produced valuable lessons for this country and its people. "If there is one enduring lesson for me, it is that we survived as a nation and as a culture. We were altered radically in some areas of our national and individual interests, and little changed in others," he says. "1968 remains a watershed year in contemporary history, but the effect of it has neither been linear nor certain. It represents evolution more than it represents a separate and distinct path of development for American life."
On History.com, a minisite for "1968 with Tom Brokaw," will include a timeline of events of the year 1968, with video clips and photographs; information on topics such as the Vietnam war, Civil Rights, music, and hippies; short-form footage from the era; and a gallery of photos.
Executive Producers of "1968 with Tom Brokaw" for The History Channel are David McKillop and Carl H. Lindahl. "1968 with Tom Brokaw" is a Peacock Production. Knute Walker is the executive producer and Benjamin Ringe is the co-executive producer.