'1600 Penn' Can't Escape 'West Wing's' Foot Print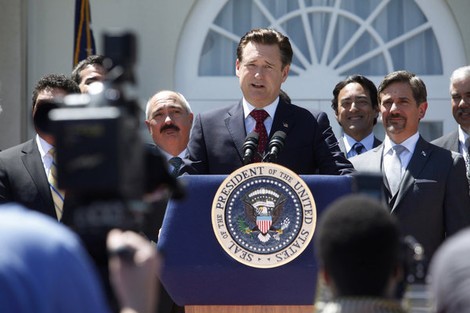 I've spent a fair amount of time in pitch-rooms. Hearing people toss ideas back and forth for show ideas, spec scripts, the occasional web-series or sketch, eventually makes you realize that truly unique ideas are very difficult to find - and even harder to produce properly. It also makes you realize how many folks in the TV biz desperately want to be Aaron Sorkin. 
Every couple of days someone would be turned onto the witty banter of The West Wing or Studio 60 or Sports Night and almost immediately pitch a show or concept that sounded curiously like something Sorkin would do. It's like Studio 60 but with improvers. It's like The West Wing but with Interns. It's like Sports Night but with cable news (Okay, that one mayyyy have been done). Rinse, repeat, over and over. I immediately flashed back to these pitch meetings, and how terrifically difficult it was to not whallop my cohorts with my laptop bag with each Sorkin-esque concept, upon hearing, and viewing, NBC's new Presidential Comedy 1600 Penn, about a dysfunctional-but-loving-family's day to day life in both the public eye and White House. Is it a years-late West Wing parody, a humorous and fresh take on presidential politics, or somewhere inbetween?

It's neither. It's actually quite godawful. After viewing both the Pilot and the second episode, "The Skiplantic Ocean" on Thursday, my tepid enthusiasm for the show has been all but squashed. 1600 Penn is a show struggling for an identity whilst being haunted by the ghosts of a long cancelled show, that outdid it every conceivable way.

That show, is, of course, The West Wing - Network Television's crowning achievement of the late 1990's and early 2000's. It was smart, funny, touching, serious, zany, witty, human, and most importantly, took place in an almost entirely believable world. The characters of Jed Bartlett, Leo McGary, Joshua Lyman, Sam Seaborn, and CJ Cregg, still resonate to this day among media junkies and fans of good TV, politics, and intelligent writing. 1600 Penn contains none of these things. Instead 1600 Penn finds itself a derivative post-modern sitcom that bafflingly tries to hide behind - and distance itself from, an interesting premise that so far has been wasted. A quality premise can save a show. In much the same way Castle is a standard police procedural dressed up by the presence of multi-millionaire novelist Richard Castle quipping his way through the carnage, 1600 Penn's initial appeal depends on how much you like the idea standard sitcom situations in non-standard environments - In this case The White House.