'12 Years A Slave': Brutal Truth Told In This Must See Oscar Worthy Film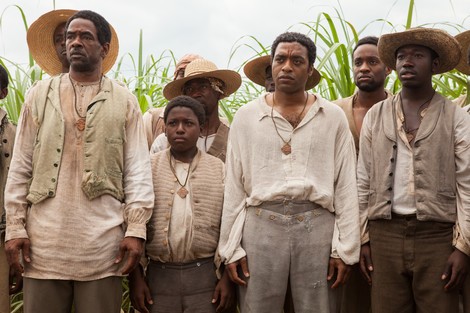 '12 Years a Slave' directed by the extremely talented, Steve McQueen, ('Shame') is simply put...Brilliant.
Written by John Ridley and based on Solomon Northrup's best selling memoir, published over 160 years ago, this is a true story of one man's fight for survival and freedom.
 
Eight years before the Civil War, Solomon Northup (Chiwetel Ejiofor) was a free black man from upstate New York. He is abducted on a trip to Washington D.C. and sold into slavery.
 
Facing immense cruelty by his malevolent slave owner, Edwin Epps (Michael Fassbender), Solomon struggles not only to stay alive, but to retain his dignity.  
 
When the film opens, we find Northup an accomplished musician living with his wife and children - in a lovely middle class neighborhood in Saratoga Springs, New York. He is surrounded by people who like and respect him. Life is good.
 
Unfortunately, It's not long before Northup is drugged, stripped of his papers, shackled and sold to a heartless slave trader (Paul Giamatti). Are there any other kind?
 
He is quickly shipped off to Louisiana, where he is at the mercy of a series of plantation owners, including William Ford (Benedict Cumberbatch) and the above mentioned, Epps.
 
While Solomon takes comfort in his friendships with his fellow slaves, Eliza (Adepero Oduye) and Patsey (Lupita Nyong'o) his mind and body are pushed to horrific limits at the whims of his captors.  
 
Still, no matter how much brutality he is forced to endure, Solomon never succumbs to hopelessness and holds onto the belief that one day, he will be a FREE man again.
 
'12 Years A Slave' is powerful, intense, inspiring, and at times, extremely hard to watch. But at the same time, this exquisite film is a testament to the human spirit.
The supporting cast includes: Alfre Woodard plays Mrs. Shaw, a black woman who was once a slave, but now is married to a white plantation owner, with slaves of her own.
Paul Dano is a sadistic plantation overseer and Sarah Paulson plays Epps jealous, angry wife, who takes her rage out on the slaves.
Brad Pitt is not only the films producers but also plays a pivotal role in the film as a Canadian abolitionist.
I gave '12 Years A Slave', which opens Friday October 18, 2013, five bagels out of 5 and watch our video for more of our thoughts and to see John's bagel score...HINT: It was the same as mine.
Please SUBSCRIBE to our channel on YouTube and LIKE us on our Two Jews on Film Facebook page. Thanks everyone and let us know what you think.