12 'Work' Songs For Labor Day And Beyond
Ah, the rewards of hard work – nothing like it.  Yes, work can be a total bummer, one characterized by four letter words that rhyme with the word 'buck' or 'quit', but work can also be fun and make great ear-candy, much like these 12 'work' songs.  The only requirement for these songs to make the list – the word work had to be used in some form within the title.  The results are…well an interesting, scattered playlist.  Enjoy fellow workaholics! 
1)    Michael Jackson, "Working Day & Night" (Off The Wall, 1979)
What better way to initiate a work playlist than with a soul classic? MJ was really working hard on this slick disco cut. It doesn't get the credit of the 'bigger' cuts from Off The Wall, but it definitely should.  R.I.P. MJ. 
2) Wiz Khalifa, "Work Hard Play Hard" (O.N.I.F.C., 2012)
Replicating "Black And Yellow" was "never, ever, ever" going to happen for Wiz Khalifa.  That said, "Work Hard Play Hard" wasn't bad.  Here, it definitely suits the sentiments of Labor Day and onward. After working to make ends, you should be able to play and have a good time.  Sensible.
3) Britney Spears, "Work B**ch" (Britney Jean, 2013)
Basically what's Britney saying – she's saying, "you better work!"  "You want a hot body?  You want a Bugatti? / You want a Maserati? You better work b**ch." Britney ain't lying, folks.  Attaining a "hot body" isn't free – you've got to eat right and work out.  Bugattis and Maseratis aren't the least bit cheap, so you better be working hard for a hefty paycheck to pay the payments and the insurance. 
4) Missy Elliott, "Work It" (Under Construction, 2002)
Missy Elliott was definitely referencing a different sort of work on her classic "Work It."  "If you got a big [elephant sound], let me search you / and find out how hard I gotta work you…" certainly is a different sort of grind... Beyoncé might say it best: "Graining on that wood, graining, graining on that wood / I'm swerving on that…" Hmm.
5) MGMT, "It's Working" (Congratulations, 2010) 
"But it's working in your blood / which you know is not the same as love…" Hmm, double meanings much by MGMT? Anyways, the 'work' has nothing to do with getting paper.  Ask genius.com, and a portion of the annotation suggests drug-use…that would make sense.
6) Iggy Azalea, "Work" (The New Classic, 2014)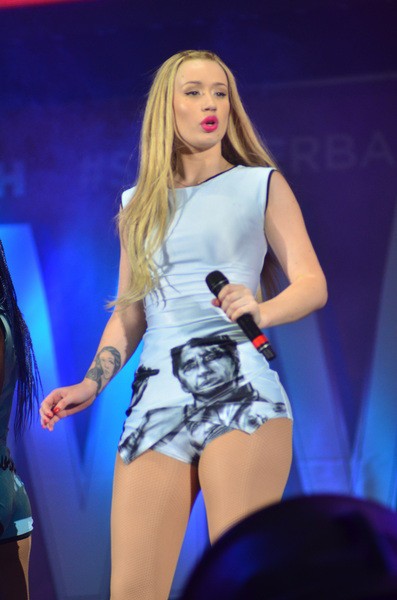 According to Iggy she's been: "work, work, work, work, working on my sh*t / milked the whole game twice, gotta get it how I live."  In other words, she's had to work hard to get to the point and place that she is now.  As they say, you "can't get something for nothing."