12 Stones, Korn, & More Contribute To 'World's Strongest Man' Soundtrack, Out Dec. 18

Wind-up Records and IMG Media have announced the release of the inaugural soundtrack for
The World's Strongest Man
franchise, airing on ESPN and ESPN2. The title will be available exclusively through Amazon upon release.
Mandeville, Louisiana-based quartet
12 Stones
, signed to Wind-up Records, was filmed recently in Baton Rouge. The footage will be cut into the program to their song "Adrenaline" as the opener of each episode this season. The individual episodes will also contain a thirty second music video of each individual track featured on the soundtrack utilizing scenes from the competition. the theme song for this season.
Steve Mayer, IMG Media's Senior Vice President, U.S. Production said, "The World's Strongest Man competition is one of IMG Media's most popular and longest running global television events. We are so gratified to be working with Wind-up and all the talented artists on this soundtrack project. It is our hope to expand the visibility of The World's Strongest Man and this music is a perfect partner for this high energy sports show."
Wind-up Records SVP, Marketing Bill Richards shared, "The World's Strongest Man is a powerful brand in the marketplace that we are thrilled to be a part of. The Wind-up acts, and those on other labels, were all excited for the opportunity to be a part of this. IMG Media is a great company, and we look forward to additional initiatives in the future."
The compilation was produced by Wind-up Records' Bill Richards and Gillian Morris, alongside IMG Media's Steve Mayer and John Sands who are executive producers on the project. John Babbitt from Tsunami Entertainment served as a consultant.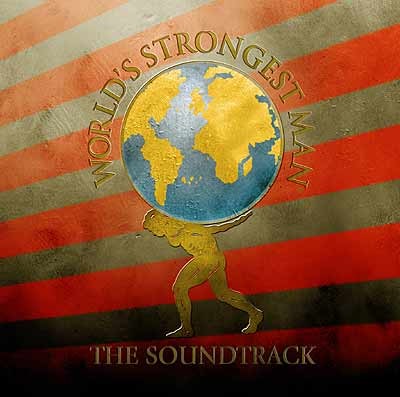 The 2008 season of
The World's Strongest Man
will premiere on December 26, 2007 on ESPN2. From 6:00 p.m. until midnight that day, ESPN2 will broadcast a marathon of episodes from this year's competition.
Track Listing:
12 Stones
"Adrenaline"
Korn
"Hold On"
Seether
"Out Of My Way"
Hatebreed
"Never Let It Die"
Shadows Fall
"Redemption"
Every Time I Die
"We'rewolf"
Underoath
"Writing on the Walls"
Submersed
"Better Think Again"
Mastodon
"The Wolf Is Loose"
Hurt
"Ten Ton Brick"
Bruce Aronson "Strongman" (
The World's Strongest Man
Theme)
Get it December 18!