12 Days Of Christmas Films

Most people have heard of The 12 Days of Christmas and most no nothing more about them than the strange song with geese a-laying and five golden rings somewhere in the middle section. For some they mean a religious celebration beginning on Christmas day and ending with Epiphany on January 6th, the day the three Wise Men delivered their presents to baby Jesus. For those of us who worship movies as a religion we can present some gifts to ourselves, and our fellow movie lovers, by celebrating the 12 Films of Christmas. Whether you choose to lead up to Christmas with these classics or flip the list and make Christmas last into January, you really can't go wrong with this eclectic list of holiday favorites.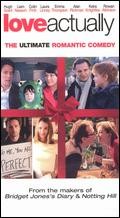 The First Film of Christmas
My true love gave to me…
A partridge in a pear tree or
Love Actually
This film reminds you of what the Christmas season is really all about, love, actually. From the opening scenes of families, couples and loved ones reuniting in airports to the unlikely coupling of a man from England and a woman from Portugal to the Prime Minister falling for a humble secretary to a washed-up old rock star stripping on live television after his song hits number one, this holiday romp has everything you might be looking for in order to feel good.
The short before the feature:
Rudolph
- He's looking for love and acceptance in a world where different equals dangerous.